Best 2D Animation Software – A Comprehensive List For 2021
Disclosure: Some links may be affiliate links. We may get paid if you buy something or take an action after clicking one of these. 2dAnimationSoftwareGuide.com is a participant in the Amazon Services LLC Associates Program, an affiliate advertising program designed to provide a means for sites to earn advertising fees by advertising and linking to Amazon.com
Below I've compiled a list of as many of the best 2d animation software programs as I could think of, from beginners to advanced, both free and paid, so there should be something for everyone.
Some of them have free trial versions that you can use for 30 days to see what you think. Where possible I've added a link to those trials.
If you know of any other 2d animation programs that I've not mentioned here, then please leave a comment in the guestbook at the bottom of the page and I'll add it to the list.
(Don't know some of the technical terms here? Check out our glossary for a complete description)

Quick links on this page:
Professional / Advanced Level Software
Although I've titled this section as "professional level software" it doesn't mean that you have to be a professional to use them – it's just that the programs here are capable of producing high level animation work for TV and Film and used by a number of professionals and studios every day. So basically I'm saying don't be put off if you're not a pro yet…give one of these programs a shot and you won't be disappointed, they have some amazing tools that will take your creativity to a whole new level.
Toon Boom Harmony
Toon Boom is the premier name in 2d animation software, whose products are used in companies like Disney, Nickelodeon, and Warner Bros. So first on the list I have to put their Harmony software. It is the creme-de-la-creme, the Numero Uno, the Big Daddy, the "Boom Boom Shake Shake The Room" of 2d animation software.
Ok, that may be a little over the top 😉
But seriously, Harmony is THE best and most powerful commercially available 2d animation program you will find. It does everything, from traditional drawn animation, to paperless workflow with a digital drawing tablet, Flash style cut-out animation, particle effects, 3d cameras, 2d/3d integration, amazing drawing tools and anything else you can imagine. The only thing it doesn't do is make you a cup of tea, but I understand they are looking to put that in the new version soon, he he!
Of course, such awesomeness comes at a price and as such it has been one of the most expensive programs on the list for a long time.
However, in April 2015 Toon Boom made a major announcement which finally makes the power of Harmony available to all artists and budgets

** New Pricing Structure in v12 **

In the April 2015 announcement Toon Boom said that from now on it would be focusing its efforts on Harmony and providing 3 different versions at different prices to meet the needs of every artist, whether a small freelancer or big established studio.
The new versions are called "Essentials", "Advanced" and "Premium", and there are a few different pricing models depending on your needs – monthly, annual, or perpetual. (Take a look at their full detailed pricing here)
Essentials (closer to their former Toon Boom Studio software)
$23 / month , $180 / year (equivalent to $15 / month) , $375 perpetual license
Advanced (closer to their former Toon Boom Animate software)
$58 / month , $456 / year (equivalent to $38 / month) , $975 perpetual license
Premium (closer to their former Toon Boom Animate Pro software)
$109 / month , $876 / year (equivalent to $73 / month) , $1,975 perpetual license
As with most software, if you're a student, teacher or academic institution you can get an educational version for a large discount. As much as 84% off!
A free 21-day trial demo can also be downloaded here (no credit card required):
https://www.toonboom.com/products/harmony/try
Want to learn how to animate in Toon Boom Harmony?
Then try the following top course on BloopAnimation.com
Toon Boom Animation Course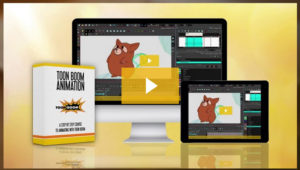 You can also take a look at some of the other
best Toon Boom Harmony courses
out there.
Moho Pro (formerly called "Anime Studio")
Moho Pro v12 is a hugely popular and affordable 2d animation software primarily designed for the Flash-style animator, but with new tools that allow for frame-by-frame drawn animation as well. Its bone system and in-betweening functions are some of the best out there, especially for the price. There is also an automatic lip-syncing function, a Smart Warp tool allowing easy manipulation of any image, as well as 3D cameras and physics for simulations and effects.
There are two versions of the program, Moho Pro, and Moho Debut. The Pro version is the whole kaboodle and designed for the pro or budding amateur. While the Debut version (which I talk about below in the "Kids" section) has a scaled down toolset and is more geared towards kids and beginning animators.
Video here: https://www.youtube.com/watch?v=Q-4ThgsX80c
You can download a free trial demo here:
http://anime.smithmicro.com/trial-offer.html
Prices are:
Pro: US$399.99
Want to save money and buy an older version?
Get Anime Studio Pro v11 from Amazon
DigiCel FlipBook
FlipBook is DigiCel's flagship 2d animation software and a favourite among Disney and other high-level professional animators. It allows you to do traditional frame-by-frame drawn animation as you would normally do on a lightbox. You can draw directly into the program or, if you prefer, do your drawings on paper first and then scan them in to do your clean up and ink and paint in FlipBook.
There are a number of different versions that you can choose from depending on what you're looking to do and your budget. There is FlipBook Lite, FlipBook Studio, FlipBook Pro, and FlipBook ProHD
To see the differences between these check out the comparison chart on the Digicel website:
http://www.digicelinc.com/store.htm
You can also download demo versions here:
http://www.digicelinc.com/download/downloads.htm
Usual price of the software is:
FlipBook Lite:  US$78
FlipBook Studio:  US$298
FlipBook Pro:  US$598
FlipBook ProHD:  US$798
CrazyTalk Animator 3
(Read our full review of v2 here)
An interesting program from the makers Reallusion, CrazyTalk Animator 3 takes a slightly different approach to traditional 2d animation than you might be used to seeing.
Not only does it come with a large library of pre-made characters, designs and movements, but it also allows you to import 3d motions and add them onto your 2d characters. So, for example you could animate a character in a 3d program like Maya, or even get hold of some motion capture data, and then simply apply that to your 2d character in the CrazyTalk software, which produces some really interesting and quite unique results.
It also has some easy to use facial and lip-syncing tools.
It's a great program that anyone can pretty much pick up and use, and is particularly good for making promo videos or explainer / whiteboard videos. You can also do South Park style animation really easily in it too.
It comes in 3 different versions depending on what you need:
Pipeline – $299.00
PRO – $179.00
Standard – $69.00
You can download a trial version here
Toon Boom Studio
EDITORIAL NOTE: As of October 16th 2015 Toon Boom will be discontinuing their Toon Boom Studio software, and replacing it with their flagship Harmony program. We recommend their Harmony Essentials version. To find out more, read our in-depth review of Harmony 12 here
Back to Toon Boom again and their Studio software. This is by far their most popular program and is used by both professionals and amateurs alike, but is particularly popular and useful for the home user and hobbyist, and it's reasonable price makes it a very accessible and all-round tool.
You can use it in a traditional way (drawing on paper first, then scanning your drawings into the software), or even to do Flash-style animations. The bones feature of the software means you can create a simple skeleton for your characters and move their body parts individually, instead of having to make new drawings every frame.
You can download a demo here:
https://www.toonboom.com/products/toon-boom-studio
Usual price of the software is: US$249
Toon Boom Animate
EDITORIAL NOTE: As of October 16th 2015 Toon Boom will be discontinuing their Toon Boom Animate software, and replacing it with their flagship Harmony program. We recommend their Harmony Advanced version. To find out more, read our in-depth review of Harmony 12 here
The Animate software from Toon Boom builds on their Studio program and is really the next level up, designed for professionals or those looking for the high-end tools and effects.
It has really been designed and marketed as a serious competitor to Flash, since you do Flash-style animation but in a more intuitive way – and most animators who have used it say it is a much better animation tool than Flash from a purist's point of view, since you can also do traditional style animation techniques as well, at which Flash is notoriously cumbersome.
The 3D and multi-plane camera effects make this a great piece of software, but the price may be prohibitive to some.
You can download a demo here:
https://www.toonboom.com/products/animate
Usual price of the software is: US$699
Toon Boom Animate Pro
EDITORIAL NOTE: As of October 16th 2015 Toon Boom will be discontinuing their Toon Boom Animate Pro software, and replacing it with their flagship Harmony program. We recommend their Harmony Premium version. To find out more, read our in-depth review of Harmony 12 here
As the name suggests Animate Pro is the super-high end professional version of the Animate software mentioned above. It does all that Animate can do as well as a number of other effects, more powerful cameras, compositing tools, as well as cinema size output, and 3D stereoscopic capabilities.
This then is for the really serious professional or studio looking for specific tools. This is obviously reflected in the price.
You can download a demo here:
https://www.toonboom.com/products/animate-pro
This software costs: US$1,199
Retas!Pro
Retas!Pro by Celsys is a high-end 2d software which is most popular in Japan and used heavily in the Manga / Anime industry.
It is mostly used by professional studios and as such is comprised of four separate modules which reflects the different departments:
STYLOS HD – for digital drawing
TraceMan HD – for scanning and cleaning up the drawings
PaintMan HD – for painting the drawings
CoreRETAS HD – for compositing and shooting (i.e. doing the camera work)
You can download a demo here:
Cost of the software is around: US$3,799
CTP Pro
Crater Software's CTP (Cartoon Television Program) is in my view a great piece of software that is not that well known, yet is fairly easy to get started with (we had a copy at University some years ago).
This is a purely traditional animation software, meaning you'll have to draw all the frames, on paper and then scanning them in, or directly into the software itself (it works best when done on paper first since the drawing tools are not as flexible as those on other software programs).
It's definitely one of the easiest programs to get started with and is pretty self-explanatory. The exposure sheet is just like a traditional one, but you have the option to add "cameras" to each layer, effectively meaning you can animate each layer individually. This along with the organisation tools make it very easy to duplicate frames and creatively put together your animation.
You can download a demo here:
http://www.cratersoftware.com/download.html?language=en
CTP Pro HD version costs US$699 and is available here:
http://www.cratersoftware.com/buy/?currency=USD
CelAction 2D
CelAction 2D is an animation software in the vein of Adobe Flash and Toon Boom Studio where you rig up a drawn character and animate its skeleton, rather than drawing individual frames.
However, where it differs from Toon Boom Studio is that it doesn't have any drawing tools whatsoever (the company actually state this on their website as if it were a positive!). Frankly, I don't see the point in a 2d software that has no drawing tools, since it requires you to buy another piece of software like Photoshop to draw your characters and other elements and then transfer to CelAction 2D.
Either way, if Flash animation is your thing this software does contain many effects and tools to make your like easier like IK (Inverse Kinematics) and lip-syncing tools, as well as a large number of effects and a variety of output options all the way up to cinema size.
Geared towards professionals and studios, this is reflected in the price which, for the Studio version is based on a rental:
Studio (all features included): $999 (rental only)
Professional (cut-down version): $999 (full license purchase)
http://www.celaction.com/en/celaction2d/buy
There isn't a downloadable demo available, however you can contact them for an evaluation kit here:
http://www.celaction.com/en/celaction2d/demo
TVPaint
Developed in France, TVPaint Animation is designed for the professional and hobbyist animator who wants to use the traditional techniques of hand drawn animation but with the added ability of using painterly effects. The drawing and paint tools are really extensive and allow you to do all sorts of styles including watercolour, gouache, and felt-tip. It is however, quite expensive, so really will only be used by pros or those who have a decent budget to spend on their hobby.
(Something I didn't realise was that TVPaint was originally the Aura software that used to be distributed by NewTek and familiar to old users of Lightwave – like myself. It was also known as Mirage at one point too.)
The good thing with TVPaint is that it is split into two different editions – Professional and Standard, with different features and prices (check out their comparison chart here) http://static.tvpaint.com/products/comparison.pdf
You can download a free demo version here:
Prices are:
Standard: US$600
Professional: US$1,500


Want to learn how to animate in TVPaint?
Then try the following top course on BloopAnimation.com
TVPaint Animation Course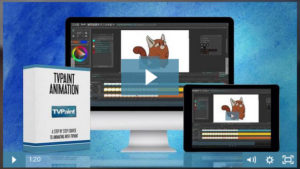 Toonz
UPDATE: As of March 26th 2016 Digital Video will be releasing a free open-source version of Toonz called OpenToonz (see our article here). They will continue to develop and market Toonz Premium as their flagship product, and I will update when I know more about the new version
Toonz from Digital Video in Italy is used by a number of professional studios the most famous of course being Studio Ghibli in Japan.
There used to be two different products – Toonz Harlequin and Toonz Bravo, but they have now merged into Toonz Premium, which is a top-end software designed for traditional and paperless workflows. They also sell a scaled-down Toonz LineTest program which is set up for scanning and testing your drawings before colouring.
I must say that I found it a little difficult to use when I had a go at it a few years back…much more complicated than Toon Boom Harmony, CTP or FlipBook. However, that was nearly 10 years ago, so I'm sure much has changed since then. If anyone has used it please let me know in the comments below.
Price:
349.00 euros
There is a demo version to try out which you can request here (the web page is a bit mid-90s basic, but does the job):
https://www.toonzpremium.com/downloadcontact/
Adobe Animate CC (formerly known as Flash Pro)
Well pretty much everyone has heard of Adobe's Flash, which they have recently renamed as "Animate". It is so famous in fact that the name "Flash" has become a style in itself after having really pioneered animation technology for the web. However, over the years other programs like some of those above (Toon Boom, Moho Pro, and CelAction 2D) have developed programs that are more animator-friendly and designed for film and tv output with more effective camera tools and effects, in some cases at a much lower price.
However, Animate is still THE web animator's tool of choice and so I couldn't leave it off this list
You can download a free trial demo here:
https://creative.adobe.com/products/download/animate?promoid=VY36K4SD&mv=other
Price:
Animate CC (formerly Flash Professional):
US$19.99 per month (annual plan, paid monthly)
US$29.99 per month (monthly plan, cancel any time)
US$239.88 per year (annual plan, pre-paid)
Want to learn how to animate in Flash (Adobe Animate)?
Then try the following top course on BloopAnimation.com
Flash Animation Course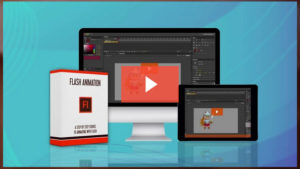 Adobe Character Animator
Adobe's newest addition to the animation family is their Character Animator software program. One of its biggest features is the ability to do real-time animation based off of a live-action performance. So, with the use of a simple web cam you can track your own face and the software will automatically mimic your actions onto a character in real-time – including dialogue. This is pretty amazing for doing live broadcasts, school projects or business promos. The program comes with some template characters that you can use right out of the box or you can design your own in Photoshop or Illustrator, and then import them into the program.
It seems like it is still in the early stages of development, and as such cannot be purchased as a stand-alone software yet, but rather comes as part of Adobe's Creative Cloud app.
You can see more about the software and download a free trial demo of Adobe Creative Cloud here:
https://creative.adobe.com/products/download/character-animator?promoid=3SH1B8YR&mv=other
Price:
Character Animator:
US$49.99 per month (annual plan, paid monthly – this is the price for Adobe's Creative Cloud app which includes the Character Animator software)
CACANi Animation Software
CACANi is a fairly new program in the 2d animation space (the company was only established in 2011), but has become increasingly popular both among hobbyists and professionals. The company and developers are based in Singapore, and the program is particularly popular in Asia especially among anime and manga enthusiasts. However, its toolset means it can be used by any 2d animator.
Speaking of the tools, they are very impressive. With a broad range of brushes to do traditional freehand drawn animation, but also some really clever stroke and inbetweening tools, there's plenty here for beginners and pros alike. The UI (User Interface) is clear and straightforward too.
There's a free 30-day trial you can take advantage of here:
https://cacani.sg/cacani-trial/
The CACANi animation software is very affordable and offers multiple pricing options, from a one-time perpetual license, or a subscription-based model ranging from 30 days up to a full year.
Pricing:
Perpetual license
$299USD
Subscriptions:
$129USD 365 days
$69USD 180 days
$39USD 90 days
$15USD 30 days
You can buy the latest version of CACANi here:
https://cacani.sg/product/cacani/
Clip Studio Paint
Developed by the Japanese company Celsys (as with RETAS Studio above), Clip Studio Paint has rapidly become one of the hottest and most popular digital painting programs on the market, and a tool of choice among manga and comic book artists.
It comes in two major versions, PRO and EX. The excellent drawing capabilities are basically the same on both versions, but where they differ is on the animation side – EX has unlimited frames, while PRO is limited to a maximum of 24 frames. However, neither version has audio support, so you will need to export your animation and add it on via a third-party program like After Effects.
With over 4,000,000 users worldwide, Clip Studio Paint is a solid Photoshop alternative.
You can download a free 30-day trial version here:
https://www.clipstudio.net/en/
Prices from the Celsys website are:
PRO: US$49.99
EX: US$219

There are also boxed versions on Amazon that are sometimes on sale if you want to check the latest prices here

Autodesk SketchBook
At first glance, perhaps a slightly controversial one to add to the list is Autodesk's SketchBook.
"Isn't that just for drawing and painting?"  I hear you say.
Well, the reason I've added it is that the recently released version 7 now has a FlipBook tool which is pretty darn cool, especially when you combine it with the software's already existing drawing and painting tools. I was really impressed with this and at such a low price I think it has definitely earned a solid place on this list.
Basically, imagine Photoshop with a proper animation timeline for a fraction of the price and you'll be getting close!
Find out more about Autodesk SketchBook here:
https://www.sketchbook.com/desktop
Price:   US$10 per month, US$85 per year, or US$255 per 3 years
Open-Source / Free 2d Software
Pretty much as the name suggests, these animation programs are completely free to download and use – no licenses or purchase necessary. Usually "open-source" means they rely on volunteers and the community to provide updates, improvements, bug fixes etc. As such, if you have a problem with them it may not be easy to get a fix or find a solution, but in most cases this is irrelevant since most of the programs are fairly stable and have a reasonably large user-base.
Tupí: 2D Magic
Formerly known as KTooN, Tupí is one of the most versatile open-source 2d animation software programs out there and lets you do traditional frame-by-frame drawn animation, or cut-out flash style with tweening.
I think they've done a fantastic job on their interface design and have managed to use the screen space really effectively by incorporating tabs to switch between design and player modes, which I found quite innovative and a smart solution to the usual problem of having to have multiple windows open. This makes it very easy to use on even a small laptop or tablet.
The brushes are versatile with great line quality and the software can output in HD format.
The user base is currently around 10,000 worldwide and growing.
There are versions for Windows, Mac, and Linux operating systems.
Download the version you need from here:
http://www.maefloresta.com/portal/downloads
Price : FREE
Pencil
Being Open Source, the Pencil software is completely free to download and use. It's geared towards traditional drawn animation where each frame is created from scratch – so there are no "tweening" tools like you find in Toon Boom Animate or Flash.
The interface is very clear and easy to use particularly if used any type of paint program in the past like Photoshop.
There are Windows, Mac and Linux versions available and don't require any registration.
You can download a version here:
http://www.pencil-animation.org/index.php?id=Download
Price : FREE
Plastic Animation Paper
Plastic Animation Paper, or PAP for short, is a free to download animation software that has a really impressive toolset. PAP used to be a paid animation program but for the last few years has been made available as a free download – Windows ONLY – no Mac version…sorry! 🙁
It allows you to do classic style drawn animation right in the program itself – no need to scan any drawings. In my opinion the best aspect of the software is it's wonderful line and brush tools that really give you the creative freedom to do sketchy style animation or go further and clean it up if you want.
Unfortunately the interface does look a bit dated, but the good news is that the creators are now hard at work on an updated replacement called simply "Animation Paper". However, this will be a paid program when it is finally released.
You can find out more about it here:
Or download the old version of Plastic Animation Paper here (along with tutorials):
http://animationpaper.com/old-pap-free-download/
Price: FREE
Synfig
Synfig is a vector-based, free and open source animation program that is ideal for those looking to do Flash-style animation rather than traditional frame-by-frame drawn animation.
While its interface is not hugely complicated, it will certainly take a little longer to master than PAP or Pencil, but then again the features are closer to Flash so naturally it has a steeper learning curve. If you've used Flash before you'll find this very similar and an easy crossover.
Thankfully there is a fairly large online community using Synfig, and so there are a ton of tutorials, YouTube videos and various forum posts if you ever get stuck or need help. At the end of the day, it is a pretty amazing piece of software when you consider that it is 100% free.
In June 2018, Synfig secured a $2,000 donation from ASIFA-Hollywood to aid the continued development of the software. This is great news not only for Synfig, but all open-source animation programs as it shows a willingness on the part of leaders in the industry to support alternatives and grass-roots initiatives to get people started using animation software regardless of skill level or budget.
Synfig is available for Windows, Linux, Mac. You can also access the source code if you know how to program.
You can download the latest version here:
https://www.synfig.org/#download
Price: FREE


Want to learn how to animate in Synfig?
Then try the following top course on Udemy.com
Creating animation in Synfig Studio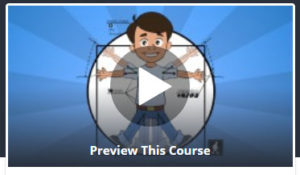 OpenToonz
Coming soon. Will be released on Saturday 26th March 2016. Updates to follow after release.
Price: FREE

Krita
Krita is a professional digital painting program that has been in development for over 10 years. Originally modelled as an alternative to GIMP, which is another open-source paint program designed like Photoshop, it has continually grown and now is seeing a significant increase in its user base.
So, if it's a just a paint program why is it on this list of 2D animation software?
Well, in 2016 with the release of version 3.0, they added a much needed and pretty solid animation toolset. It has onion skinning, a timeline, and all the paint and drawing tools, as well as some basic audio support. Version 4.0 now allows you to work with vector graphics in addition to the raster ones in previous versions which means you can get clean lines.
The downside is that Krita currently has no tweening tools, meaning you have to animate every single frame in a traditional way. I have heard that this is being worked on but I've no idea when or if it will be released in a future update.
However, with a growing user base and some solid developers Krita is continuing to improve with each new release, and is a solid free alternative to Clip Studio Paint for doing traditional frame-by-frame animation.
You can download Krita for free here:
https://krita.org/en/download/krita-desktop/
Price: FREE

Stykz and Pivot Stickfigure Animator
If you've ever seen those funny stick man animations on YouTube then these two software programs will allow you to do just that.
"The first multi-platform stick figure animation program" as it says on its website, Stykz is a simple program that lets you…well…animate stick figures of course! It grew out of an older program, Pivot Stickfigure Animator (mentioned below), and while it doesn't have quite all of the features of Pivot it is still quite cool, plus it has direct download versions for both Mac and Windows, with a Linux Beta coming soon.
You can go on their site to see a comparison chart of Stykz and Pivot.
http://www.stykz.net/faq/pivot_comparison.php
Pivot is currently only available on Windows machines as a direct download. It is possible to run it on a Mac or Linux using Boot Camp or the WINE emulator respectively.
Pivot like Stykz does not support audio, so the only way to add audio to your animations is by exporting it, and then opening it in a video editor such as Windows Movie Maker or Final Cut.
The current version of Pivot (v4) allows you to save in .avi video format, as well as figure transparency support. The upcoming v5 is due to include multi-coloured figures, bendy lines and basic tweening.
You can download the latest version of Stykz here:
http://www.stykz.net/downloads/
You can download the latest version of Pivot Animator here:
http://pivotanimator.net/Download.php
Price: FREE
Want to learn how to animate Stick Figures?
Then try the following top course on BloopAnimation.com from YouTube star Alan Becker (creator of Animator vs Animation)
Stick Figure Animation Course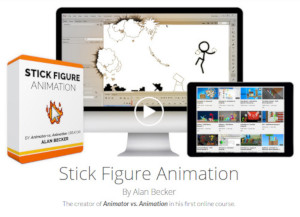 Kids / Beginner Level Programs
As you may have noticed from the professional software above, the interfaces, menus and tools can be pretty complicated in a 2d program. So, thankfully, a number of companies now produce kid-friendly versions of their software making it much easier for young beginners to take their first animated steps without wasting time on a steep learning curve. For our recommendations, take a look at the top animation software programs for kids here
Below are the best 2d animation programs out there that are specifically designed for kids and teenagers.
Moho Debut (formerly Anime Studio Debut)
Moho Debut (formerly known as Anime Studio Debut) is the kid brother of the professional level Moho Pro I listed above. As such it has a similar interface but has been slightly pared down to make life a bit easier for beginners.
Like its big brother, this is a software tool designed for Flash-style animation, where you have a rigged character held together with "bones" that you move around and set keyframes with (South Park style) – almost like cut-out animation, but with a much larger digital toolset. As such, if you're looking to do traditional drawn animation then this is not the software for you, as the drawing tools are pretty much non-existent.
You can buy the Moho Debut software on Amazon here:
Moho Debut 12
Or from the Smith Micro site here:
RRP Price: $69.99
Hue Animation Studio
Now, before you say it, yes I know that Hue Animation Studio is really a stop motion software kit. However, i think it is much more than that. Because it comes with its own camera and capture software you can actually use it to do traditional drawn animation as well as stop motion.
Besides I felt it had to be a part of this list as I think it is one of the best pieces of kit available to get kids of pretty much any age interested in animation and the film making process. The camera is plug and play, and the software is a doddle to install and use, therefore I recommend it highly.
You can buy the Hue Animation Studio kit here:
RRP Price: $79.95
Animation-ish
Animation-ish, from Fable Vision, is the brainchild of artist / illustrator Peter Reynolds. Designed to be the most "arty" of animation programs, it contains 3 separate modules, Wiggledoodle-ish, Flipbook-ish, and Advanced-ish, with varying features designed to help anyone from small children to intermediates get started drawing and animating.
The simple interface makes things a doddle and removes the steep learning curve associated with more advanced programs, making it an ideal place for small children to take their first animated steps. They can literally open the software and start…it's that simple.
The main drawback of the program is that you can't import any sound files, making lip-sync or dialogue animation difficult. You have to export your animation first as a movie and then add the sound in a 3rd party editing program.
You can buy the Animation-ish software at a $10 discount from one of the top online educational software retailers:
==> Save $10 on Animation-ish at JourneyEd.com
RRP Price: $59
Flip Boom Cartoon
EDITORIAL NOTE: As of October 16th 2015 Toon Boom have discontinued their Flip Boom Cartoon software. We recommend you take a look at some of the other kids programs on this list.
Flip Boom Cartoon from Toon Boom is a great little software program designed for young children who are complete beginners to animation. The very simple interface is a really trimmed down version of their higher end software like Studio and Animate, so while it's easy to navigate it's also a good starting point that your children can build on later if they want to tackle the more difficult software later down the road.
It's an all-in-one program where you can draw, colour and animate your drawings as well as recording your own voices or sound effects to add on. This means you won't need to buy another program for them to finish their cartoons – they can do it all in this software and then even upload it to YouTube or Facebook if they want.
You can buy Flip Boom Cartoon here:
https://www.toonboom.com/products/flip-boom-cartoon
Price: $39
Flip Boom All Star
(Read our full review and video walk-through here)
EDITORIAL NOTE: As of October 16th 2015 Toon Boom have discontinued their Flip Boom All Star software. We recommend you take a look at some of the other kids programs on this list.
The Flip Boom All Star software from Toon Boom is hugely popular among kids and teenagers. Its classy, well-laid out interface means your little one won't get scared off by complicate menus and tools.
It is ideal for beginners as it has a number of preset templates and sound effects, along with an "Auto-Animate" feature which your child will be able to produce their first cartoon in no time. Although Toon Boom market is the next level up from Flip Boom Cartoon, I personally think it is a better idea to start with this one as it has more features than Flip Boom Cartoon and not is that much more complicated to learn.
You can buy the Flip Boom All Star software here:
https://www.toonboom.com/products/flip-boom-all-star
Price: $59
The TAB Kids
The TAB Kids is a colourful little software produced by the makers of the high end Toonz software I've listed above in the professional section.
TAB Kids prides itself on its easy to use interface, and it certainly is. Very colourful, with no menus or commands, all the functions are represented by visual icons and buttons which means everything is easy to find and understand quickly.
It has great drawing and movement tools, layer capabilities (up to 4), and simple export tools making it easy to save out your movies or upload them to the web. Kids will definitely find this software visually appealing and fun to use.
You can buy The TAB Kids software for Windows or Mac here:
https://www.toonzpremium.com/prodotto/the-tab-kids/
Price: $40 + shipping for the boxed edition, or $40 for digital download.
Whiteboard / Doodle / Explainer Video Animation Software
"Whiteboard", "doodle", or explainer video animation software refers to programs that are specifically designed to produce the presentation or marketing videos that are hugely popular these days. Up to now producing these videos was an expensive process, usually involving very talented artists and advertising agencies. But with the software programs below you can easily produce a video in minutes, whether for a business presentation, website, or school project. Many of these programs even have their own content markets, meaning you can join and start producing your own designs and content that you sell to other users. This can be a great way to get started with some commercial work or to start your own freelancing career.
Coupon Code –
Save 25% on VideoScribe
Sparkol are currently offering 25% off their monthly and annual plans for VideoScribe, just enter the following code on the checkout page:

VS3-ATM18-25
>>> Visit VideoScribe.co now to save 25% <<<
VideoScribe
VideoScribe is a great little whiteboard animation software program from British company Sparkol. It is very easy to use and comes with access to an online image gallery where you can use other people's images in your own work. The VideoScribe program also comes with an additional add-on called "Tawe", which basically lets you turn any image or photo into a simple presentation by letting you zoom, rotate and animate across the image and add a voiceover.
The VideoScribe software is definitely one of the easiest and most user-friendly programs out there, perfect for all levels, from businesses and marketers, to school projects. It significantly reduces the cost of producing animated videos, and the program itself is very competitively priced with various options, from monthly subscriptions to one-off payments.
For budding artists and entrepreneurs, the program can even be used to produce videos for other businesses and people who are willing to pay for your services, which is a really exciting opportunity.
To see some of the inspiring work produced by the VideoScribe software click here:
http://www.videoscribe.co/scribes
You can access a free 7-day trial here:
VideoScribe Free Trial
Price options:
£96 per year (equivalent of £8 per month)
£18 per month
£398 one-off perpetual licence

>>> Visit VideoScribe.co now <<<
Easy Sketch Pro 3
Easy Sketch Pro is the cheapest whiteboard software on the market but don't let that fool you, as it has great functionality and is extremely popular among marketers and schools, with over 55,000 users and growing. Very easy to use and with a simple one-off purchase it is very cost efficient and means you can be up and animating in minutes.
Watch their demo video here:
Price:
Starter: $39
Business: $69
Business Pro: $99
Vyond (formerly GoAnimate)
Vyond (formerly GoAnimate) is one of the first and most established of all the whiteboard animation software programs available. As of May 2018 GoAnimate has rebranded itself as "Vyond" and they are looking to expand the scope and flexibility of the software, which is exciting news.
The software is highly popular among business clients and has access to a large content library.
The downside is that it is the most expensive program on the list. You have to pay for the use of the software which gives you a commercial license, however you then need to pay an additional $79 "rights transfer" fee if you want to sell a video you make to a third-party.
In saying this though, the upside is that the subscription charges are extremely flexible and allow you to choose from 1-month, 3-months and 1-year subscriptions, which is great for freelancers who may need the software sporadically and don't want the ongoing expense.
You can download a free demo version here:
Price:
GoPublish: $39 per month or $299 per year
GoPremium: $79 per month or $599 per year
GoTeam: $159 per month or $999 per year
Moovly
Moovly is an online browser-based whiteboard animation software, which means it is ideal for collaborative projects in teams or for folks who use multiple devices and what to always have their work synced.
Depending on the subscription you opt for, you will have access to a large content library and varied templates in different styles, along with the ability to upload your own videos, images and pre-prepared content.
There are a few pricing options to suit all budgets from an unlimited version, to businesses, and educational users.
You can sign up for a free 30-day trial here and get started right away:
Price:
Moovly Unlimited: $5 per month
Moovly Business: $300 per year
(Educational versions are available at a 50% discount)
RawShorts
RawShorts is a fairly new explainer video program that is web-based, working solely in the cloud, so no software download is necessary, and is a cheaper alternative to GoAnimate.
They have a large selection of free templates that you can use and edit, as well as giving you access to designers and voice over artists if you have a specific project in mind.
There are a few different pricing options to suit every budget, with a choice of monthly subscriptions or pay-per-export if you'd prefer not to have the rolling subscription.
You can sign up for a free account and get started here:
Price:
— Pay-per-export —
Free: $0
$8 per export pack of 3 exports = $60
$12 per export pack of 10 exports = $120
$20 per export pack of 25 exports = $200
— Subscription —
Free: $0
Premium: $49 per month cancel any time
Agency: $39 per month billed annually = $468 per year
PowToon
PowToon is an animated explainer video software that is purely web-based and has been around for about 5 years or so, making it a very established and popular player in the field.
There is a huge selection of templates, animations and designs available, as well as access to top designers and artists if you need something bespoke.
There are a 4 different pricing options meaning there is something for everyone. There's even the free option where you can try it out and see how it works, the only restriction being that all of your videos will have a watermark on them.
You can sign up for a free account and get started here:
Price:
Free: $0
Pro: $19 per month
Business: $59 per month
Team: $46 per month bulk licenses
Explaindio
Explaindio is an animated explainer video software that is only a few years old and has been extremely popular among marketers and schools.
It claims to allow users to create animated explainer videos in as little as 3 minutes. Of course, if you want something unique, it will take a bit longer than that, but there is a huge library of templates and designs that will allow even complete beginners to get up and running as quickly as possible.
There are 2 different pricing options and both are extremely reasonable, in fact they are among the best value on the market, as they are outright purchases and don't require an ongoing monthly subscription.
You can watch their intro video on how to create an animated video in 3 minutes or less here…:
https://www.ExplaindioVideoCreator.com/
Price:
Personal: $59 unlimited license
Professional: $69 unlimited license