Disclosure: Some links may be affiliate links. We may get paid if you buy something or take an action after clicking one of these. 2dAnimationSoftwareGuide.com is a participant in the Amazon Services LLC Associates Program, an affiliate advertising program designed to provide a means for sites to earn advertising fees by advertising and linking to Amazon.com
Coupon Code –
Save 33% on VideoScribe
Sparkol are currently offering 33% off their monthly and annual plans for VideoScribe for Black Friday, just enter the following code on the checkout page:

SAVE33
>>> Visit VideoScribe.co now to save 33% <<<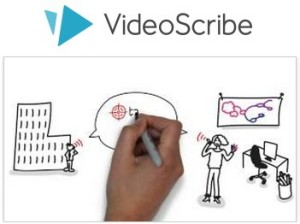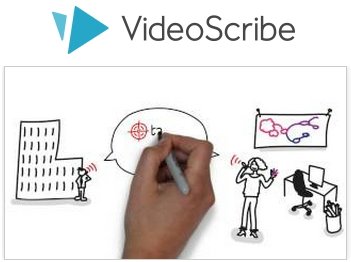 The UK-based tech company Sparkol have been quietly developing their flagship "VideoScribe" program over the last few years and turning it into one of the best whiteboard animation software programs available on the market today.
With an easy five-step process and lots of available elements in the program to choose from, you can build videos for your business easily and affordably.
VideoScribe was the first software of this type on the market and as such, the company has had plenty of time to hone their craft, delivering a finished product that fits the needs of any business.
For this Videoscribe review I took advantage of their free 7-day trial, to test the software and see what it could do.
First Impressions
You know, there's nothing worse than opening up an animation program for the first time and feeling completely overwhelmed by the layout and design of the interface…it's a real creativity killer.
Not with Videoscribe though! Everything is neatly and clearly laid out, with a simple and intuitive interface (see image below)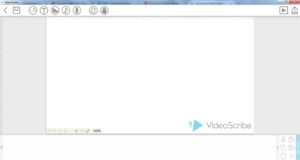 There are also step-by-step tips that walk you through what to do the first time you open software, so if you're complete newbie or beginner, you'll have no problem setting up your first "scribe".
Cloud Based or Downloadable
VideoScribe allows you to work and save your progress in the cloud. However, the program is also downloadable, allowing you to work completely offline. This gives users more options regarding when and where they decide to use the program.
Own the Software
VideoScribe's competitors have varied options for monthly subscriptions. However, unlike other whiteboard animation software applications, VideoScribe gives you the option to actually own a licensed copy. There is still the option to purchase a monthly or yearly subscription, but if you decide you want to use the software indefinitely, you can purchase your license outright for a one-time payment of $665.
>>> Click here to buy Videoscribe <<<
Great Compatibility
VideoScribe's software is compatible with both Mac and PC. In addition, there are apps with limited features for both iOS and Android. This allows you to build videos on a plethora of different platforms.
Lots of Available Features
VideoScribe lets you design your own layouts and characters, set your own text, and program movements using a hand to 'draw' each scene. In addition, there are lots of menus available with sounds and visual props that you can pick from to add richness and depth to each video.
Easy Creation Process
VideoScribe makes it easy to create videos with their five-step process. Begin by adding images and text, then set animation times, record and import any voiceover, choose other sounds or a soundtrack, and publish. There is a simple tutorial that highlights how to use all of the features and lots of example videos on the website to get your creative juices flowing.
Great DIY Options
In addition to all of the great standard sounds, characters, props, and background objects that come with VideoScribe, you can also import your own audio and visual elements and manipulate them in exactly the same way. In addition, you can upload a profile of your own hand to 'draw' each scene or you can use one of the ones that come with the program.
Soundtracks
In addition to having a library of sounds as well as the ability to import your own, VideoScribe also has whole soundtracks. You can use these to create a background audio theme for part of or the entire length of your videos. This makes it easy to set a certain tone in any video without having to search for royalty free music or try and create your own.
Pricing Plans
VideoScribe has a seven-day free trial so that you can get a flavour for the program before you buy it. During this time, you will have limited options and access to the cloud-based program. In addition, everything you create will bear the VideoScribe watermark. If you decide to buy, there are three options.
$29 billed monthly
$144 billed yearly (equal to $12 monthly)
$665 onetime fee
All three of these options give you access to the full downloadable program and all of its features as well as the Android and iOS apps. VideoScribe also has an educational program that provides log-ins for every student and teacher starting as low as $840 yearly.
Competitors
While VideoScribe lays claim to be the first whiteboard animation software company on the market, it is far from the last. Other top competitors such as Powtoon, GoAnimate, EasySketch Pro, Moovly, and Wideo provide similar software with the same basic features.
In addition, Powtoon, Moovly, and Wideo all have limited free versions available. GoAnimate and Powtoon even have team licensing that allows several people to interact and collaborate on a single video in real time. GoAnimate also has some extra bells and whistles such as the ability to automatically sync their character's mouth movements to any spoken audio.
While VideoScribe's interface is focused entirely on whiteboard style videos drawn with a hand, other applications have options beyond that for true character animations and more.
Despite the advanced features of some of its competitors, VideoScribe performs in its space extremely well because it is so easy to use. Even people who don't consider themselves creative or technologically savvy can easily put together a coherent and effective video in mere minutes.
However, VideoScribe's real ace in the hole is the fact that you can buy the software outright, which none of the other top competitors allow customers to do. From a money saving standpoint, this option immediately sets VideoScribe apart from the competition.
Pros
Every option gives you access to the full program
Free 7 day trial
Option to purchase the program outright
Simple five step interface with many DIY features
Unlimited downloads, hosting, and creation
Large library of audio and visual elements including soundtracks
Cons
Features are simple
Interface is limited to whiteboard style videos drawn with a hand
The bottom line is VideoScribe is a simple but effective software interface that allows you to create whiteboard style animation videos for all business applications at a great price.
>>> Click here for a free 7-day trial of Videoscribe <<<