Disclosure: Some links may be affiliate links. We may get paid if you buy something or take an action after clicking one of these. 2dAnimationSoftwareGuide.com is a participant in the Amazon Services LLC Associates Program, an affiliate advertising program designed to provide a means for sites to earn advertising fees by advertising and linking to Amazon.com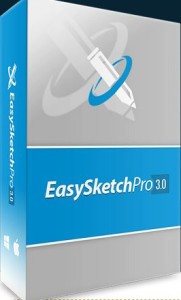 Animated whiteboard explainer videos are EXPENSIVE, right?
How expensive? Take a look at these prices (and they are good value for money!)
So for businesses and individuals that have been looking for a way to make impactful videos for marketing, training, and presentations without the use of an expensive creative team, EasySketch Pro 3.0 (ESP) provides a powerful set of tools that are somewhat unique versus its competitors at an incredibly attractive pricing structure.
ESP touts itself as a whiteboard style video tool, but in its third iteration, it has become much more than that.
Below is a full review of EasySketch Pro 3.0 and a list of its features.
Basic Features
Download and Own the Software
Unlike most of its competitors, ESP does not have a monthly subscription. Instead, there are 3 purchasing options (see below), each one giving you full rights to the software, which you then download. Obviously, the highest tier has the most features, but each version gives you commercial rights. This means that once you own ESP, you can do with your videos as you please and will never have to pay anything again.
Very Low Price
ESP has a starting price of $37. However, even the most expensive version is less than $100. Ultimately, the one-time fee is the same as paying for one to several payments of the monthly fees their competitors charge, making it extremely cost effective.
Lots of Features
ESP has all of the features you would expect from a whiteboard or animation video software application. There are more than 50 drawing hands to choose from, lots of created audio and visual elements as well as full backdrops and scenes that you can start with. There are also plenty of features that allow for the creation of non-whiteboard style videos including animations and cartoons, slide based presentations, and live video with added audio and visual elements. This makes it easy to make several different styles of videos.
Lots of DIY Options
In addition, ESP has all sorts of DIY options. You can use your own drawings, objects, video and audio elements. The drag and drop feature makes it easy to import these elements and move them around as you see fit. Because of this, you can change things around and customize your videos however you please.
Import and Resize Video
In addition to being able to bring in your own live video clips to ESP, you can also resize and move them around just like drawn objects. This means if you want a live video clip to play in the middle of a mostly animated presentation you are building, but you only want it to take up part of the screen, simply drag and drop it onto the presentation, resize it, and move it where you want it to go.
Call to Action Buttons
Another unique feature of ESP is their interactive call to action buttons. Inside of any video, you can utilize a number of different calls to action features. Examples include inserting a play button that allows you to launch a video clip that lives inside of your existing video, a link to a Facebook page, or a call to action prompting users to sign up for a class or service at the end of a presentation. These interactive features make your videos even more meaningful to anyone watching them.
Sketch to Video
This feature is one of the most unique. By using the sketch to video feature, you can import a live video clip, and have the software automatically make a black and white sketch of the first frame. When you load the transition, the finished video will start by automatically sketching the black and white drawing, and then have it transition out into the live video which will then begin playing in real time. It is a very flashy feature that adds a lot of class and style to any video.
Plans
ESP has three plans that you can purchase, each with better features. Once purchased, the software needs to be downloaded and is yours to keep:
Starter – $37
This option gives you access to the full software, but any videos you produce will have the phrase "Made by Easy Sketch Pro" in the bottom right corner.
Business – $67
This option provides access to the full software, without any ESP watermarks or branding.
Business Pro – $97
This option provides access to the full software, without any ESP watermarks or branding, plus the option to add your own logo and access to an extra library with over 12,000 premium sounds and images in it.
Competitors
ESP has many competitors on the market with similar basic features. Companies such as GoAnimate, VideoScribe, PowToon and Moovly all provide cloud-based software, which ESP doesn't offer. GoAnimate also has a feature that allows for the mouths of animated people and objects to sync to any spoken words automatically.
However, none of these competitors have a price that matches ESP. While PowToon has an option to purchase packages for a one-time fee, these have a limited amount of exports before you have to purchase again. For under $100, you can own ESP and use it as much as you like forever.
Recap
Pros
Very inexpensive
Own the software outright
Lots of flashy features including sketch to video
Embedded call to action buttons
DIY features
Cons
If you want a full featured inexpensive software option for your business that you can own outright, then EasySketch Pro 3.0 is the perfect choice.