Disclosure: Some links may be affiliate links. We may get paid if you buy something or take an action after clicking one of these. 2dAnimationSoftwareGuide.com is a participant in the Amazon Services LLC Associates Program, an affiliate advertising program designed to provide a means for sites to earn advertising fees by advertising and linking to Amazon.com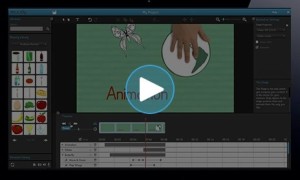 Creating online videos, tutorials and presentations is becoming an essential part of marketing and training for most businesses these days.
In fact, according to research, people following text WITH illustrations do 323% better than when they follow text WITHOUT illustrations.
The problem has always been that producing videos and infographics is a time-consuming and expensive business, requiring artists, designers and editors to bring your idea to life.
However, these days there are lots of software candidates to help savvy business owners create animated videos quickly and efficiently, and Moovly offers some unique features that help it to stand apart from the rest of the competition.

With many different styles of videos that this software can help you create, it is a multifaceted tool that can help your business presentation or school project express itself in ways you may never have thought imaginable. Below is a full review of Moovly, its features as well as its pros and cons.
Basic Features
Animation Styles
Moovly makes it easy to create tutorials, marketing, and training videos in several different styles using sounds, music, animation, and real photos or video. The vast array of tools makes it easy to create finished whiteboard videos, cartoons, or professional looking commercials. Because there are so many options, each video you create can be vastly different, but still contain all of the elements of your branding.
Display Ads
Moovly allows the creation of both banner and skyscraper ads that can be infused with animation. These ads can be saved in a web friendly format. Any business can create striking ad banners for their website, blog, or other online channels without having to hire a graphic design or marketing firm.
Infographics
Moovly can also be used to build stunning infographics that are not only animated, but are interactive. After adding in graphics and animations, your infographic can easily be set to create an interactive experience with the user. Through mouse-over, clicking, and pop up effects that make something move or display additional information, any infographics created in this manner can help to keep users fixated on them longer.
Presentations
Moovly has a great solution for tired and unattractive Power Point presentations. Using the software, it's easy to create an animated interactive presentation with all the features that a typical Power Point presentation has, but taken to a new level. With better options for graphics, animations, and transitions between slides, Moovly can help make any presentation more attractive.
E-cards
A slightly obscure and unique feature for this type of software, Moovly allows for the easy creation of animated invitations and e-cards that can easily be used for both business and personal applications. All of the audio and visual elements that the program has can be used to create an e-card. The finished product can be easily published on platforms like YouTube or Facebook, just like any other e-card would be.
Cloud Based
Moovly is based entirely in the cloud, which means that there is no download necessary to take advantage of it. To use it, simply be anywhere that an Internet connection is available. Keep in mind that finished videos can still be downloaded and used anywhere.
Lots of Assets
Moovly's pay options allow users access to more than 500,000 audio and visual elements, which the company called 'digital assets'. These vast libraries make it easy to find anything you might need to make your videos mesh with your branding. The ability to import your own audio and visual elements with certain plans makes the software fully customizable.
Moovly Pricing Plans
Moovly has a limited free option that allows you to try some of their features out. For those who are ready to buy, there are two plans that you can choose from. The different plans are as follows:
Moovly Unlimited
For $5 per month, this plan provides:
Unlimited access to the Moovly Studio editor
Unlimited access to over 500,000 digital assets
Unlimited downloads in HD
Unlimited video length
Unlimited publishing to Moovly Gallery
Unlimited embedding via Gallery
Unlimited social sharing
Remove watermark
Remove outro
1 GB personal library storage
Adjustable stage size
Batch select and import
Access to Help Center
Moovly Business
At $300 per year, Moovly Business provides all the same features as Moovly Unlimited plus:
5 GB personal library storage
Priority access
Priority rendering
Priority support
Commercial rights
Starting at 5 licenses (and extra cots):
Custom objects
Custom libraries
Custom fonts
Custom skinning
White labeling options
Custom features development
Single sign on
Service level agreement
Dedicated account manager
Group and user management features
Floating licenses

Moovly also offers educational packages in two tiers; a free tier and a pro tier at a 50% discount.

Moovly vs Its Competitors
Moovly has many competitors including GoAnimate, PowToon, VideoScribe, EasySketch Pro and RawShorts, who also offer similar software. Some of these competitors specialize in one type of video, such as VideoScribe's whiteboard videos, while others like GoAnimate have more features. What Moovly provides that these other companies do not is full access at a very inexpensive monthly price.
Recap
Pros
Program is very simple and easy to use
Lots of different media formats
Very inexpensive pricing structure
Business packages allow multiple licenses
Large library of audio and visual elements
Cons
Cloud interface can be slow depending on internet speed
No downloadable option means an internet connection is required
No option to purchase the program outright
Multi-license business package must be purchased to get all DIY custom options.
If what you are looking for is an animated video software that is easy to use, multifaceted, and won't break the bank, then Moovly may be the software you need for your business.