Disclosure: Some links may be affiliate links. We may get paid if you buy something or take an action after clicking one of these. 2dAnimationSoftwareGuide.com is a participant in the Amazon Services LLC Associates Program, an affiliate advertising program designed to provide a means for sites to earn advertising fees by advertising and linking to Amazon.com
Toon Boom Harmony version 12, while often seemingly daunting in its complexity, is quite possibly the best and most useful 2d animation software on the market today. Given the extensive character rigging functions and versatile effects modules, Toon Boom finds itself well ahead of animation programs like Adobe After Effects and Flash. Whether you're planning on animating personal projects or working in a larger studio pipeline, Harmony is designed to provide every function a 2d animator will ever need when creating quality content.
Despite a few small glitches involved in rendering complex character rigs, the program is remarkably stable. As a freelance animator, I have found Harmony to be the most useful tool imaginable. Anyone who takes the time to delve into its functions will see that Toon Boom Harmony version 12 is a fantastic tool for achieving quality animation efficiently.
Harmony sets itself apart from other popular animation programs with its character rigging systems. Creating an easily animatable cartoon character in After Effects and Flash has always been a bit disappointing, as the interface and parenting systems are more designed for video editing than actual 2d character animation.
With Harmony, the Node system makes linking appendages and keeping them in the correct order a breeze. Having an actively editable visual map of your character and scene gives an animator the ability to control every aspect of their rig. By linking drawing layers with composites and pegs, you can quickly find yourself building character rigs that rival the complexity of three-dimensional rigs.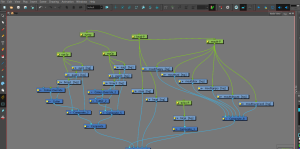 Once the character is built with simple pegs that help with organization, the amount of ways one can cleverly manipulate those pegs is essentially limitless. I find new ways of using even the simplest aspects of the rigging system on a daily basis, and the further I get into the software, the more control I have over my animations overall.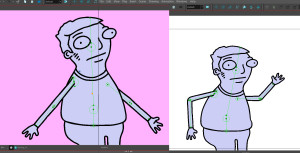 Bone tools in the other competing animation softwares always seem to result in some odd artifacting and distortion, leading many animators including myself to simply stick within the basic traditional animation functions of those programs. With a well-designed character rig in Harmony however, adding morphable bones to the various appendages is as easy as a few button clicks, and the results are almost always of a higher quality.
Not only are these bone tools useful in creating consistent movement of character features, they themselves are as animatable as every other part of the rig. This makes it easy to make character morphs more interesting over the course of an animation, keeping the movements appealing and novel.
Like with the peg systems, I find myself constantly finding new ways of using the morph functions to animate parts of both characters and backgrounds. Yes, having a large amount of character morphing on screen will make rendering take quite a bit of time, but it's really not all that bad considering the stream of information the program is translating for every frame. With the time you'll save in animation work by using the morph tools to manipulate drawing layers, you won't mind waiting a bit longer for your movies to render.
The previously mentioned tools alone would be enough to consider Toon Boom Harmony the best choice for professional and aspiring 2d animators, yet it also offers an in-depth collection of effects modules that can take a character rig to the next level.
Whether you're using colour overrides and cutters to create pupils that stay constrained within an eyeball or shadow effects to create realistic lighting in your scene, you'll find the system for implementing the modules easy to understand visually and conceptually.

By giving animators the ability to apply blurs, noise, and a myriad of other effects and filters to their animations, Harmony provides a toolset with which one can easily make an otherwise plain animation visually exciting.
Unfortunately, once effects modules are implemented, movie renders start to really slow to a crawl. This long render time is especially bad when an effects module is affecting a drawing layer that already contains complex morph animations. Despite having to wait so long for a quality render, it's still impressive just how much one has available to them when using Harmony's effects.
I recommend adding effects and camera moves at the very end of your animation process, as you'll otherwise find yourself wasting large amounts of time waiting to check on your animations.
All of these brilliant character building features would be meaningless without the drawings themselves, and luckily Harmony 12 has pretty much everything you'd ever need to create them. There are all the standard drawing tools you'd come to expect using a program like Flash, with what I find to be a better layout that lends itself to efficient animation.
The brushes are completely customizable, brush and pencil strokes are easily manipulatable, and I find making consistent linework is much easier than it is in Flash. I have been particularly pleased with the color system and the ease with which I can now edit colors individually, and in organized palettes. The ability to add textures is a useful tool as well.
If you prefer going the more traditional animation route, it's a simple button press to bring in scanned drawings. Bringing in a series of frames is as easy as it is in any other program, and every drawing is completely editable as an element on the stage. I do almost all of my drawing in Toon Boom at this point, as I have found it has pretty much every tool I need to create illustrated elements (check out our top drawing tablets for animation here).
Now, I have been particularly positive in my review of Toon Boom Harmony Version 12, as I have found it to be the best solution for every one of my animation projects. That said, Toon Boom is not going to be for everyone, and it certainly isn't perfect.
It's not a particularly cheap product, and the time required to become adept at its toolset is a bit of an obstacle – (taking one of these courses can help you learn Toon Boom Harmony faster). While the layout is completely editable and the tools are easily modified to one's liking, many will find the visual aspect of the node layout view to be a horribly daunting image and can take some getting used to. I find it to be extremely useful, but if you don't plan on animating anything more complex than a simple cut out character, you may want to stick with Flash, After Effects, or other Toon Boom Harmony alternatives.
The newest version is extremely stable, but it does have some odd glitches that require reloading a save for continuing work on a project. Sometimes the timeline view gets laggy and the node view gets weirdly slow, but it's not very hard to reset the program.
There have been some odd visual glitches that have cropped up when manipulating more complex character rigs, but those visual problems don't seem to ever actually manifest in a full render. These problems have not been a huge detriment to me personally, but I could see them becoming a nuisance to someone who wants a simpler experience in creating animated content, and hopefully they will be ironed out in the next release.
Overall, Toon Boom Harmony 12 has been the best program I've ever used to create 2d animation at a quick and professional pace. It is an insanely deep tool that professional animators in studio settings can easily use to churn out quality television and feature animation.
I would also like to note that my interactions with the company and support staff have been nothing but positive, especially when compared to the customer service aspects of many of its competitors.
Purchasing Toon Boom Harmony has accelerated my animation speed and thus made me more able to meet my deadlines. This newfound speed with which I can animate has freed me up to make whatever kind of animation I choose. If you're an animator who wants to use a program specifically designed for your field, a program that meets every need and style choice you could have, I cannot more highly recommend Toon Boom Harmony 12.
Student and Educational Discounts
Toon Boom Harmony, like a number of other big name software programs, is available to students, educators and academic institutions at a huge discount, as much as 84%.
Academic discounts are a fantastic way to make this software accessible to all animators, and gives students a head start on learning this industry-standard animation program, which can improve their career prospects over the long term.
There used to be a number of different retailers out there that were offering educational discounts on Toon Boom software. However, as far as I can make out, it seems that Toon Boom has now moved this in-house and is looking after all educational sales themselves. This makes sense as they are able to directly control the distribution and customer requests / feedback themselves.
If you're interested you can go directly to the Toon Boom Harmony educational page here ===> Save up to 84% on Toon Boom Harmony Student version
Related Resources