Disclosure: Some links may be affiliate links. We may get paid if you buy something or take an action after clicking one of these. 2dAnimationSoftwareGuide.com is a participant in the Amazon Services LLC Associates Program, an affiliate advertising program designed to provide a means for sites to earn advertising fees by advertising and linking to Amazon.com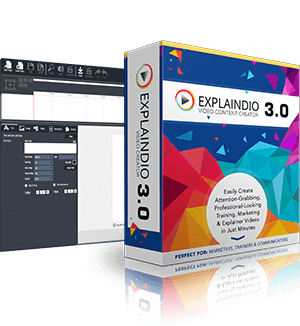 Explaindio was introduced in 2014 as revolutionary video creation software. Now in its third iteration, it claims to be the number one selling video creation software available today.
Marketed as the video creation software that offers users the most amount of flexibility, Explaindio 3.0 has many features that make content creation very easy. Below is an in-depth review of the Explaindio program with a list of basic features as well as pros and cons of the software.
Basic Features
Easy to Use
Explaindio has a very simple user-friendly interface as well as tutorials that make the program very easy to get the hang of. Clearly defined elements and drag and drop features allow users to create professional looking videos very quickly in a plethora of styles. This is very helpful for businesses that don't have a lot of time or manpower, but need to create eye catching content.
>>> Click here to see how you can make an animated video in 3 minutes or less… <<<
Not Cloud Based
Explaindio is one of the few video creation software applications that has no cloud software at all. It must be downloaded in order to be used. This means that users will not have to worry about being tethered to an internet connection or get bogged down by slow speeds when trying to create content. The program is a 4GB download however, so be prepared for that.
Varied Video Styles
Explaindio has a tremendous amount of flexibility regarding the type of content that users can create. It is possible to create animation, doodle sketch, whiteboard, and live motion style videos. Explaindio also has unique 3D elements that can be incorporated into any content. In addition, all of the different style elements can be combined, which means you can create a primarily whiteboard animation style video drawn by a hand, that also has 3D animation, doodles, and live video meshed into it.
Vast Library
Explaindio makes it clear that it doesn't want users to feel pressured to have skills as an artist, graphic designer, or marketing guru to make professional looking videos. To make things easier, the software provides a vast library with all sorts of images, 2D and 3D objects, sounds, music tracks, and entire themes. This means that the users only need to upload their own content if it suits them, such as branding materials.
Eye Catching Transitions
Another great feature of Explaindio are the eye catching scene transitions that the software provides. You can easily customize these transitions and use them in any type of content, whether it is a presentation, marketing, or how-to video. Built in transitions help to make any content look more professional and flow better, making this an excellent feature.
Commercial Licensing
Explaindio has options for unlimited commercial licensing rights available. Taking advantage of this allows for complete rights and control over any content created. This is especially important for businesses that want to make branded videos that they sell to their clients.
Tweak Already Created Content
Something else that Explaindio offers to its users is the ability to easily tinker with videos that have already been created and published. This can come in handy for businesses that need to update sales, branding, or the message trying to be conveyed inside the content for themselves or their clients. Because the software makes changing elements so easy, content can be updated in minutes.
Very Inexpensive
Explaindio does not have an option to completely own the software. However, it is priced very inexpensively to compensate for that. With even the most expensive plan being less than $70 per year, it is extremely affordable on most any budget.
Money Back Guarantee
For those who are unsure about whether the software is right for them Explaindio has a 30-day money back guarantee. This means that users have an entire month to try the program risk free. While many of Explaindio's competitors offer free trials, they typically have limited features. In contrast, Explaindio allows users to play with the full program before making their decision.
Pricing
Explaindio has a personal plan for $59 per year and a commercial plan for $69 per year. For this price, the software can be downloaded onto two computers. Explaindio has extra licensing options available for businesses that need the software on many different computers. Both the personal and commercial plan have the same features, but the commercial plan gives users a full commercial license in order to sell any content they create. The features of both plans are as follows:
Explaindio 3.0 Software Download
200 Pre-Done Animated Scenes
800 Doodle Sketch Images
100 Full HD Background Videos
6 Animated Characters
300+ Fonts
Background Audio Tracks
Competitors
Explaindio has several competitors on the market including GoAnimate, Powtoon, Moovly, and VideoScribe. Some of these competitors have a few extra DIY features as well as more audio and visual elements, but Explaindio has much more flexibility in regards to the type of content that users can create. Explaindio also has 3D features that are much more powerful than their competitors. More importantly, the software is less expensive each year than many of its competitors charge in a month or two for the best version of their respective software applications.
Recap
Pros
Software is easy to use
Does not require an internet connection
3D options
Combinable video styles
Very affordable
Cons
Large download and no cloud based access make program less portable
Not as many DIY or advanced features as some competitors
Overall, if you are looking for an inexpensive but powerful video creation software that gives you lots of flexibility in regards to the type of videos you produce, then Explaindio is a solid choice.
>>> Click here to see how you can make an animated video in 3 minutes or less… <<<