Disclosure: Some links may be affiliate links. We may get paid if you buy something or take an action after clicking one of these. 2dAnimationSoftwareGuide.com is a participant in the Amazon Services LLC Associates Program, an affiliate advertising program designed to provide a means for sites to earn advertising fees by advertising and linking to Amazon.com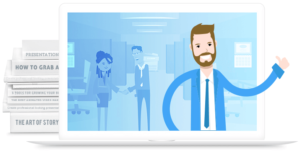 PowToon is a powerful video animation software application that can be used for making animated presentations, promos, or infographics. With a strong emphasis on animation, this software allows users to make each finished product more visually appealing.
If your business has a need for marketing, training, or how-to videos, PowToon makes the creation process easy and user friendly by allowing the manipulation of images and objects. Combined with music and sound effects, you can build fluid and eye catching videos instead of stagnant slide decks from presentation software like Power Point. In the PowToon review below I will take an in-depth look at its features and how it compares to other similar programs on the market.
Features
Lots of Premade Objects
PowToon comes with all sorts of objects, pictures, sounds, and music that you can utilize in your videos. This makes it easy to make great looking content whether you are artistic and creative or not. Since you can still manipulate objects the way you want and add elements of your own branding, it is easy to make every video your own.
DIY Options
In addition to the already available options in the program, you can also add any of your own audio and visual elements that you want. Pictures, drawings, sounds, narration, and music can all be added to any video. This allows you to create videos as customized as you want them to be.
Pre-Configured Options
While PowToon allows for custom videos, the software also comes with numerous pre-configured options that are ready to go. All you need to do is input your own text and branding. While customization is one of the most sought out features of this type of software, the option to be able to put together a full finished video in a few clicks can be a great time saving aspect for some.
Is It Cloud Based Or A Download?
PowToon is based in the cloud, so no downloading is necessary. Simply work from anywhere an Internet connection can be found and you will have full use of the software. This means that once you subscribe, you can begin using it immediately.
Are There Any Tutorials?
Learning PowToon is very easy thanks to its smart interface and powerful tutorials. The developers have made it easy for anyone to learn the software by integrating these measures, as they walk you through every function. The tutorials explain the program in a way that even people who are not tech savvy will get, making it very user friendly.
Is There A Free Trial Or Demo?
PowToon has a limited free option available. This allows for creation of watermarked videos with certain features being blocked. It's a great way to try the software before purchasing.
PowToon Pricing Tiers – How Much Does It Cost?
PowToon has four different tiers all priced differently and offering different features. These include the free tier as well as one meant for teams. Each tier has the following features:

Free

No cost
All videos are watermarked with the PowToon logo
100MB available per seat
Basic quality and resolution
46 royalty free tunes
16 royalty free styles
Max length of 5 minutes per video
No availability to export PDFs or PPTs or download as MP4
No access to animated charts and graphs
No commercial rights
No support

Pro

$19 per month
Watermark removed
2GB per seat
HD quality and resolution
Download as MP4
Collaborate with other users
Export to PDF and PPT
Animated charts and graphs
88 royalty free tunes
24 royalty free styles
Max length up to 15 minutes
24/7 support
No commercial rights

Business

$59 per month
Watermark removed
10 GB per seat
Full HD quality and resolution
Download as MP4
Collaborate with other users
Export to PDF and PPT
Animated charts and graphs
Unlimited royalty free tunes
Unlimited royalty free styles
Max length HD 60 min/Full HD 8 min
Full commercial rights
24/7 support

Team

This plan has all the same features as the business plan but at a discounted $46 per month because multiple licenses would be purchased.
PowToon vs It's Competitors – How Does It Compare?
PowToon has been around for several years, but has many competitors as the market for animated videos for business continues to grow. While PowToon focuses mostly on cartoon style videos and has more elements that can be used for this type of video than most of their competitors, other software companies such as Vyond (formerly GoAnimate) and Moovly provide options to create different styles of videos more easily.
Other companies are hyper-focused on different kinds of videos, such as VideoScribe that mainly produces classic whiteboard style videos drawn by a hand. PowToon is also not the cheapest company to purchase full software usage rights from, but with plans as low as $19 per month, they are not the most expensive either.
While PowToon has collaborative capability, this is also somewhat limited compared to companies like Vyond that has a flawless integration system that lets different people work on videos simultaneously.
Recap
Pros
Variety of prices
Free limited version
Easy to use interface with good tutorials
Team capability
24/7 support for paying members
Lots of available objects to make cartoon style videos
Cons
Cloud interface can be slow depending on internet speed
No downloadable option means an internet connection is required
No option to purchase the program outright
Collaborative features somewhat limited
Focused more on one type of video

The bottom line is if you want easy to use software application that does not require a lot of artistic skill to make cartoon style videos for your business, then PowToon is perfect for you.