Disclosure: Some links may be affiliate links. We may get paid if you buy something or take an action after clicking one of these. 2dAnimationSoftwareGuide.com is a participant in the Amazon Services LLC Associates Program, an affiliate advertising program designed to provide a means for sites to earn advertising fees by advertising and linking to Amazon.com
Summer Sale –
Save 50% on Clip Studio Paint
For a few more hours, Clip Studio are offering 50% off their best-selling digital paint programs Clip Studio Paint Pro and Ex
No coupon required



Clip Studio Paint is a professional-grade graphic software program for animation, illustration and manga and comic art, which according to the developer, has over 4,000,000 users worldwide.
It is currently available in two different versions, a Pro and an EX version, and has quickly become one of the most popular programs in the manga and comic art industry due to its impressive features, capabilities, and affordable pricing.
One of its main competitors in the field is that classic, Adobe's Photoshop, but many artists and illustrators are beginning to view Clip Studio Paint as an excellent Photoshop alternative as it offers more versatility in a number of areas, many of which I will highlight in this review.
First, Some History

Clip Studio Paint started life as "Comic Studio" and quickly gained a large and loyal following in Japan where it has been developed since the beginning by the Japanese software company Celsys (of RetasPRO fame).
Despite a large user base in Japan the software was not particularly well known in North America, until several years ago the company Smith Micro (who also make the popular 2d animation software Moho) came on board to be the distributor and re-branded the software as Manga Studio.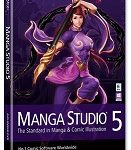 This partnership helped to turn Manga Studio (now renamed Clip Studio Paint) into a truly global brand and possibly the most popular manga and comic book software on the market today.
However, despite being particularly popular among artists producing manga, anime, and that style of artwork, this software is more than just a one-trick pony and has some really special features that set it apart from most other art programs on the market.
Clip Studio Paint Pro and Ex – What's The Difference?
Before we can get into the specifics of the software I should clarify that Clip Studio Paint is actually two programs…or I should say there are two different versions of the program that you can buy – Clip Studio Paint PRO and Clip Studio Paint EX.
Apart from the difference in price ($49.99 vs $219.99 RRP respectively), there are some major differences to bear mind if you're looking to choose which one is right for you and your budget.
Below is a side-by-side comparison table I've compiled to give you a better understanding of the differing features in each program.
Feature

PRO

EX

Manage multiple pages of a book in one file

✅

Vector drawing

✅

✅

Customisable pens and brushes

✅

✅

Animation capability

✅
(but limited to only 24 frames)

✅
Unlimited frames

Convert 3D and 2D data into manga style quickly

✅

Printing and Exporting a book of multiple pages

✅

Materials and tones

✅

✅
Drawing Flexibility
This is Clip Studio Paint's real strength and what puts it above most other digital painting programs. It really feels like an artist-driven piece of software, and gives you more options and flexibility when it comes to creating your artwork.
You can use your mouse (though I wouldn't recommend it!) or draw freely with a pen tablet, and choose from a wide variety of pencils, pens and other tools to help you create your manga or comic book characters.
The pens and brushes have such a natural feel to them, and the responsiveness and pressure sensitivity when used with a graphics tablet monitor, like a Cintiq, or normal drawing tablet is, in many folks opinion superior to Photoshop.
Multiple Brush Options
You have the ability to create and use your own brushes or choose from a variety of different preset brush options to create just about any effect you want. Most illustration programs have a finite amount of brush choices, which can be frustrating for illustrators that have a certain effect that they want to accomplish, so this is a real positive in Clip Studio.
There's also a huge online database of over 10,000 various materials, brushes and elements that you can access free on the Clip Studio Assets site.
Vector Toolkit
Move your project along much quicker with the powerful vector tools that come with Clip Studio. You can spot errors or areas needing some touch-ups much easier, allowing you to complete your artwork in less time, and with less "spill" errors when filling an area with colour that has not been tightly "sealed".
Extensive Colouring Tools
The program includes a full array of colouring tools, with everything you need to create a vibrant, pro comic. You no longer need to use other programs along with it to get the colours that you need for your project. This is great for those who like to work with one program at a time, and also cuts down on costs, as you don't need to purchase additional tools.
It also allows you to work in both RGB and CMYK format, which is perfect if you're looking to print your comic, as you can maintain the quality and colour integrity in the finished article.
Enhanced 3D Capability
I think this is a really smart feature and something only an artist would come up with. In Clip Studio you can use and manipulate 3D models and objects really easily with a new suite of tools that allow you to drag and drop additional elements.
What's amazing is they have a number of 3d "artist models" that you can import and manipulate into the sorts of poses that you need and then use them either as a reference or simple trace over the lines to get exactly the right foreshortening and perspective.
Real handy for getting dynamic poses and keeping a character's volume. It also helps to sharpen your eye as you work, without the need for a life model.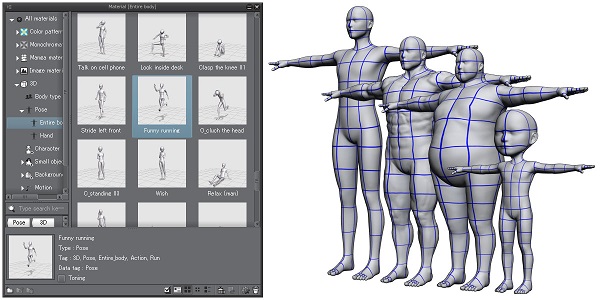 File Import and Export Capabilities
Clip Studio supports all the major file formats like .JPEG, .TIFF, .PNG, and .BMP, as well as the .PSD / .PSB(Photoshop) format allowing you to preserve layers in and out. It also permits the PaintTool SAI format, and storyboard(name) files created by the storyboarding software "Manga Canvas" which is pre-installed on the Wacom Cintiq Companion Hybrid.

Looking to output your comics to Kindle or eBook?

No worries, as Clip supports output to industry standard Kindle and ePub formats.
In addition, Clip Studio Paint allows you to import your files from previous versions of the software, namely Manga Studio 4 and 4 EX .CPG files. As such you can pick up where you left off and take advantage of all of the new capabilities that the upgraded software offers you.
Frame-by-Frame Animation
Clip Studio Paint EX has some excellent animation capabilities, which combined with the superior drawing and painting tools already mentioned make it a force to be reckoned with.
Please note though, that the PRO version of the software only allows you to do a maximum of 24 frames of animation so it's only good for simple stuff or animated GIFs and the like.
To me this is the real advantage that Clip Studio Paint EX has over its competitors like Photoshop. The animation tools include an adjustable timeline and other unique features to bring your manga or other illustration to life, as well as export it in various formats for viewing elsewhere. This is a very exciting new feature that illustrators will definitely appreciate.
Clip Studio Paint vs. Adobe Photoshop
Although both programs allow you to draw full colour manga, comics and other illustrations, Clip Studio Paint gives you these additional features that Photoshop does not:
3D pose creation
Reference layers
Customizable brushes
Backup editing
Assortment of rulers and perspective guides
Comic book panel creation
Word balloons
Extensive materials library
Better frame by frame animation capabilities (EX more than PRO)
Although the price varies, the cost of Adobe Photoshop is usually right in the middle of the Clip Studio Pro and EX price, depending on which version you choose. Although in saying that, Clip Studio is a one-off purchase whereas Photoshop is on a rolling monthly subscription which, over time, will work out more expensive.
Clip Studio Paint has other competition as well, including Autodesk's Sketchbook, ArtRage, PaintTool SAI, Corel Painter and MyPaint, but for the most part Clip Studio comes out on top in the important categories.
Negatives
Now, as my dear mother always told me nobody is perfect. And the same goes for Clip Studio Paint unfortunately.
To me there are two distinct flaws, both of which I hope will be addressed in future updates.
The first is the lack of options to manipulate text and fonts, which is something of a gripe when producing comics. It's also one of those areas that Photoshop has always and continues to excel at, so I'm hoping Celsys can improve on this in the future.
My second gripe is a bit of a niggly one if you're an animator, as there is NO, I mean NO audio support in the animation timeline. So basically you can't animate to lip sync or timing something out to music as you work. You have to export to a third-party program to add an audio track and check your timing.
All I can hope is that they add at least some limited audio in the future, as Clip's drawing tools really are better than pretty much any animation program currently out there…particularly at this price level.
Pros
Tons of drawing flexibility
Customizable brush options
Helpful vector tools
Extensive colouring options
Huge user base and community
Lots of free downloadable assets
New 3D capability
New frame-by-frame animation
Customer service has improved a lot
Cons
There is a learning curve, so it definitely takes some time to learn everything, especially if you haven't used previous versions or Photoshop
Text functionality could be better
Lacking audio support for animation
Interface can be a little overwhelming but this is customisable so you can change it how you want
Summary
Clip Studio Paint is a great choice for illustrators and artists of all kinds, especially those working on comic books and manga, who want more flexibility and freedom to create exactly as they would on paper but with all the benefits that technology brings.
The impressive array of tools and capabilities, and now the ability to animate, make this one of the best and most affordable digital drawing software tools out there. It does take some time to familiarize yourself with everything it has to offer, but if you've used Photoshop or similar software before you'll find your way around it in no time.
Besides, the drawing tools alone are so intuitive that you shouldn't have any problem, and many comic artists are beginning to prefer Clip Studio Paint over Adobe Photoshop, as its fully customizable brushes, perspective rulers, 3d pose library and more affordable one-off price tag make it one of the best Photoshop alternatives.
Clip Studio Paint Pro is less expensive and packed with great features, but if you want to create multiple pages, have unlimited frames of animation, and make use of 3d to 2d style conversions, then I would definitely consider investing a little extra and go for Clip Studio Paint EX, the more advanced version of the program.
Many comic artists prefer Clip Studio Paint to Adobe Photoshop, as it has a number of features not found on Photoshop. Both programs have their advantages and disadvantages though, so consider what your needs are before making a purchase.
If you're looking for feature-packed illustration software with all of the tools and capabilities that manga and comic artists need, Clip Studio Paint is an excellent choice.
Want to buy Clip Studio Paint?
Well, there are currently two options:
Clip Studio Paint System Requirements
| | |
| --- | --- |
| Windows | |
| | Windows 7, 8, 8.1 or 10 |
| | 2 GHz Intel Pentium 4 or equivalent |
| | Does not work with 64-bit version of XP or Vista |
| | Does not work with Windows RT |
| | Compatible with 32 bit and 64 bit OS |
| | 2 GB RAM recommended |
| | 2 GB free hard disk space recommended |
| | Graphic card with VRAM of 256MB or more and OpenGL 1.5 recommended |
| | XGA (1024×768) or higher, WXGA (1280×768) or higher, 16-Bit color display or higher |
| | Pen/Stylus Tablets - Wacom tablets (FAVO, Bamboo, Intuos, and Cintiq). Also known to work with Microsoft's Surface Pro and other drawing tablets with screens |
| | Internet connection required for periodic product activation service |
| | DVD-ROM Drive (Physical Version Only) |
| | Windows Chinese language operating system not supported |
| | |
| Macintosh | |
| | Macintosh OS X 10.9, 10.10, 10.11 or newer |
| | Intel Core 2 Duo minimum |
| | Compatible with 32 bit and 64 bit OS |
Related Resources