As the saying goes, "the pen is mightier than the mouse", or at least it's something like that, anyway!
Yes, graphics tablets are an absolutely essential piece of kit these days for anyone looking to do animation or design work (when was the last time you tried to draw something with a mouse? Did it look like this?)
Not only are tablets more intuitive and natural to use, but they are extremely effective in reducing the risk of repetitive strain injuries and wrist problems that are fairly common in folks who use a mouse for prolonged periods of time. Add to this the fact that they also come with some amazing features and allow for pressure sensitivity, and you can see why they are taking over.
The problem is, how do you choose from all of the ones that are on the market? Sure, we'd all love a Wacom Cintiq, but at a couple of thousand dollars a pop they are out of most people's price range.
(If you do have a bigger budget why not check out our list of the 5 best Wacom Cintiq alternatives – graphics tablet monitors)
Therefore, I'd like to go through what I consider to be the 5 best graphics tablets that you can pick up for less than $100…and most of them are quite a bit under that.
1. Wacom Intuos Draw CTL490DW

For artists of all levels who want to take their skills into the digital realm without spending a fortune, the Intuos Draw CTL490DW digital drawing and graphics tablet by Wacom just may be your answer. This little device is lightweight, easy to use and compatible with both Mac and PCs. Simply plug the USB cord into your computer, download the software and you're ready to start creating. The Intuos Draw works with many popular graphics  and animation programs and the tablet can be set up for either left or right-handed use. No extra attachments are needed.
Let's take a look at the specs…
Specifications
Type
Pressure sensitive, cordless, battery-free
Model Number
CTL-490DW (white); CTL-490DB (blue)
Screen Size
7 inches
Express Keys
4, with application specific settings
Multi-Touch
No
Limited Warranty
1 year in USA, Canada and Latin America
Pressure Levels
1024
Wireless Support
Yes (sold separately)
Weight
12.8 ounces
Resolution
2540 LPI
Reading Speed
133 pps
Cables Included
Yes
System Requirements
USB port
Internet connection
CD/DVD-ROM drive
Windows, 7,8 or 10
Mac OS X 10.8.5 or later
What's Included
Intuos tablet
Pen
USB cable
Replacement pen nibs
Software download instructions and code
Quick start guide
Installation CD
Additional Accessories
Wireless Accessory Kit
Wireless Accessory Kit Battery
Standard Black Pen Nibs (5 pack)
Pen Set
Retail Price
$79.95
Pros
The CTL490DW is lightweight and easy to use, with a battery-free, pressure sensitive pen that allows you to draw thicker or thinner lines depending on how hard you press. It works with any existing software including Microsoft Paint and Photoshop and also comes with its own software program, ArtRage Lite, a drawing and sketching program that includes online tutorials to get you up and running with the tablet in no time. The ExpressKeys function allows you to have your favorite shortcuts, like copy/paste, at your fingertips. It can be set up for both right handed and left handed users, and the $79.95 price tag makes it a perfect choice for everyone from working artists to college students on a tight budget.
Cons
While the lightweight, battery free pen fits comfortably in your hand, it does not actually have to come in contact with the pad in order to make the cursor move, which can be a little disconcerting, especially for those who are brand new to digital drawing. Also, it may not exactly match your computer screen in scale, which can also make it difficult for beginners to get the hang of drawing. For computers using Windows 10 or Outlook 365, it is important to note that there have been some compatibility issues with these programs.
Summary
While there are some minor issues that can make using it an issue for beginners, overall the Wacom Intuos Draw CTL 490DW is a great option for individuals interested in exploring the world of digital graphics without breaking their budgets. You can draw, paint, edit or anything in between, all with one easy to use, lightweight tablet, and you don't need a lot of extra software or hardware for it to work with most systems.
The design of the pen can be difficult to get used to, but the accompanying software is easy to understand and install and doesn't require any advanced computer knowledge. The Wacom Intuos Draw comes with a free creative package that includes drawing software and onscreen tutorials, which makes it the drawing tool of choice among graphic artists/designers of all skill levels.
>>>  Check the best prices for Wacom Intuos Draw CTL490DW on Amazon<<<
2. Huion H610 Pro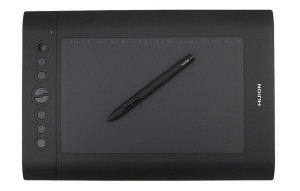 With a large (10 by 6.25 inch) drawing surface and an affordable price tag ($72.99), the Huion H610 Pro is an affordable alternative for artists of every experience level.  It is relatively easy to install via the accompanying CD and on-screen instructions, and is compatible with most graphics software including Paint, Photoshop and others.  The pen is rechargeable and allows for precise control of the cursor so that you can get a sharp line for detailed drawing.  The programmable keys allow you to have all of the common controls at the touch of a finger and the pad can be set up for use by both left- and right-handed individuals.
Specifications
Active Area
10" x 6.5"
Resolution
4000 LPI (Lines per inch)

Report Rate
200 RPS
Pen Pressure
2048 levels
Reading Height
0.4"
Supply Voltage
DC 5V
Power Consumption
0.35W
Interface Support
USB 1.1
OS Support
Win 10/Windows 8/Windows 7/XP/2000,
Mac OS X 10.8.0 and above
Net Weight
2.8 pounds
Express Keys
8
Function Keys
16
Model Number
H610 Pro
Retail Price
$72.99
Pros
Improved papery texture gives you the feeling of drawing on actual paper for a more comfortable, natural drawing experience.  The slight texture also gives the pen a good grip on the surface so that it isn't slipping around when you're trying to draw.  There are 8 customizable buttons and 16 hot keys that let you scroll up/down, zoom in or out and perform other common functions quickly and easily.  The tablet comes with a black glove that can be worn on the drawing hand to improve your grip on the pen.  The pen is rechargeable, with each charge lasting approximately 800 hours, which is good.  The H610 Pro is compatible with Windows 7 and later versions as well as Mac OS X 10.8.0 and above.   A downloadable driver allows you to customize the tablet for left-handed users.
Cons
While the H610 Pro is easy to install and use, there can be some issues with lag or delay when using various graphics programs, which can be frustrating. In particular, the express keys can show some lag while using Photoshop. Also, while the rechargeable pen offers hours of use between charges and multiple levels of pressure, it can be difficult to get used to the sensitivity, as it will sometimes draw while the pen is only hovering above the tablet and not actually touching it or potentially catch on the texturized surface. This will require some period of adjustment until the user is able to adapt.
Summary
Lightweight, easy to install and easy to use, the Huion H610 Pro is a very useful drawing tool for artists of every level.  The $72.99 retail price makes it affordable for everyone from students to the pros.  The large drawing surface, drawing glove and rechargeable pen give you as close as you can get to a natural pen on paper drawing experience with an electronic device.  The texturized drawing surface even makes it feel like you're drawing on paper, which is pretty cool.
Its flexibility allowing it to be used by left or right-handed users and its compatibility with many different OS and graphics programs make this the perfect option for just about any computer set-up.  With the H610 Pro, Huion offers a real alternative for anyone looking for a mid-level graphic tablet that won't cost a fortune.
>>> Check best prices for Huion H610 Pro on Amazon <<<
3. Wacom ONE CTL471

The Wacom ONE CTL471 is the drawing alternative for those artists who have limited space. At a mere 8.3 x 5.8 inches, this tablet offers all the quality and control you want in a digital pen within a tiny surface. Despite the small screen size, a wide-format active area still allows for longer pen strokes and a comfortable drawing experience. The ONE is compatible with a variety of operating systems, from Windows 7SP1 and later to Mac OS X 10.6.8 and later. It installs easily with the USB that is included and comes with a pen and replacement nibs. The driver disk and quick start card make it a snap to install and it is compatible with most popular drawing programs.
Specifications
Model Number
CTL471
Weight
8.5 ounces
Product Dimensions
8.3x0.3x5.8 inches
Colour
Black or Lime
Limited Warranty
1 year
System Requirements
Windows 8, Windows 7 SP1, Windows Vista or Windows XP SP3
Mac OS X 10.6.8 or later (Intel processor)
What's Included
`One pen tablet and pen
Replacement nibs
USB cable
Driver disk
Quick start guide
Warranty card

Retail Price
$69.99
Pros
Sleek and lightweight, the Wacom ONE CTL471 offers all of the features of larger models in a much more space-friendly size. The ergonomic pen gives you a natural, pen on paper feel that results in a smooth, steady creative experience. The compact size makes it easy to transport and use just about anywhere as it takes up very little room. And the included driver and quick start guide make it easy to install so that you are up and running in almost any of the popular graphics programs, including Photoshop and Paint, in no time at all. And the price won't break your budget if expense is an issue.
Cons
While the small size makes it convenient for use in areas with limited space, the smaller work surface can take some getting used to. Though the wide-format active area allows for freedom of movement, there will be some disparity between the work space on the tablet surface and the display on your computer screen, which can be off-putting for less experienced artists. The pen controls can also be an issue, as it can be difficult to grab curves or use brushes, particularly in programs like Lightroom and Photoshop, where some double clicking may be necessary in order to complete grabbing of controls. For professional artists who need more refined control this may not be the best choice of tablet.
Summary
For artists who want the digital drawing experience but don't have a lot of room to spare, the Wacom ONE CTL471 offers the perfect solution. With an 8.3 x 5.8 inch surface and a pressure sensitive pen, users can get the feel of drawing on paper with all of the features of their favorite graphics program.
The tablet has a contemporary look, in either black or lime, and is easy to take wherever you go. It can be easily adapted for use by either left- or right-handed individuals and is fully compatible with both PC's using Windows 7 SP1 or later or on Mac OS X 10.6.8 or later. It comes with everything you need to get up and running, including a driver disk and quick start guide with easy to follow instructions. At just $69.99, the Wacom ONE CTL471 is the affordable alternative when it comes to small drawing tablets.
>>> Check best prices for Wacom ONE CTL471 on Amazon <<<
4. Ugee M708 Graphics Tablet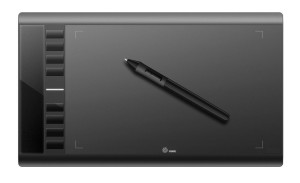 From Ugee comes the M708 Graphic Drawing Tablet. This tablet, at just $59.98 retail, is quite affordable and offers all of the features you'd expect. There is a pen included that uses an AAA battery and comes with a set of replacement nibs and a nib changer. It also has a set of buttons on the left hand side that can be programmed with all of the quick commands you need in most programs, including copy, delete, zoom in and out and undo. The tablet can also be configured for both left- and right-handed use. What makes this particular model stand out from most is the large writing surface. With a generous 10 x 6 inch drawing surface, the Ugee M708 allows for maximum creativity, giving the user freedom of motion and the ability to closely mimic the size of most laptop screens, for ease of use.
Specifications
Active Area
10 x 6 inches
Resolution
5080 LPI (Lines per inch)
Report Rate
230 RPS (Revolutions per second)
Express Buttons
8
Pressure Sensitivity
2048 levels
Reading Height
10mm
Total Weight
3 lbs
Supply Voltage
DC 5V
Power Consumption
0.2 W
Interface support
USB
System Requirements
Windows XP/Vista/7/8/8.1, 10, Mac OS
What's Included
1 x M708 Graphics Drawing Tablet
1 x P51 Pen (AAA Battery Needed)
1 x USB Cable
1 x Driver CD (software also available in our official website)
1 x Pen Holder
8 x Pen Nibs (Located in Pen Holder)
1 x Remover Pen-Clipper (Located in Pen Holder)
1 x User Manual
Retail Price
$59.98
Pros
There's a lot to like about the Ugee M708, starting with how easy it is to install and use. It is compatible with any Windows XP, Vista, 7 or higher or Mac OS and can be used with most popular graphics programs including Adobe Photoshop, Corel Painter, Illustrator, Zbrush and others. The roomy 10 x 6 inch drawing surface allows for comfort of movement, enabling the user to incorporate broad brush strokes as well as detailed, fine lines. The pen has a full range of pressure sensitivity, which makes it easy to adjust to for all users, from beginners to experts. The pad also automatically adjusts itself to the size of your monitor, allowing for a more comfortable connection between what you draw and what you see on the screen. The express keys are a convenient feature that put the most often-used commands at your fingertips and the entire pad can be adjusted to work for left- or right-handed users.
Cons
While this has been, for the most part, a very successful entry in the spectrum of graphic drawing tablets, it is not without its issues. The most notable problem has been adjusting to use with Windows 10. Though the tablet claims to be compatible with Windows 10 systems, some users have noticed that the commands will spontaneously stop working shortly after installation and will require a reboot of the tablet. Aside from this issue, there have been few reasons not to recommend the Ugee M708.
Summary
The Ugee M708 is a good, entry-level tablet for users of all skill levels, from beginner to professional. It features a nice, large working surface at 10 x 6 inches that puts it slightly ahead of the competition when it comes to ease of drawing. Its programmable express keys make navigating your favorite graphic program even easier and it is compatible with any machine using Windows XP, Vista, 7 or higher or Mac OS. While there may be some issues using it with Windows 10, it is otherwise easy to install and learn and provides a comfortable, enjoyable drawing experience at a relatively affordable price. A very good choice for individuals who want the flexibility of a larger drawing space without paying extra for more high-end models.
>>> Check best prices for Ugee M708 graphics tablet on Amazon <<<
5. Turcom TS6610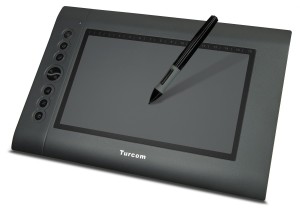 The Turcom TS6610 offers a user-friendly option for individuals who want the look and feel of a high-end graphics tablet without spending a fortune. The roomy 10" x 6.25" writing surface allows for plenty of flexibility and the 2,048 levels of pen pressure sensitivity let you mimic the experience of everything from illustrating to signing your name. The tablet comes with 8 express keys and 16 customizable function keys that put the common commands of most graphics programs at your fingertips and allow you to switch from one program to another quickly and easily. The pen is cordless and uses one AAA battery, which only adds to the natural feel of the drawing experience. And best of all, the $51.99 price tag makes it extremely affordable.
Let's have a look at the specs for the TS6610…
Specifications
Active Area
10" x 6.25"
Resolution
Resolution
4000 LPI (lines per inch)

Report Rate
220 RPS (revolutions per second)

Express Buttons
8
Function Cells
16 function keys
Pressure Sensitivity
2048 levels
Pen Reading Height
0.4"
Supply Voltage
DC 5V
Power Consumption
0.35 W
Interface Support USB
1.1
USB Cable Length
5 feet
Colour
Black
Batteries
1 AAA
Product Dimensions
16"x2"x12.5"
Weight
2.1 lbs
System Requirements
Windows and Mac, Macbook Pro computers. Windows 7/Windows 8/Windows 8.1/Windows 10/ Mac OS 10.8.0/10.10.0 or higher.
What's Included
TS-6610H Drawing Tablet
Wireless Pen (with 2 programmable buttons, 1 AAA battery needed)
Pen Stand (4 Nibs + 1 Remover included)
User Manual
Retail Price
$51.99
Pros
The pressure sensitivity allows for a very natural drawing experience, making it easy to get a true pen on paper feel. With 8 express keys and 16 customizable function keys, you can put all of the commonly used commands such as back, zoom in and out, +/- pen size and others right at your fingertips, which makes it simple to use the TS6610 with almost any program. While you would usually have to spend a lot to get a work space this large, the price tag of the TS6610 keeps it affordable even for those on a budget. The larger work surface is particularly attractive for users with wide screen monitors as it makes it much easier to mimic the size of the screen itself. And the included software drivers make it compatible with most operating systems.
Cons
There have been a few minor issues noted with this model, including the lack of a textured surface, which can take away from the natural feel of the drawing experience and make it a little harder to get used to using the TS6610. Also, while this model can be used easily with Adobe Photoshop, there have been some slight hiccups when using it with Illustrator. By far the most notable issue, however, is the fact that the drivers that come on the included CD can be outdated and there have been particular problems using it with Windows 8. Fortunately, most of this can be avoided by downloading drivers directly from the manufacturer's website.
Summary
Offering a large, comfortable work surface and a variety of express keys and customizable function keys, the Turcom TS6610 gives users all of the flexibility and durability they want in a graphics tablet. You can easily sketch, draw, edit photos, color digitally or add a signature to your document just as if you were using a traditional pen on paper.
This model truly takes artwork into the digital age, with easy to use instructions and a CD of drivers that are compatible with Windows and Mac/Macbook Pro computers. Aside from a few minor issues with driver installation that can easily be remedied by visiting the manufacturer's website, the TS6610 gives you everything you want in a tablet at a very affordable price.
>>> Check best prices for Turcom TS6610 graphics tablet on Amazon <<<
So there you have it! 5 top choices for graphics tablets under $100. If you enjoyed these reviews, or if you already own any of the tablets above, why not let us know what you think in the comments below.