Disclosure: Some links may be affiliate links. We may get paid if you buy something or take an action after clicking one of these. 2dAnimationSoftwareGuide.com is a participant in the Amazon Services LLC Associates Program, an affiliate advertising program designed to provide a means for sites to earn advertising fees by advertising and linking to Amazon.com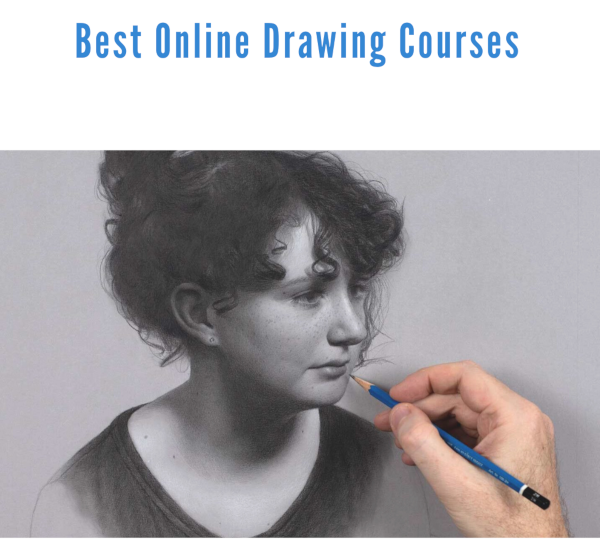 The fundamental skill in art is drawing – there's no two ways about it. If you want to be a better artist, animator, painter or sculptor, you're going to need to practice your drawing.
Now there was a time when the only way you could get high quality drawing tuition or life drawing practice, was to look for a local art school or college and hope that they did evening or weekend classes that could fit in with your schedule. Either that or get yourself some books and try to go it alone.
But thanks to the internet things have changed and there are some truly amazing online drawing and art classes available, many of which from world-class artists and animators – many of whom are still working in their respective industries.
They not only give you the highest level of tuition, but many let you follow the lessons at your own pace, whenever you have free time, so you're not pressured into following a set timetable.
On this page I've listed 8 of the best drawing courses out there at the moment that are really worth the money – in fact, I think they're an absolute steal when compared to a full 3 or 4 year art degree at a college or university, where you can end up leaving with a huge debt to pay back and not acquiring the kind of skills you need to make in this competitive industry.
8 Best Online Drawing and Art Courses
Vitruvian Studio

Vitruvian Studio offers a unique online educational approach that helps artists grasp what to do and understand why they're doing it. Named after the famous Roman architect Marcus Vitruvius and no doubt, the subsequent image of the Vitruvian Man by Leonardo, it puts classical skill and traditional drawing, painting and anatomy instruction at the core of its teaching.
Started by artist David Jamieson, the staff at Vitruvian has a combined 40 years of experience that they put to use in this comprehensive approach and student feedback shows that it really makes a difference.
There are five online courses available:
Drawing Basics
Cast Drawing
Portrait Drawing
Anatomy of the Face
Still Life Drawing
To see how good a draughtsman David is, watch one of his over the shoulder drawing demonstrations below:
Each course includes the same quality instruction that is offered in person at Vitruvian's Chicago workshop, with the convenience and easy access of working online.
Each course fee is a one-time only payment, which means once you pay for a course the content is yours for quick reference any time you need it. Students love the ability to work at their own pace, on their own schedule and to go back and look over courses or particular parts of a course for reinforcement. That way you know you're getting the most for your money.
Since the courses are entirely online, there is no set start time or end time, and no due dates for course work. You are free to work whenever and wherever you like and to focus on the areas where you feel you need the most help. All of the courses are designed with beginner students in mind and everything is explained carefully, plus you also have the ability to ask questions on any lesson page or contact an instructor privately for more feedback.
What really makes the courses at Vitruvian Studio stand out is the emphasis on providing a complete learning experience. The instructors understand the importance of both explaining and demonstrating, since art is necessarily a visual experience. You'll leave your coursework at Vitruvian with a deeper understanding and appreciation of the artist's craft.
>>> Click here to find out more about Vitruvian Studio's courses <<<
Proko

For artists of all skill levels, Proko offers a selection of comprehensive online courses that provide both explanation and demonstration to help you get a better understanding of various techniques. The site is run by artist and teacher Stan Prokopenko, who is dedicated to making the learning experience both informative and fun, and runs an incredibly popular YouTube channel with millions of subscribers where he gives out a lot of free tips and tricks.
Watch Proko teach you how to draw the nose:
Proko offers four courses:
Portrait Drawing
Figure Drawing
Anatomy for Artists
Art of Caricature
Each premium course offers detailed instruction, along with a series of downloadable demonstration videos, eBooks, critique videos and 3D models. Each course has a one-time fee, so once you pay for a course it's yours to refer to as many times as you need and you can take advantage of one of their package deals to get course instruction at a more affordable price.
The Anatomy course is an active course with new lessons added every 2-3 weeks, but as with the other courses once you have paid the fee you can reference all of the material whenever you like.
Art of Caricature is a comprehensive two part course taught by established commercial illustrator and caricature entertainer Court Jones. It covers all of the detail involved in creating your own expressive work, from initial sketch to finished caricature.
For all courses, you have the option of doing the assignments on your own or working with other students in one of Proko's Facebook groups. This can be a great way to get instant feedback and learn from your peers as well as the instructors. Since feedback is so important, Proko offers both critique videos by students as well as private critiques by Stan Prokopenko himself.
Art is about creating as well as learning and that's why Proko offers in-depth instruction with a touch of fun, to make the whole learning experience more entertaining.
>>> Click here to find out more about Proko's drawing courses <<<
New Masters Academy – Glenn Vilppu & Others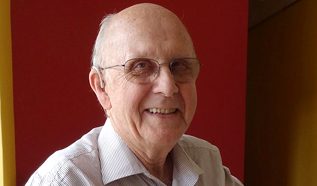 Since 2012, New Masters Academy has been working to reinvent art education with their one-of-a-kind subscription based service. Today, the website has grown to include over one thousand hours of content in various mediums, all taught by professional artists and instructors like master draftsman Glenn Vilppu. Glenn has been teaching drawing for over 50 years with at least 20 of those teaching in various animation, game, and VFX studios like Disney, Marvel and Warner Bros.
With a broad range of material available, there is something at New Masters Academy to suit all skill levels from beginners to professionals who want to add to their portfolio. The subscription format ensures that all of New Masters Academy's material is available at an affordable price, starting at just $35 a month. With this one price, you get unlimited access to the entire library of course offerings, including everything from Introduction to Landscape Painting to Human Anatomy for Artists.

Along with the course content, a premium subscription also provides unlimited access to their 3D reference library containing over 30,000 reference images. You can view any of these images with their unique 3D viewer, which lets you move the camera, change lighting and even change the scene and material properties to get exactly the setup you want.
Because feedback is such an important tool for artists, New Masters Academy also offers a variety of ways for their students to interact, from public forums to social media groups. If you need more hands-on training, you can even add a coaching plan to your subscription that allows you to work directly with one of the instructors.
Of course, the main advantage of any online learning experience is the ability to tailor your education around your busy schedule. New Masters Academy understands how important their students' time is, which is why they created their unlimited access subscription plan to allow for learning when and where you need it. They make learning easy so you can focus on creating great art.
>>> Click here to find out more about Glenn Vilppu's courses <<<
Aaron Blaise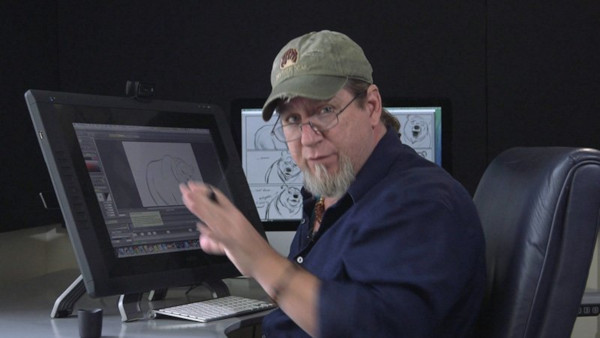 Aaron Blaise is an illustrator and animator who graduated from Ringling College of Art & Design in 1989 and spent 21 years with Walt Disney Feature Animation, where he had a hand in creating some of their best loved animated films. After leaving Disney, he continued to work on various animation projects and created his website, The Art of Aaron Blaise, to help spread his love for his craft to others.
The site now offers a wide range of tutorials and lessons on animation, digital painting and drawing as well as Photoshop tips and lessons on how to use TVPaint. You can even subscribe to Aaron Blaise's YouTube channel for more free lessons and tutorials. With this service, students can get first-hand instruction from an experienced professional, giving them a level of education they can't get elsewhere.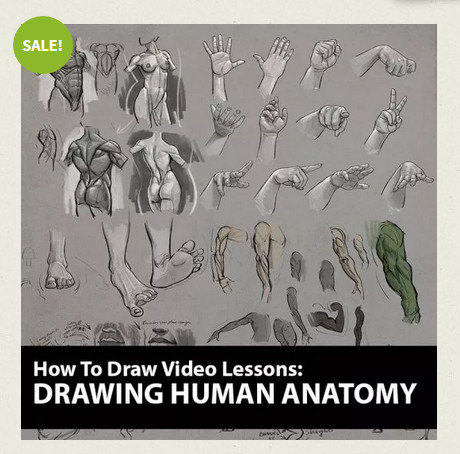 Courses are available individually at reasonable prices or you can take advantage of one of the many bundle packages to save even more money. In the packages, several courses are grouped together to give students a full perspective of the subject. Examples include the Animal Drawing Bundle, which includes courses such as How to Draw Big Cats, How to Draw Horses, How to Draw Bears and How to Draw Elephants.
Along with the a la carte option, the site offers two types of memberships: the Monthly Streaming Plan and the Annual Premium Membership. Each plan provides access to courses as well as live events along with a range of other extras and members only discounts. By opting for either of these plans you can access Aaron Blaise's tutorials and lessons at your own convenience, allowing you to tailor your education around your schedule.
Aaron is a fantastic teacher whose passion for his art is contagious. For beginners or advanced artists, this is a unique opportunity to learn from the best at a price you can afford.
>>> Click here to find out more about Aaron Blaise and his courses <<<
Pencil Kings

Created by artists for artists, Pencil Kings offers step-by-step instruction by trained professionals at a price than anyone can afford, from beginners to struggling artists who need to brush up their technique. With a staff who are working artists themselves, Pencil Kings provides the kind of support that artists need because they understand how important that kind of encouragement is.
The concept is simple: for one low flat rate students get instant unlimited access to a full range of courses, videos and their exclusive private community for valuable feedback and support. For just $29.95 a month, you'll get to learn from some of the best in the business, who have worked at and continue to work at big name companies like DC, DreamWorks and Marvel.
Of course, like most online education experiences you get the benefit of not only saving money but also tailoring your class time around your busy schedule. Learn the tips and techniques you need to further your art career whenever and wherever it suits you. Considering the steep cost and strict schedules of traditional art schools, this kind of personalized online experience can make a huge difference.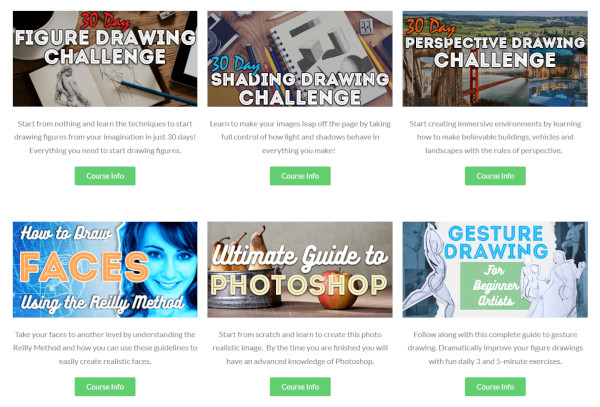 The advantages don't end there though. The staff at Pencil Kings is so sure that you'll be satisfied with their services they've taken all the risk out of it with a 100% money back guarantee. You can opt for one of two plans, either monthly or yearly, and take only the courses you want, with the guarantee that you'll be getting the best quality instruction for your money.
Let's face it, making a living as an artist isn't easy and the staff at Pencil Kings understands that struggle. That's why they have put together this unique program designed to help you get the training and support you need to become a successful working artist.
>>> Click here for a 3-day trial of Pencil King's courses for only $1 <<<
London Art College

The London Art College has been providing art courses to students of all experience levels for 80 years. Today they have a curriculum of 30 online drawing and painting courses, including Graphic Design and Art History. With the online curriculum, students can set their own timetable and submit their work either online or via traditional mail.
All of the courses are specifically designed for home study, making it possible for students to do their work when and where it suits them. The school has students from over 75 countries enrolled and with a wide range of available courses, there is sure to be something for everyone, whether they are just starting out or already a working artist who wants to add to their range of skills.
Each course includes self-study units that can be viewed online or students can opt to have a hard copy mailed to them so that they can access the course content at any time, wherever they may be. Coursework can be submitted for feedback online in 'The Art Room,' a special secured area where a personal tutor assigned to the student can give their professional advice.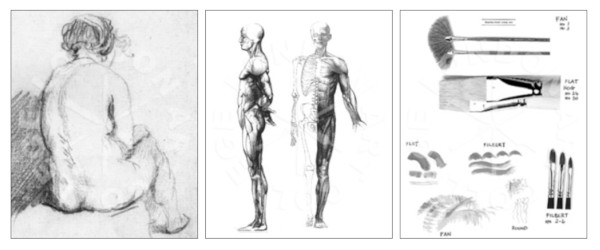 The tutors are all working artists themselves, so they understand what it's like to develop your artistic skills. Students also have access to a unique and exclusive video library with technique videos by well-known artist Paul Weaver that can supplement their learning experience. Costs are per course at reasonable rates and include discounts on art supplies from Derwent's as well as a 10% discount on enrollment in any of 14 writing courses.
The college is fully accredited and all of their tutors are carefully selected. For a traditional college experience in the comfort of your own home, the London Art College offers art students the best possible foundation.
>>> Click here to find out more about the London Art College's courses <<<
Udemy

Udemy is at the cutting edge of online education as the leading marketplace for teaching and learning, with over 50 million students all over the world. They are committed to personal and professional development in all fields, keeping the expectations of potential employers in mind.
With a wide range of courses available in everything from drawing to watercolor painting to digital art, Udemy offers its students the ability to learn the skills they need on their own timetable. With each course purchase you get over 10 hours of on-demand video, supplemental materials including articles and other downloadable resources, full lifetime access to the course material with the ability to access on mobile devices or smart TV's and a Certificate of Completion.
Students also get personal contact with a course tutor who is a working professional for immediate feedback on their work. There are also other opportunities for support and feedback through social media groups where you can communicate with your fellow students and share your experiences. Udemy is so confident in the quality of their courses that they even offer a full money back guarantee within the first 30 days after purchase.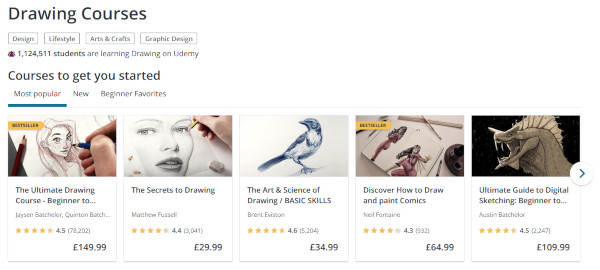 Each course is designed to take you through the entire creative process, from the first stroke to the finished artwork. You'll get detailed instruction on each step along the way, allowing you to learn the fundamentals of each technique, and you can go back to it as many times as you want.
Whether you are a beginner or a working artist who wants to add to your range of skills, you can find a course that will help further your career through Udemy. They are geared toward providing quality instruction in an affordable and convenient online format for today's students. It's the education you need on your schedule.
>>> Click here to find out more about Udemy's rated top drawing course <<<
Skillshare
Skillshare has made itself a leader in the area of online learning with a community of over 2.5 million members and more than 15,000 different classes in a wide range of subjects, including art and drawing. It's a fast and easy way to get the education you need in a format that makes it simple to work it into your busy schedule.
Their course offerings in art include everything from Watercolors to Drawing to Digital Design. Each course is taught by a working professional who will take students through every step of the creative process, covering all of the required techniques in a series of helpful video tutorials.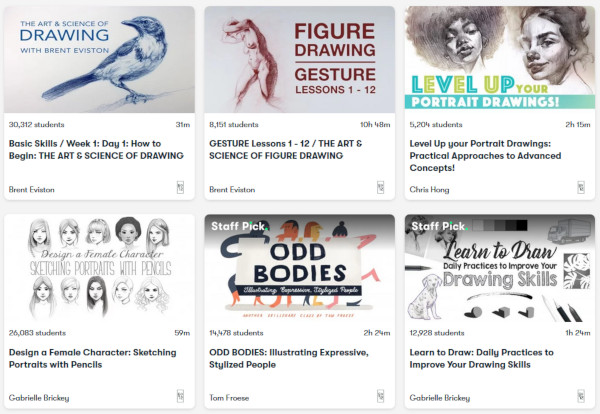 The latest addition to the art curriculum is The Art & Science of Drawing, a comprehensive course taught by professional artist Brent Eviston. Through a series of 12 lessons, students will learn all of the essential figure drawing techniques. Each of the lessons has at least one practice reel containing timed poses that are strategically selected to accompany the course material.
Skillshare has numerous free courses or you can sign up for premium membership in either a 3 month, 6 month or 12 month plan, each of which gives you unlimited access to all of their course offerings. Prices are very affordable, especially in comparison to traditional art schools, and because everything is done online with unlimited access you can choose when and where to access your classes.
In today's world, time is at a premium and the staff at Skillshare understands this. That's why they've created this unique format that allows art students to explore their creativity while getting the skill and training they need from working professionals at their own pace. It's the convenience you want at a cost you can afford, which makes this the ideal solution for working artists on a budget.
>>> Click here to find out more about the Skillshare's drawing courses <<<
Related Resources