Disclosure: Some links may be affiliate links. We may get paid if you buy something or take an action after clicking one of these. 2dAnimationSoftwareGuide.com is a participant in the Amazon Services LLC Associates Program, an affiliate advertising program designed to provide a means for sites to earn advertising fees by advertising and linking to Amazon.com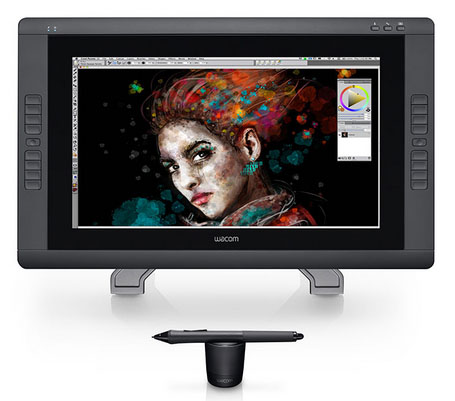 If someone was to ask me "what's the best graphics tablet in the world?" I would say "I don't know for sure…but the Wacom Cintiq 22HD comes pretty darn close!"
Technically I suppose it's not really a graphics tablet, but more of a hybrid drawing pad, canvas, computer and art studio all rolled into one. Whatever it is, it's stonkingly good!
The Wacom Cintiq 22HD 21-inch DTK2200 is a state-of-the-art sophisticated piece of equipment designed to maximize your productivity and make creating digital art easier. Boasting a large display, pen-tilt recognition, and proficient levels of pen-pressure sensitivity, the Cintiq 22HD is designed with the user experience in mind. With intuitive ExpressKeys and Touch Strips for easy shortcuts and multi-touch gestures to view your images from all angles, it's a powerhouse in the industry.
Wait! Can't afford a Wacom Cintiq? Then take a look at the 5 Best Wacom Cintiq Alternatives
Higher Price Point
The Wacom Cintiq 22HD 21-inch DTK2200 clocks in at the higher end of the price spectrum, but don't let that deter you. Countless Amazon reviews have lauded the efficiency and reliability of the Cintiq 22HD and noted that while the initial sticker price shock was a little off putting, the results were fantastic. If you're serious about your graphic art, this might be the product for you. If you're a novice or you want a tablet to play around with, take a look at our 5 best graphics tablets under $100.
Alternatively, if this is all new to you and you're confused by the jargon, then check out our guide to choosing a drawing tablet.
Exceptionally Designed Pen with Sensitive Tip for Fine Detail
The Wacom Grip Pen is truly an innovative piece of engineering, distinguishing between 2,048 different levels of pressure, making it among the most accurate instruments you will use for digital graphic design. The pen is specifically crafted to allow you to make subtle and minuscule changes to your work and by simply adjusting pen pressure or tilt angle, you can change line weight and brush size, as you would with a paintbrush.
The pen is so cutting-edge that you can actually program functions into it yourself, making the user experience unique and tailored to what you need to get done in your workspace.
Programmable Shortcuts to Streamline your Workflow
Does it irritate you to interrupt your flow with unnecessary commands and clicks?
Well, the Wacom Cintiq 22HD has a solution. This model has 16 ExpressKeys that you can program to direct your keyboard shortcuts and modifiers that you use most often. That way, you'll avoid having to stop your work entirely to perform a function. ExpressKeys are a godsend for people working on strict deadlines.
You can keep the keys you use most often right on the screen for super-easy access. In addition to ExpressKeys, the Cintiq 22 comes equipped with Touch Strips and Touch Strip toggle buttons that allow you to zoom and scroll seamlessly. Both systems are specifically set up to increase productivity and enhance the end-user experience.
Widescreen Display to Accommodate All Your Applications
The Wacom Cintiq 22HD 21-inch DTK2200 comes with a widescreen 21.5-inch HD display, perfect for viewing applications and programs with extensive menus. When you're working with applications like Photoshop, Maya or Zbrush, their huge expanding menus can be unreachable on smaller screens, a constant bugbear of mine when using them on a laptop. With the Cintiq 22HD however, you won't miss any part of the menu or application and you won't need to scroll constantly to access the tools you need.
Previous Cintiq models had notably smaller screens, and became a common complaint among users, namely that although the interface was excellent, the screen was just too small. Thankfully Wacom has addressed the issue and this model fixes the problem.
All popular illustration, photography, design and animation applications should be easily operative from the Cintiq 22.
The 21.5-inch HD screen is also an ideal place on which to view the evolution of your creative work. It renders 16.7 million colours and is super sharp and crisp.
Adjusts for a Workspace that Fits your Body
Ergonomic workspaces are increasingly important these days and for good reason! We've learned that everyone works differently and in order to be effective and productive, we must discover our best working position. The Wacom Cintiq 22HD 21-inch DTK2200 is extremely versatile in this regard in that it can move and recline as an easel would and rotate to match the way you draw – in other words, it moves, not you.
The Cintiq 22HD comes with modifying options that further customize your workspace and adapt it to your specific needs. You can purchase an articulating arm to further enhance the span of movement, or simply lay it flat on your desk if that's your preferred method of working.
Pricing
The Wacom Cintiq 22HD 21-inch DTK2200 is priced around $1,700 with the option to make monthly payments of $70 per month (if you buy directly from Wacom). The lofty price tag might give you pause, but this is top-of-the-line technology and the perks outweigh the negatives. If you're serious about graphic design and taking your career to the next level, the Cintiq 22HD might be the best choice for you.
Add-ons
The Cintiq graphics tablet comes with a number of different add-ons that you can use to tailor your system to your particular needs. This list is by no means comprehensive. To check out all of their offerings, visit the manufacturer's website at http://www.wacom.com/en-us/products/pen-displays/cintiq-22-hd.
Pens:
Airbrush Pen
This pen is designed to mimic airbrushing, with systems in place to account for spray distance, angle, and application of ink.

Art Pen
The Art Pen is designed to work with a traditional felt marker and you can use it in conjunction with the standard Cintiq 22 marker to have a range of drawing options.
Professional Pen Nibs:
Chisel Felt Nibs
Use these with the Art Pen to create calligraphic masterpieces on your Cintiq 22.

Stroke Nibs
The Stroke Nib lets you customize your brush strokes further and can be alternated with standard nibs in any pen.

Wide Bodied Pen Grip
If you'd prefer to use a pen without a side switch or controls, the wide-bodied pen grip is for you. It comes with two in a pack.

Wacom Colour Manager Powered by X-Rite
Intuitively calibrates your colour for cohesion in your work and less stress for you trying to match specific colours. It's easy to use and maximizes your productivity and workflow.
Recap


Pros
Ergonomically designed for an ideal workspace
Several add-ons to customize and enhance user experience
State of the art pen for precise and artistic drawing
Large screen to accommodate all applications
Programmable Shortcuts

Cons
The high price can be a barrier to many users
Bottom Line
If you're serious about your graphic design work, you need to seriously consider the Wacom Cintiq 22HD 21-inch DTK2200. It's a tool specifically created to boost your productivity, creativity and enhance the end product.
Related Resources