Disclosure: Some links may be affiliate links. We may get paid if you buy something or take an action after clicking one of these. 2dAnimationSoftwareGuide.com is a participant in the Amazon Services LLC Associates Program, an affiliate advertising program designed to provide a means for sites to earn advertising fees by advertising and linking to Amazon.com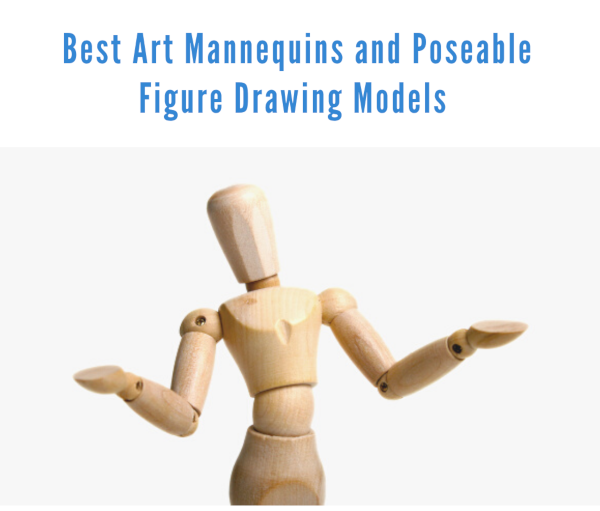 "One must always draw, draw with the eyes, when one cannot draw with a pencil." Balthus
Being a better artist or animator begins with improving your drawing of the human figure, understanding anatomy and using good reference for your work.
Now, we all know that life drawing is the best way to improve your skills whether you're using charcoal, pencil or a digital drawing tablet, but sometimes it is not always possible to draw from life. Classes can be expensive, as can professional models, and sometimes it's awkward or embarrassing to ask family or friends to pose for you. Not to mention learning the finer points of anatomy and how the muscles relate to each other.
In cases like this the next best thing you can do is get a really good poseable art mannequin.
Now, when I was at art school (some time ago!) there weren't many options. You either went to life drawing classes or you bought one of those simple wooden art mannequins and that was your lot.
The wooden ones are ok, but a little limited in scope, particularly if you are looking to practice drawing proper form and anatomical studies of the human figure. Also, they don't usually have fingers which is quite frustrating.
Thankfully these days artists and animators have a lot more choice and some really high quality art mannequins and anatomy figures are available at very reasonable prices to suit most budgets.
Below I'd like to show you 7 of the best ones.
Quick Summary
Best Art Mannequins For Drawing
7 Best Artist Mannequins and Anatomy Models
Image
Title
Price
Prime
Buy
Phicen 1/6 Scale Super Flexible Male Muscular Seamless Body PL2016-M34

Prime

Eligible

Buy Now
Uranny Body-Chan Model, Body Kun Doll PVC Body-Chan DX Action Play Art Figure Model Drawing for SHF

Prime

Eligible

Buy Now
US Art Supply Wood 12" Artist Drawing Manikin Articulated Mannequin with Base and Flexible Body - Perfect for Drawing The Human Figure (12" Male)

Prime

Eligible

Buy Now
Wood Artist Drawing Manikin Articulated Mannequin with Wooden Flexible Fingers 10" Right Hand

Prime

Eligible

Buy Now
Male Anatomy Figure: 11-inch Anatomical Reference for Artists (Grey)

Prime

Eligible

Buy Now
Human Model Craft Anatomy Skull Head Muscle Bone Medical Artist Drawing Study (Blue)

Prime

Eligible

Buy Now
Prices and images pulled from the Amazon Product Advertising API on:
1. Phicen – Best Poseable Figure For Realistic and Muscular Posing
Phicen are a Chinese company that specialise in creating high quality super-realistic action figures and their poseable art mannequins are a cut above the rest of the competition.
They have a metal skeleton and the outside skin is made of silicone. There are a number to choose from but the main ones are a muscular male, a less muscular one, and a number of different female figures.
These models are 1:6 scale, so the male version is around 13 inches tall. It comes with detachable hands to change poses.
You will need to buy a head separately as they don't usually include one in the package.
Anatomically they are great and perfect to use as reference. The muscles are accurate and they allow for a surprising amount of flexibility too, letting you manipulate them into a variety of poses.
They come with instructions on how to correctly use them and to take care not to overstretch the joints as you can break the metal inside.
They are the more expensive of the art mannequins on this page but really are a great reference tool if you can't get a real-life model to pose for you, and they blow the standard wooden mannequins out of the water.
>>> Check out the Phicen muscular artist model on Amazon <<<
2. Body-Kun and Body-Chan – Best Artist Mannequin For Comic Book and Anime Artists
Drawing characters for comic books and anime usually requires a certain stylisation of the human body which normally takes a lot of practice drawing from life or copying examples from the comics or animated movies.
However, the Body-Kun and Body-Chan range of figures from Bandai are excellent for comic book and anime artists as they have great natural lines and are easy to manipulate into a variety of dynamic poses.
Body-Kun refers to the male figure, while Body-Chan refers to the female.
They are smaller than the Phicen models above, standing at around 8 inches, so just over half the size.
The hands on this are also interchangeable and the pack comes with a number of different hand poses to use. They are a little small so can be fiddly, and you will need to take care when removing the hands as the ball joint can sometimes break.
>>> Check out the Body-Kun and Body-Chan mannequins on Amazon <<<
3. US Art Supply – Best Classic Wooden Artist Mannequin
Of course, I couldn't make a list of the best artist models without including the classic wooden artist mannequin – where it all started – and this one from US Art Supply is an excellent choice.
Personally I'm not a huge fan of the wooden ones myself as I find it difficult to achieve an appealing pose since the lines that run through the limbs are too simple and not pleasing to the eye. You also don't get a sense of the form of the muscles as there is no overlap of body parts.
However, I know a lot of folks get great use out of them so this US Art Supply wooden artist mannequin is very good quality and highly recommended.
They come in different sizes: 5, 8, 12, 16 and 20 inches, and have an integrated wooden stand.
Joint articulation is limited and you won't be able to bend the knees or elbows as far as you can on the Body-Kun or Phicen models above.
>>> Check out the US Art Supply 12" wooden artist mannequin on Amazon <<<
4. Alikeke – Best Poseable Hand Mannequin
Now the poseable figures above are great for getting the proportions of the human body right, but the fingers on them are either non-existent (in the case of the wooden mannequin) or very small and not moveable on the Body-Kun and Phicen ones.
So what if you need some great hand poses and don't want to photograph or use your own hands?
Well, the poseable hand mannequin is the solution. It stands at 7 inches tall and is fully articulated to let you pose it in many different ways.
It is solid wood so is durable and will endure many trips to school or to the studio.
The downside is that the joints can be a little stiff and they only bend in one axis, so you can't splay the fingers open. It's also difficult to get the thumb to fold over the fingers naturally in a fist pose.
>>> Check out the poseable hand mannequin on Amazon <<<
5. Human Male by 3DTotal – Best Anatomy Figure For Reference
Now we start getting into the serious business of anatomy models. These have been around for some time in the medical community as teaching aids, but have always been a bit cumbersome for artists to use as they are either too detailed or they will cut away important areas (like when they do a cross-section) and are not very inspiring for creative work.
However, a few years ago the guys over at 3dTotal decided to change all of that and set up a kickstarter campaign to fund the production of a limited number of high quality anatomical models specifically for artists.
The campaign was a big success and they now consistently sell these models, that are fast becoming an invaluable asset to any serious artist, animator, rigger or model maker.
The male version of the model stands 11 inches tall and the female version 10.5 inches, and one half of it shows the skin layer, and the other half shows the underlying muscles, and major veins.
The simple grey colour makes it easier to identify the contours and lines and it really is a fantastic model that you will find yourself coming back to again and again in your anatomical studies.
>>> Check out the 3dTotal Human Anatomy Model on Amazon <<<
6. Best For Facial and Head Anatomy
Following on from the 3dTotal full body model above, this head and facial anatomy model is an excellent choice if you want to study the human face and head in more detail and learn about the anatomy of facial expressions for portraiture or character design work.
It comes in a choice of two colours – blue/grey and white – and is around 10cm tall, so not that big, but there is quite a lot of detail on the face so plenty there to learn from and draw or sculpt.
Personally I think the blue/grey version is best as that gives the greater amount of contrast and so is easier to see all the details, but that's down to personal choice.
This kind of model to me is invaluable as you can really get a sense of the underlying structure and musculature of the face in a way that is not possible in real life, so you'll find yourself coming back to this model regularly for study and reference purposes…and maybe even just to look at, as it's pretty cool!
>>> Check out the head and facial anatomy model on Amazon <<<
7. Scott Eaton's Houdon L'Écorché – sold out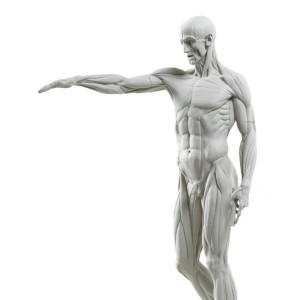 SOLD OUT
If you've heard of Scott Eaton before you'll know he's a bit of guru in the field of artistic anatomy, with best-selling courses held at the top VFX and creative studios and his own series of exhibitions.
So it might seem a bit of a travesty that I put his version of the Houdon L'Écorché this low down the list.
Well, the only reason I've done that is that it is sold out and no longer available – if it were it would be top of my list of anatomical models.
This one is a beast standing 18 inches tall (20 with the base) and costing $295, but boy is it good.
The original Houdon L'Écorché was created in the 18th century by the sculptor Jean-Antoine Houdon and used to teach art students in the academies and ateliers figure drawing, anatomy, and sculpture.
This version created by Eaton in collaboration with Michael Defeo corrects some of the errors in the original L'Écorché and is hand cast in high-quality resin with detachable magnetic arms.
It really is a shame that it is sold out as this really is a beautiful anatomical model and is perfect not only for drawing and reference study, but simply as a lovely object to have on the desk or shelf. A real appreciation of the beauty of the human figure.
>>> Click here to go take a look at the Eaton-Houdon L'Écorché <<<
Related Resources