Disclosure: Some links may be affiliate links. We may get paid if you buy something or take an action after clicking one of these. 2dAnimationSoftwareGuide.com is a participant in the Amazon Services LLC Associates Program, an affiliate advertising program designed to provide a means for sites to earn advertising fees by advertising and linking to Amazon.com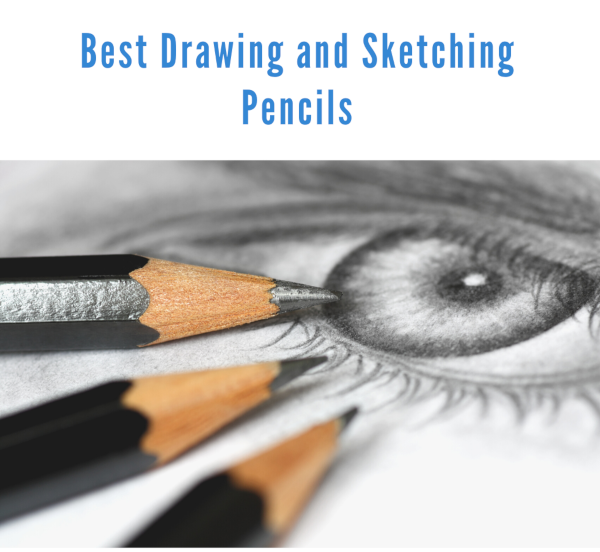 The humble pencil is where it all begins. Improving your drawing means not only regular practice of your craft, but also choosing the right tools. So finding the best drawing pencils is really all about finding the right one for you. Every artist is different and has their own personal preferences – what's one man's meat is another's poison as they say – so I would suggest using my recommendations below as a guide and try out as many of them as you want to find the ideal pencil for you.
To help you make your decision I've split my choices into four separate categories, and here are the quick links to jump to the relevant section:

One of the key things to look for in high quality pencils is that the lead is bonded to the wood all the way down the pencil. You won't usually find this on cheap pencils, which is why they tend to break very easily especially when you are sharpening them. Another thing to consider is the quality of the wood – it should have a good density and not be brittle – and also the grip, whether it is round or hexagonal.
Fun Fact: Do you know what the most expensive pencil in the world is?

Well, according to The Pursuitist it is a Graf von Faber-Castell Perfect Pencil valued at $12,800! Don't worry, it's not on this list 🙂
Best Graphite Pencils
1. Staedtler Mars Lumograph
Designed specifically with the artist in mind, Staedtler Mars Lumograph sketching pencils are the acknowledged leader in quality and durability. These pencils are made to last, with the entire length of the graphite pencil lead bonded to the wood to help prevent breakage, particularly when sharpening.
They come in a set of six, with varying degrees including 2H, H, B, 2B, 4B, and 6B as well as a sharpener and a mini Mars plastic eraser. The different degrees of lead allow for varying technique, from soft leads such as the 6B, for sketching and blending to harder leads, like the 2H, which hold a sharp point for straight line and detail work.
They come pre-sharpened and guarantee a smooth glide over any surface and they erase easily with no smudging. You'll notice the difference right away with these pencils, designed to enhance the drawing experience for artists of all levels.
These are my personal favourites and I use them for all my 2d animation work. In years of using them I've never had a broken lead or problem sharpening them (even using cheap sharpeners or a knife).
There are also the "black" variety that allow for lovely dark shades without the "shine" of normal graphite, and there's no need to press overly hard as you would with say a normal 6B.
You can see David Jamieson of Vitruvian Studio using both of the Mars Lumograph pencils in his portrait drawing video here.
>>> Check the best prices for Staedtler Mars Lumograph pencils on Amazon <<<
2. Derwent Graphic Medium
Made in Britain, the Derwent Graphic Medium pencils have been the go-to choice for artists, architects, illustrators and students for generations. With a hexagonal barrel for greater precision, Derwent pencils are available in a wide range of 20 degrees, to enhance everything from shading and sketching to creating the fine lines of architectural drawings.
The hard degrees (H) feature a 2.2 mm core for sharper lines while the soft degrees (B) use a 3.5 mm core for softer lines. The four count set includes HB, 2B, B and 2H leads for a full drawing experience. The fine point maximizes precision and the durable core sharpens to a long-lasting point, allowing you to draw for hours at a time with comfort and fluidity.
This is an ideal choice for everyone from beginners to experts. For brilliant results with every use, Derwent has been the name to rely on since 1832.
>>> Check the best prices for Derwent Graphic Medium pencils on Amazon <<<
3. Palomino Blackwing 602
The professional artist's choice, Palomino Blackwing pencils were first created in the 1930's and soon built a strong following that included author John Steinbeck and Chuck Jones, the creator of Bugs Bunny.
Made with genuine incense-cedar from California and premium Japanese graphite, these pencils help you to achieve a steady, clear line without excessive sharpening. They are perfect for writers, musicians, artists and everyday users who want a more natural, comfortable drawing and writing experience. The unique iconic rectangular erasers feature a specially designed ferrule that allows you to extend or replace the eraser easily.
The pencils are available in various colour bodies including black, gray, natural and pearl and even help you give back, with a portion of all sales benefitting the Blackwing Foundation, which funds and develops art and music education at the K-12 level. Bring out your creative side with quality you can only get from Blackwing.
>>> Check the best prices for Palomino Blackwing pencils on Amazon <<<
4. TomBow Mono 100
TomBow is passionate about offering quality office and art supplies and the TomBow Mono 100 drawing pencil is considered the ultimate instrument for drawing and drafting. It offers a progressive range of degree values from 6H-6B and this six pencil set features one each of 2H, HB, B, 2B, 4B and 6B along with a Mono Zero Eraser.
The pencils are made with a perfectly centered lead core adhered to the entire wood case for durability both in use and in sharpening. The extra-refined graphite remains sharp with slow wear and is free from clay particles that can leave imperfections in your drawings. The unique Mono Zero Eraser has a pen style grip for comfort and an extra fine point that allows you to get in close for more detailed finish work.
For a quality drawing experience with products designed to last a lifetime, TomBow is the ideal artist's choice.
>>> Check the best prices for TomBow Mono 100 pencils on Amazon <<<
5. Faber-Castell 9000
From the first name in quality art materials, the Faber-Castell 9000 graphite drawing pencil is designed with artists in mind. All Faber-Castell 9000 pencils have superior grade leads made of finely ground graphite and clay to ensure smooth, clear strokes for writing, drawing and sketching.
The pencils are coated with green, water-based varnish for a comfortable feel and constructed with SV (secure all) bonding for break-resistant leads. They are guaranteed to sharpen easily and withstand hours of use. They come in 16 degrees of hardness to facilitate everything from fine lines to shading.
The 15-piece pencil bag set includes 12 pencils ranging from 2H to 8B, a white vinyl dust-free eraser, stainless steel sharpener and a heavy duty nylon pencil bag with zipper and handy swivel clip. With professional quality at an affordable price, this is the perfect way to spark your creative side no matter where you are.
>>> Check the best prices for Faber-Castell 9000 pencils on Amazon <<<
6. Caran d'Ache Grafwood
The Caran d'Ache Grafwood pencil line is designed to enable artists to explore all of the nuanced shades of black. The craftsmen at Caran d'Ache have put their expertise to the test exploring the deepest graphite mines and the result is this unique line.
These extra-fine pencils come in a range of 15 gradations that includes 9B, the deepest black on the market. The easy to hold design ensures optimal control and the pencils are painted to reflect the shade of the lead.
With the wide range of lead hardness, Caran d'Ache Grafwood pencils facilitate many different techniques and effects, from uniform shading to detailed line drawing. The clarity of shade and extra fine points make these pencils an exceptional tool for professional and casual artists alike. With the quality of Swiss craftsmanship that you'll find in all Caran d'Ache products, these pencils are a choice you can rely on.
>>> Check the best prices for Caran d'Ache Grafwood pencils on Amazon <<<
Best Charcoal Pencils
7. Conte 1710 2B
The Conte 1710 2B charcoal sketching pencil comes with a unique pedigree that sets it apart from every other pencil on the market. This exceptional line of pencils was created by Nicolas Jacques Conté, an artist and inventor who developed the modern graphite lead from a mixture of clay and graphite, enabling pencils to be produced in a range of hardness grades.
Conte charcoal pencils are designed to give an intense black, favored by artists of all skill levels for its depth and clarity. These are high quality pencils made to withstand hours of use and rugged enough to be transported anywhere without the worry of breaking. They can be blended with other vivid Conte shades, including iron red and sepia, to provide a full palette of colors.
Your artwork can take on a whole new dimension with the fine quality and rich shades of Conte charcoal 2B sketching pencils.
>>> Check the best prices for Conte 1710 pencils on Amazon <<<
8. Caran d'Ache charcoal pencil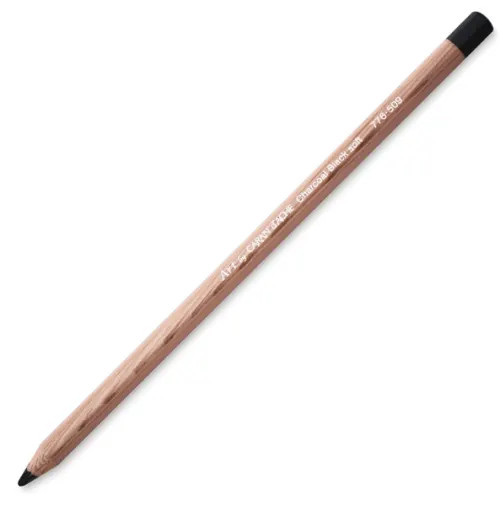 The Caran d'Ache Artist Art charcoal pencil is part of the Art collection, designed specifically with artists, illustrators, fine art teachers and students in mind. These pencils are carefully crafted to produce the sketches, drawings and outlines of the realist drawing process.
Made of California cedar wood around a 100% soft natural charcoal core, these Swiss-made pencils provide all the nuance of charcoal without the mess of unsheathed charcoal pencils. Perfect for blending and gradation, artists prize these pencils for their feel and the richness of their tones.
Designed and manufactured in the Swiss workshops of Caran d'Ache, the Art collection demonstrates the unique mastery of their artisans and their understanding of what artists need to enhance their creative expression. As with all Caran d'Ache products, Art charcoal pencils meet strict international standards and environmental certifications, ensuring that you are getting the quality you expect from your art supplies.
>>> Check the best prices for Caran d'Ache charcoal pencils at DickBlick.com <<<
9. Wolff's Carbon 6B
Producing quality art supplies since 1796, Wolff's is a name that artists and art students can depend on. The Wolff's Carbon 6B pencil is a perfect example of the quality and precision that goes into all of their products. With a perfect combination of graphite and charcoal, these pencils have a fine grain and produce rich, velvety, matte tones.
The 5mm core is encased in a natural cedar wood barrel, which makes the pencils both easy to use and easy to sharpen for hours of work. Wolff's pencils come in four degrees of hardness, with the 6B being the softest. They come pre-sharpened so that you can get right down to work and the fine point allows you to achieve the most precise detail.
Artists and illustrators need the right tool to explore their creativity. For quality you can count on, the Wolff's Carbon 6B pencil is the perfect choice.
>>> Check the best prices for Wolff's Carbon 6B pencils on Amazon <<<
Best Mechanical Pencils
10. Caran d'Ache Infinite
From the craftsmen of Caran d'Ache comes the Caran d'Ache Infinite Mechanical Pencil. This pencil is a little more expensive than most but the quality more than lives up to the price tag. With a bright white synthetic resin body in a contemporary and elegant hexagonal design, it's as beautiful as it is functional.
It uses 0.7 lead refills and features a replaceable eraser under the push top. The hexagonal design allows for easy control and the pencil is light and well balanced for comfort. It uses a standard drafting eraser that is easy to replace when it wears out.
This is a fine writing instrument that carries all of the quality and elegance that have made Caran d'Ache stand apart for over 100 years. For a writing experience that you won't forget, this is the pencil you'll want to choose. It's Swiss made excellence that makes all the difference.
>>> Check the best prices for Caran d'Ache Infinite mechanical pencils on Amazon <<<
11. Otring 800 Retractable Mechanical Pencil
rOtring pencils are designed for technical precision with an eye toward minimalist design typical of the Bauhaus style. With an ergonomically enhanced full metal body, the rOtring 800 Retractable Mechanical Pencil provides ideal weight balance as well as a non-slip knurled grip for maximum comfort over long periods of time.
The hexagonal shape ensures that your pencil won't roll when set down on the slanted surface of a drawing table and the slim design of the lead sheath ensures an unimpeded view of your work.
This model features a unique brass "twist and click" retractable mechanism that covers the entire sleeve and lead for increased durability.
The pencil comes with a 2 year limited warranty covering against defects in material and workmanship. Choose from .5mm or .7mm lead sizes and a black or silver finish. Truly the finest in German design, rOtring has been producing quality writing utensils since 1928.
>>> Check the best prices for Otring 800 mechanical pencils on Amazon <<<
12. Uni-Ball Kuru Toga Pencils
This unique mechanical pencil comes from one of the leading names in writing instruments and gives you all of the reliability you expect from Uni-Ball with some unique design elements to enhance your writing and drawing experience.
With its state-of-the-art 3 gear rotation mechanism, the Uni-Ball Kuru Toga Pencil rotates the pencil lead every time it touches the paper to ensure that your lead wears down evenly and remains sharp. The Nano Dia lead contains silicone oil and millions of nanodiamond particles, producing a strong lead that results in smoother and darker lines to enhance your work.
This lightweight and affordable pencil comes in packs of two along with a pack of twelve 0.5mm Nano Dia leads. It also has a removable protective cap covering a refillable mini eraser.
Combining form and function this Uni-Ball pencil is designed to help you get the most out of your work.
>>> Check the best prices for Uni-Ball Kuru Toga mechanical pencils on Amazon <<<
Best Animation Pencils
13. Prismacolor Col-Erase Pencils – Best Pencil For Traditional 2D Animation
Prismacolor Col-Erase Pencils are not your everyday coloured pencils. These are coloured pencils designed with artists in mind, although they're equally suitable for beginners. They are soft-waxed based, which makes them more affordable than the pricier oil-based products.
They are the ideal pencil for traditional 2d animation as they allow you to sketch in your line of action and work roughly before marking in the cleaner lines with normal graphite pencil on top. Animators have always traditionally used blue because years ago the non-photo blue wouldn't show up when the drawings were photographed for line tests. Now that we mostly work digitally and scan our drawings in the use of blue pencils is really more out of habit than necessity, however they still have a superior quality of allowing you to work roughly and clean up later.
With their soft-wax tips to bind the pencil and hold the colour together, these are a step up from standard grade coloured pencils intended for children and classroom use. As professional grade pencils, they move more smoothly over any paper surface and produce rich, vibrant colors in a wide variety of shades to enhance your illustrations and drawings.
The strong medium point is built to resist breakage and the vivid colors are erasable so that you can effortlessly make changes on the fly. Prismacolor has been producing quality art products for more than 75 years and their Col-Erase pencils are the artist's choice for true colour that you can't get anywhere else.
>>> Check the best prices for Prismacolor Col-Erase pencils on Amazon <<<
Related Resources