Disclosure: Some links may be affiliate links. We may get paid if you buy something or take an action after clicking one of these. 2dAnimationSoftwareGuide.com is a participant in the Amazon Services LLC Associates Program, an affiliate advertising program designed to provide a means for sites to earn advertising fees by advertising and linking to Amazon.com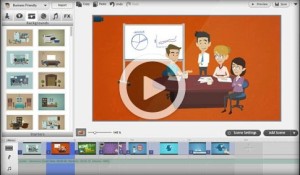 EDITORIAL NOTE: As of May 2018 GoAnimate have rebranded themselves as "Vyond", and have big plans to expand the software and make it even better. More updates to follow in due course, but all the links on this page will take you to their new and updated site, so take a look.
Did you know that according to Cisco (here), in 2016 73% of all consumer internet traffic was video, and this is projected to rise to 82% by the year 2021.
The conclusion from this is that video is here to stay and in an ever bigger way. If you can communicate your ideas visually you'll have a much better chance of getting eyeballs on your content, and creating an audience that is engaged the moment they hit your website.
If this describes you, and you want to create animated videos and presentations quickly and efficiently for your business or school project, then GoAnimate is definitely a strong software candidate to get the job done.
With easy to follow step-by-step tutorials, lots of customizable features, and different packages to fit the needs and financial constraints of most businesses and educational institutions, this software raises the bar for making high quality animated videos, quickly and easily.
Below is a detailed review of GoAnimate, explaining all of the features, as well as pros and cons.
Basic Features
Cloud Based
GoAnimate is entirely cloud based. This means there is no download or setup time, and no space taken up on your hard drive. Being cloud based gives you the opportunity to fully access its features anywhere an internet signal can be found.
Online Learning System
One of the best features of GoAnimate is the fact that it is very easy to learn. You do not need to be a programmer, a software engineer, or even very computer savvy to master this software. The website provides an online interactive tutorial that is not just intuitive, but teaches you very quickly. With pop-up guides that navigate you through each step, you can create your first finished video in as little as five minutes!
Wide Variety of Characters and Templates
GoAnimate has a whole variety of backgrounds, characters, props, sounds, and full templates available.
You also have the option of importing your own custom templates, giving each user complete control over how personalized the look of their videos will be. Moreover, having so many pre-created options available allows for the creation of professional looking videos in mere minutes, saving you precious time.
Lots of DIY Options
In addition to importing your own templates, you can also use GoAnimate to create your own characters as well as use any sounds or images you create. This makes it easy to brand everything you do specifically for your business.
Intuitive Processes
GoAnimate is software with good instincts. The video editor is built with an optimized flow in mind, prompting you to create your background first, followed by your characters, their movements and actions within the scene, outside objects or props, and finally text overlay. Since the flow has already been optimized, there is a lot less going back and forth.
Powerful Audio Options
There are lots of audio options available for GoAnimate. In addition to the wide library of pre-recorded sounds, you can record your own audio and have the software automatically lip-sync it to any characters you choose. There is also a text-to-speech option available, allowing you to simply enter text and convert it to audible speech, which also can be lip-synced.
Collaborative Capability
If you choose the 'GoTeam' plan, you can build collaborative videos with other members of your team. This makes it easy to have creative think tanks and building sessions without everyone having to crowd around a single computer. Instead, you can build on each other's ideas inside the software in real time, allowing for a more fluid experience.
Pricing Plans
GoAnimate offers a 14-day free trial so that you can get a flavour for the software before you lay down any cash for it. During this trial you can make watermarked videos, but not export them. Once you are ready to buy, there are three different subscription plans you can choose from with the following features:
GoPublish: $39 per month/$299 per year
1 seat
Download videos up to 720p
Produce unlimited videos
Unlimited Downloads / Exports
Direct export to YouTube, etc.
Import Audio, Images, and Video files
40 premium music tracks
Automatic lip-sync
GoAnimate logo on videos
Security and privacy
GoPremium: $79 per month/$599 per year
1 seat
Download videos up to 1080p
Produce unlimited videos
Unlimited Downloads / Exports
Direct export to YouTube, etc.
Import Audio, Images, and Video files
70 premium music tracks
Automatic lip-sync
Use your own logo on videos
Security and privacy
Live chat
GoTeam: $159/$999 per year (per seat)
1 or multi-seat (volume discount)
Download videos up to 1080p
Produce unlimited videos
Unlimited Downloads / Exports
Direct export to YouTube, etc.
Import Audio, Images, and Video files
100 premium music tracks
Automatic lip-sync
Use your own logo on videos
Security and privacy and passwords
Live chat
Video collaboration / shared library
Priority service queue
Download as animated GIF
Import fonts
GoAnimate For Schools
GoAnimate also has a program for schools. This program does not have a commercial license and starts at $59 per year. Its features allow teachers and their students to create videos privately and securely, making it an effective teaching and learning tool.
GoAnimate vs Competitors
There are several whiteboard animation software companies on the market today, but GoAnimate stacks up against the best of them. On the outside, all of these interfaces have the same basic features, allowing you to pick visual and audio elements from a library, animate them as you see fit, add text, and a backdrop to make a coherent video. Where they differ is in regards to pricing structure, the amount of elements you have to choose from, and customization options.
Some of the other top alternatives such as VideoScribe, Moovly, RawShorts, EasySketch Pro, and Powtoon either have options for cheaper monthly plans or limited free accounts available, but GoAnimate has more options and extras in their tiered account structure as well as the ability to have team accounts.
Powtoon also has team capability, but does not have as many audio and visual elements at your fingertips or the same amount of customization. VideoScribe gives you the option to work offline as well as the option to purchase the software outright, but does not have the same team interactivity that GoAnimate does or as many customizable elements.
Recap
Pros
Variety of prices
Free 14 day trial
Intuitive interface with lots of customizable and DIY features
Unlimited downloads, hosting, and creation
Large library of audio and visual elements
Downloadable program that supports PC and Mac
App available for Android and iOS
Cons
Cloud interface can be slow depending on internet speed
No downloadable option means an internet connection is required
No option to purchase the program outright
GoAnimate is a fun, easy to use program with incredible features that can all be utilized in the cloud, allowing your next marketing, training, or presentation video to be powerful and unique.
>>> Click here to try GoAnimate completely free for 14 days <<<
Related Resources