Disclosure: Some links may be affiliate links. We may get paid if you buy something or take an action after clicking one of these. 2dAnimationSoftwareGuide.com is a participant in the Amazon Services LLC Associates Program, an affiliate advertising program designed to provide a means for sites to earn advertising fees by advertising and linking to Amazon.com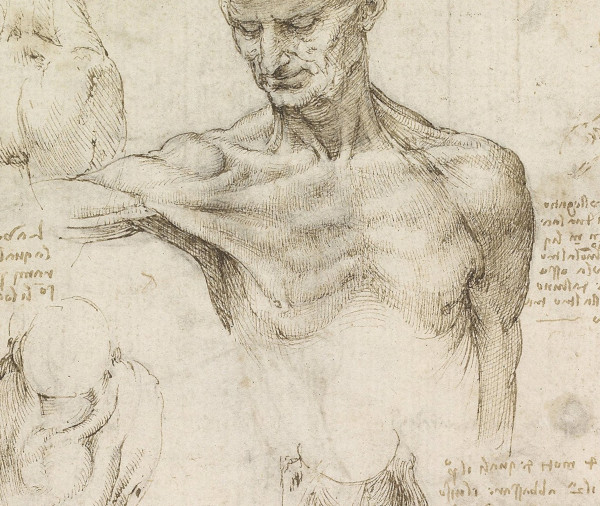 Let's face it, the secret to great drawing is understanding form and structure, and when it comes to drawing the human figure or animal body the best way to improve your skills and knowledge is to study anatomy.
Whether you're using a pencil and paper or a digital drawing tablet, by knowing what's going on under the surface your work will take on a more 3-dimensional quality and will have a solidity that gives impact and strength to your drawings.
After all, the great artists of the past like Leonardo da Vinci and Michelangelo Buonarroti knew the importance of studying anatomy and went to great lengths to discover it for themselves.
Did you know that Renaissance artists used to use the cadavers of convicted criminals, drunks and vagrants for their anatomical studies?
Thankfully, these days we don't need to go to such lengths to get a great understanding of anatomy for art, as there are lots of excellent anatomy books designed for the artist on both human, animal and comparative anatomy.
Here are my top 10 choices of the best ones.
An Atlas of Anatomy for Artists by Fritz Schider
This has been the gold standard when it comes to art anatomy for over 40 years and is still often used as a required text in many art classes. An Atlas of Anatomy for Artists features a comprehensive collection of illustrations from various artists including Vesalius, Leonardo, Goya, Michelangelo and others.
The revised edition has been augmented with 10 plates from Cloquet's "Anatomie de l'Homme" and 16 illustrations from Boscay's "Anatomy" as well as 28 photographs of growing children from the research work of Nancy Bayley and 6 action studies from Muybridge. In total, there are more than 350 illustrations that show placement, function and anatomical characteristics of every part of the body.
This incredibly thorough approach moves from basic skeletal drawings to more complex action sketches, allowing artists to see and understand the relation of muscles, bones and internal organs and how each affects the appearance of the body in movement. The illustrations cover all stages of life, from birth to old age, and both male and female forms so that artists can learn how to draw a wide range of subjects.
As an all-encompassing reference work, this is the book most often recommended by artists and art instructors.
>>> Check out An Atlas of Anatomy for Artists on Amazon <<<
Atlas of Human Anatomy for the Artist by Stephen Rogers Peck
Atlas of Human Anatomy for the Artist has been a go-to reference for artists and art students for over 50 years, which is why it is still used as a text book in anatomy classes today. With its comprehensive and instructive text, accompanied by sketches, photos and easy to follow charts, it provides a detailed look at the human form and how to approach it when producing your own artwork.
The late Stephen Rogers Peck brought his experience as a portrait painter and medical illustrator, as well as a lecturer in artistic anatomy at Parsons School of Design, to this volume and it has stood the test of time.
The book includes sections on muscles, surface anatomy, bones, proportion, locomotion and equilibrium. Unlike many other anatomy books it also looks at the various types of the human physique, anatomy from birth to old age, distinct anatomical variations related to racial types and in depth analysis of facial expressions.
This approach provides artists with valuable information that can help to inform and enhance their work. It offers it all in a format that is easy to refer to at a glance, making it a handy addition to any artist's studio.
>>> Check out Atlas of Human Anatomy for the Artist on Amazon <<<
Classic Human Anatomy: The Artist's Guide to Form, Function, and Movement by Valerie Winslow
Classic Human Anatomy has been described as the ultimate reference for artists interested in figure drawing, yet an in-depth look clearly shows that this is a simplification.
The book, by accomplished figurative fine artist Valerie Winslow, has over 800 illustrations that not only depict the various parts of the body and their muscular and skeletal construction, but also help to give the artist a comprehensive understanding of how the body works. This is an invaluable tool as depicting movement can be one of the most difficult challenges for any artist.
Divided into three main sections – the skeletal form, muscular form and muscle action, and movement – the book offers both detailed artistic renderings as well as helpful sketches that explain the underlying anatomical structures.
Winslow takes a detailed look at each part of the body, paying particular attention to areas such as the hands and feet where muscle movement is more complex. This helps to give artists a better understanding of the science of anatomy that can help to inform and develop their own works.
Whether you are a beginner or an accomplished artist looking to enhance your drawing skills, this book should become an indispensable part of your reference library.
>>> Check out Classic Human Anatomy: The Artist's Guide to Form on Amazon <<<
Human Anatomy for Artists: The Elements of Form by Eliot Goldfinger
This detailed look at human anatomy was written and illustrated by Eliot Goldfinger, a well-regarded illustrator and sculptor who developed the anatomy program at The New York Academy of Art. It contains an almost unprecedented amount of information providing artists of all levels with everything they need to know about the human form.
It has well written, thorough text describing each part of the body and its underlying muscle and bone structure. The text is accompanied by a series of photos and illustrations showing individual muscles and how they attach to the bones and affect the movement of the body. In fact, this volume contains more views of each bone and muscle than any other book ever published.
The illustrations are the result of hours of meticulous study of both live models and cadavers, giving artists and art students a unique perspective of the form and function of the human body. With the combination of illustrations, photographs and descriptions, Goldfinger explains how the underlying muscles can affect the surface look of the body as it achieves various positions.
This thorough study of movement makes Human Anatomy for Artists: The Elements of Form an invaluable resource for artists, illustrators and animators.
>>> Check out Human Anatomy for Artists: The Elements of Form on Amazon <<<
Anatomy for the Artist by Sarah Simblet
This informative and visually stunning book provides a unique approach to drawing the human body. Going beyond the traditional sketches, Anatomy for the Artist includes specially-commissioned photographs of models as well as historical and contemporary works of art and Sarah Simblet's own dynamic life drawings to help artists understand human anatomy and how to illustrate it.
It does so in six drawing classes that teach how to observe the parts of the body and guide the artist in drawing them accurately. Not only does it use great works of art from Michelangelo, Degas and others to show how these artists have approached anatomical drawing, it also includes detailed anatomical line sketches on transparent overlays to clearly illustrate how they have interpreted the various underlying body structures in their work.
With this eye catching approach, Sarah Simblet showcases the artistic skill and acute understanding of the human form that she has developed in her career as an artist, author and instructor at Oxford University's Ruskin School of Drawing and Fine Art and London's Royal College of Art.
This is a book that will both educate and inspire, helping artists of all levels to create works that truly celebrate the human anatomy.
>>> Check out Anatomy For The Artist on Amazon <<<
Artistic Anatomy by Dr. Paul Richer
Recognized as one of the greatest books on anatomy since the Renaissance, Artistic Anatomy was first published in 1889 and was probably used as a reference by the likes of Degas, Renoir and Bazille.
It was written by Dr. Paul Richer, a distinguished artist and scientist and professor of anatomy at the Ecole des Beaux-Arts in Paris and translated and edited by Robert Beverly Hale, an instructor of anatomy at the Art Students League for 40 years.
This is an extraordinarily comprehensive volume, containing detailed descriptions of the bones and muscles. Accompanying anatomical plates are grouped at the back of the book. Again, as with the text, they are very detailed, offering close up views of each individual bone and muscle as well as larger groupings that give the artist a thorough knowledge of movement, proportion and other essential elements of figure drawing.
Because of its extreme wealth of detail, this book has often been used as a text in anatomy classes. As an artist's reference, it's better suited to more experienced individuals but can still be used by anyone who is interested in developing a keen eye for anatomy and figure drawing. It is a classic well worth the investment.
>>> Check out Dr. Richer's Artistic Anatomy on Amazon <<<
Constructive Anatomy by George B. Bridgman
Canadian artist George B. Bridgman, who taught for nearly 50 years at the Art Students League in New York, created this volume, which quickly became a must have for art students of all levels. Bridgman focuses heavily on the idea of movement and how all of the body parts contribute.
This volume covers all parts of the body, from hand, wrist and arm to face, trunk and legs. Drawings include both bone and muscle structure of the joints and clearly display the interrelation of the body parts.
The simple but effective approach in this volume presents all of the information that artists need in order to master the intricacies of figure drawing and should be considered a valuable addition to any artist's bookshelf. The text is informative and is accompanied by nearly 500 superb anatomical sketches. It has been used by artists and art students since the 1920's and provides a clear understanding of human anatomy.
With the guidance provided by Bridgman's illustrations, artists can get a unique appreciation of the structure of the human body and how to capture it in drawings, paintings and sculptures. This is a fine reference book that illuminates the mysteries of the human form.
>>> Check out Bridgman's Constructive Anatomy on Amazon <<<
An Atlas of Animal Anatomy For Artists – W. Ellenberger, H. Dittrich and H. Baum
As anyone who has ever attempted to draw, paint or sculpt animals can attest, understanding the unique properties of animal anatomy can be difficult. When it comes to providing the detailed descriptions and illustrations required for this type of anatomical art, An Atlas of Animal Anatomy For Artists is an absolute must have reference work.
The book contains 288 remarkably lifelike drawings of a wide range of animals including horses, dogs and cows. The illustrations are divided into three categories: external full views and details such as paws, heads and legs; beneath-the-skin drawings of muscles and their positions; and skeletal drawings depicting the bone structure that forms a framework for the muscles and together with the muscles produces the surface contours.
Along with the original illustrations by Ellenberger, Dittrich and Baum, there are additional plates from George Stubbs's Anatomy of the Horse, Straus-Durckheim's Anatomie Descriptive et Comparative du Chat and Cuvier and Laurrillard's Anatomie Comparée, which include anatomical drawings of monkeys, bats, kangaroos, flying squirrels, rats, seals and hares.
This edition also contains a new preface and annotated bibliography with 66 items. As the most comprehensive collection of its kind this is a handy reference for illustrators, sculptors and taxidermists.
>>> Check out An Atlas of Animal Anatomy For Artists on Amazon <<<
Anatomy Drawing School – Andras Szunyoghy and Gyorgy Feher
An understanding of anatomy is critical for the artist who wishes to accurately represent the body at rest or in motion. As a reference for anatomical drawing, Anatomy Drawing School by Andras Szunyoghy and Gyorgy Feher is among the best works available today.
It combines two previous best sellers: Anatomy Drawing School: Animal Anatomy and Anatomy Drawing School: Human Anatomy to give a comprehensive look at the skeletal and muscular systems of animals and humans.
Hungarian master artist Andras Szunyoghy provides more than seven hundred and fifty detailed illustrations depicting the various parts of the body and their movements. Each illustration is accompanied by clear, precise descriptions from Professor Gyorgy Feher. Together their combination of artistic and scientific depictions makes this notable work stand out from any other in the field.
It is a thorough and detailed book that can help artists of all levels to better understand the complexities of the body and how they inform every individual movement. Covering everything from dogs and cats to camels and lions, with a particular focus on the unique structure and movement of horses, as well as a detailed look at human anatomy, this is an exceptional addition to any reference library.
>>> Check out Anatomy Drawing School on Amazon <<<
The Artist's Complete Guide to Facial Expression by Gary Faigin
Nothing is more complex yet crucial for an artist than capturing the various nuances of human emotion as expressed on the face. When it comes to reference works that cover this unique part of the human anatomy, The Artist's Complete Guide to Facial Expression by Gary Faigin clearly stands out from the rest.
An accomplished painter and art instructor, Faigin puts his talents to the test here, with his comprehensive guide to capturing facial expression. The book presents a wealth of information in a meticulously organized, yet easy-to-follow format that shows the reader the various expressions created by the individual facial muscles. It then draws them together in a section devoted to the six basic human emotions: sadness, anger, joy, fear, disgust and surprise.
Faigin's brilliant illustrations are accompanied by informative explanatory text that gives the artist a full understanding of exactly how and why each expression is created. A full appendix includes other facial movements such as yawning and wincing.
Artists, illustrators, cartoonists and animators of all skill levels who are interested in capturing realistic human emotions in their work need look no further. This is a complete reference work that provides them with all the skilled guidance they need.
>>> Check out The Artist's Complete Guide to Facial Expression <<<