Disclosure: Some links may be affiliate links. We may get paid if you buy something or take an action after clicking one of these. 2dAnimationSoftwareGuide.com is a participant in the Amazon Services LLC Associates Program, an affiliate advertising program designed to provide a means for sites to earn advertising fees by advertising and linking to Amazon.com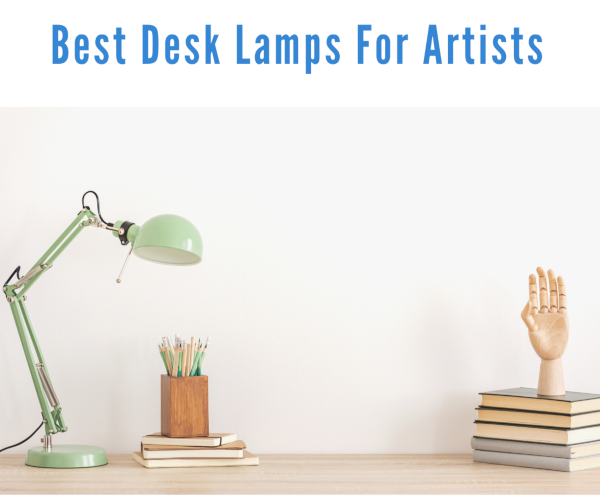 Great drawing and art work requires great tools, and lighting is one of those whose importance can often be overlooked but if not taken seriously can result in negatively affecting your work and the health of your eyes, causing long term damage if you are forced to strain them regularly.
So, if you're an artist or crafter looking for the best desk lamp to get maximum light coverage and minimise eye strain, then I have five top picks for you on this page that should match most folks needs and budgets.
How To Choose An Artist's Desk Lamp?
When making my choices I took into account the following aspects, which are a useful guide for anyone wanting to make an informed choice about which lamp to buy, but don't quite understand the jargon or want to spend ages thinking about the physics of light and what to look for.
LED Bulbs – I have only chosen LED lamps here as I believe their colour quality, consistency, lack of flicker, energy saving, and ultra low heat production make them the ideal bulb for long-term use by artists and crafters. I remember the old days of working into the night using the old standard bulbs and starting to sweat after a couple of hours as the bulbs would produce tremendous heat…thankfully those days are long gone!
Brightness – measured in lux this tells us, obviously, how strong the light is. All the lamps on this page have very good levels of brightness which is fully adjustable with stepless dimming (meaning a gradual increase or decrease in the light. The BenQ lamp below even has intelligent dimming which will change the brightness of the lamp depending on the surrounding environment.
Colour Temperature – measured in kelvin, this tells you the range of colour that the light produces, from cool white to warm yellows. In general white light is better for work and study, while yellow light is better for reading and relaxing (that's why they tell you not to use your mobile phone before you go to bed – mobiles use white / blue light which keeps you awake).
Flexibility – how much range of movement do you want in your lamp and how far or tall do you want it to extend? Some lamps come with hinge-jointed arms which allow a range of flexibility but not necessarily the full 360 degrees. Gooseneck lamps allow you to rotate them pretty much however you want.
Kind of Base – what sort of base are you looking for – a solid base or a clamp? Solid bases are the standard and ideal for most desk situations, however if you are using a moveable inclined drawing table you might find the clamp based lamps a better choice as it will move with the table and won't slide off.
USB Charging – some lamps allow you to plug your USB devices into the base to charge them or even have Qi wireless charging capabilities. Something to bear in mind if you really need it.
5 Best Desk Lamps For Artists
1. TaoTronics LED Desk Lamp – Best Overall Desk Lamp For Artists

Taotronics' desk lamp is a choice worth considering when it comes to picking the best desk lamp for artists. Its adjustable lights along with its preset colour temperatures offer you the chance to be creative without exhausting your eyes.
Made of solid aluminium and with a sleek ergonomic design it fits perfectly into any artist's desk setup.
Pros
Good Brightness Without Glare
A lumen is the amount of light sputtered in different directions evenly. In simple words, a lamp's lumen is a method to measure the brightness of its produced light.
TaoTronics' desk lamp provides you with 400 lumens, which equals 9 watts emitted by an LED light bulb. This amount of lumens supplies you with sufficient brightness to light up the surface of your work.
The TaoTronics lamp also reflects the light sideways which helps to prevent glare and eyestrain.
Preset Colour Temperatures
To those who aren't familiar with what a lamp's colour temperature is, it's basically the colour severity of light produced from a light bulb, and their intensity depends on their kelvin degrees.
The higher the kelvin degree is, the whiter the produced light will be, and vice versa.
TaoTronics' desk lamp comes with 5 adjustable colour temperatures, ranging from 3000K to 6000K. Such a feature allows you to adjust the light to correspond with the changing natural light conditions throughout the day, which is easier on the eyes.
Adjustable Brightness
The Taotronics lamp also offers you 5 brightness levels that you can adjust to your liking.
By merging this feature along with the colour temperature one, you'll have 25 potential lighting combinations from which you can choose the most fitting lighting condition for your environment and time of day.
Memory Function
To top everything off, the TaoTronics' desk lamp comes with a memory function regarding its lighting settings.
You can retrieve your desired lighting condition when you turn on the lamp again with the help of its memory function.
The memory function reboots its settings according to the last setting you've set, which saves your finger the effort of clicking the lamp's buttons to adjust the lighting once more.
Has a USB Port
Instead of having to get up every now and then to charge your devices, you can just plug them in the TaoTronics' USB charging port.
With the help of this built-in smart charging port, you can continue your work while your devices are powering up by your side.
Cons
Lamp Head Can't Swivel Left or Right
While there is a good range of up and down rotational movement on the lamp arm, the head of the lamp is doesn't rotate around so you can't move it to direct the light forwards or backwards.
To change the direction of the light your lamp is emitting, you'll have to move the entire lamp, which can be a hassle at times, particularly if you are using an inclined desk.
Slight Wobble On Base
While the lamp is solidly made of aluminium the base does have a small amount of wobble when adjusting the angle of the arm, so a touch more weight in the base would have been welcome.
Summary
The TaoTronics' desk lamp is definitely one of the best LED desk lamps currently available for artists on the market.
Thanks to its several brightness and colour levels to mimic multiple lighting conditions, you can comfortably complete your artwork without being troubled by light flicker or worrying about eye strain.
Its built-in USB port is also a strong positive, especially if you're using an LED light pad or drawing tablet. It enables you to enjoy drawing and painting while charging your devices at the same time.
>>> Check the best prices for the TaoTronics LED Desk Lamp on Amazon <<<
2. BenQ e-Reading LED Desk Lamp – Best High-End Lamp For Drawing

BenQ is well known in the market as a manufacturer of high quality monitors and cinema projectors, so it is no surprise that when they turn their hand to desk lamps they produce something special, and the BenQ e-Reading LED desk lamp with swing arm is just that.
It's far and away the most expensive desk lamp for artists on this list so let's see how it shapes up against the hype and whether the high price is justified.
Pros
Solid Construction and Advanced Lightening
The material is made of a mix of different metals like aluminum and steel, this material makes it very sturdy, and beautiful to look at.
BenQ focused on creating an advanced lighting technology that lights up your room without causing any glare. This way, you'll be able to use any monitor underneath the lamp with ease without causing eye strain.
It also uses advanced LED lights, which let you use the lamp for long hours without any flickering, so you'll find the light to be very easy on the eyes.
In addition to that, you won't have to worry about changing light bulbs. BenQ has 50,000 hours of life and it only uses 18watts of power at maximum brightness.
Colour Temperature and Brightness
There is an adjustable knob on the top of the light that allows you to set the lighting to your own preference. You get to adjust both the temperature, from warm to cold, along with adjusting the brightness from high to low.
The lamp also remembers what your settings were, so when you turn it back on again, your settings will remain the same.
With a simple touch, you can turn on the auto-dimming mode. This allows the lamp to adjust the light automatically depending on the current setting and environment, and is a massive plus point to the BenQ lamp.
Design
The BenQ e-reading lamp uses a combination of hinge and ball joints that lets you easily set the angle, height and rotation to whatever suits you. The heavy steel base means you can extend your lamp without worrying it'll fall over.
I've got to say the design of the lamp is great, particularly if you often change your sitting position due to long hours of desk-based work. Having the option to change the direction and height of the lamp makes life a lot easier.
It also has a wide range of coverage – up to 35 inches, which is about 150% more than standard lamps, meaning that it should suit pretty much any kind of drawing table or desk setup, even standing desks.
The BenQ e-Reader comes in a choice of three different colours (silver, blue or gold) that'll be suitable for any colour scheme.
Cons
Clamp Sold Separately
One small disappointment is that the clamp for the BenQ is sold separately and at this price I would have expected it to come as part of the package. Not a big deal if you're not concerned about using a clamp, but you might need one if you want to use it with an inclined drawing desk.
No Charging Ports
Another small annoyance is the lack of any USB or wireless charging capabilities to charge up your devices. Other lower priced lamps on the market have this so it would have made a nice addition to the BenQ.
Summary
Even though the lamp is pricey I believe that it's one of the best high-end desk lamps on the market today and certainly worth the investment. The BenQ brand is known for great design and high quality so you know what you're getting when you buy from them.
The solid modern design, unmatched flexibility and intelligent auto-dimming of the BenQ e-Reader make this an excellent addition to any serious artists' desk.
>>> Check the best prices for the BenQ e-Reading LED Desk Lamp on Amazon <<<
3. Phive LED Desk Lamp – Best Swing Arm Desk Lamp For Drawing

The Phive LED Desk Lamp is designed to provide you with intense lighting without hurting your eyes, and has the added benefit of being extremely adjustable and personalized, it is the ideal swing arm art desk lamp.
Pros
Natural Light
The Phive LED desk lamp comes with lighting close to natural daylight, and therefore helps to protect the eyes. It also comes with a memory of your brightness settings. This allows you to adjust the light according to your preference and save these adjustments for the next time.
The lamp itself is adjustable with a 180 degree swivel range. It also comes with an adjustable metal arm. You can personalize the brightness and direction of the lamp, and you can also install and secure the lamp on a tabletop using a screwdriver.
The lamp comes with several pieces: a metal clamp, arm adjustment tools, user manual, and a power adapter.
Longevity and Energy-Saving
The Phive lamp comes with a 90pcs LED bulb, ensuring 50000 lifespans. This means you probably won't need to change it for almost 25 years!
The lamp is also energy-saving. It costs only 20% energy of what an incandescent lamp would normally cost.
The lamp is made with an eye-caring system and has stepless dimming meaning you can adjust the brightness levels gradually without a sudden jump. It emits soft light without any glare and also provides lighting closer to natural daylight.
The height of the lamp means that it covers a broader and larger area, therefore, normalizing the light for your eyes and providing a better more evenly lit area.
Design and Adjustability
The Phive lamp has a tremendous amount of flexibility and can move pretty much anywhere giving you unparalleled control on how you light your workspace.
It comes in a black, modern design, which makes it easier to fit any room décor and doesn't take much space,meaning it can be installed and secured on your tabletop. You can also control the brightness of the light, and it has a memory setting which saves your personal settings.
Cons
No Base
As mentioned above the Phive lamp comes with it's own clamp to attach it to your desk. However, there is no standard base for it which I find a small drawback as some desks are not always easy to use with a clamp and would be better with a solid base.
Head Limited To One Rotational Axis
Unfortunately the head of the Phive lamp only rotates in one direction so you can't rotate it forwards or backwards.
Summary
Getting your art work done and ensuring the health and protection of your eyes can both be achieved with the Phive LED desk lamp. The solid build and fixtures, along with a huge range of flexibility make this the ideal swing arm desk lamp for artists.
>>> Check the best prices for the Phive LED Desk Lamp on Amazon <<<
4. Trond Halo 9W-C Lamp – Best Value Portable Desk Lamp

The TROND Halo lamp is the next one on the list and ideal for the budget conscious artist. With a clip-on attachment it is very easy to move this lamp around, but how does it shape up in other areas?
Let's find out…
Pros
Material and Design
Trond Halo is made from high-quality durable material. The lamp's gooseneck is made from aluminum alloy, which makes the lamp stable. Moreover, the gooseneck is coated to avoid emitting noise as you twist it.
The length of the lamp is perfect (maximum 19.7 inches) and is longer than most lamps available on the market. It can easily fit large tables and you can direct the light according to your needs.
Task Lighting
Task lighting feature is fundamental in any desk lamp and it helps to direct the correct amount of lighting just where you need it – beam of light that gets directed on the surface to highlight the area you're working on.
The Trond Halo lamp comes with a productive 5800k daylight, and colour and temperature are designed to stimulate your brain and boost your productivity. It emits blue light waves that produce serotonin to help you focus more and stay awake.
Safe and Energy-Saving
Since Trond Halo uses LED lights instead of fluorescent or incandescent lamps, you can be safe in the knowledge that it consumes 70-80% less power than other lamps, and as a consequence it produces far less heat compared to other lamps, and will remain more or less cool to the touch, so ideal for working with it at close range, or for children.
Simply Controlled
The lamp has one simple touch area on the back of the lamp head to control everything. By using just your finger, you can simply turn on and off the lamp or change the light intensities from the 3 levels available.
You just need to touch the power icon to turn it on. When you're done working, by pressing the icon for 2 seconds the lamp will turn off, and it will remember the brightness setting from the last time you used it.
Cons
On / Off Button Not Easy To Locate
While it is fairly straightforward to turn the Trond Halo on and off, the only design flaw with having on the back of the head is that you often inadvertently look up into the light while searching for the button – not as easy to find as others that have the power button on the base.
Summary
The Trond Halo lamp is a great lamp that most artists will appreciate. If you're looking for a durable, strong, and highly portable lamp, then I recommend the Trond Halo.
The lamp is safe to have around and has an eye protection feature to help you focus and work. Being made from aluminum ensures a strong and stable lamp on your desk. You can simply decide how intense you need the light through the 3-level touchable dimmer.
This lamp is a great, budget-friendly, and a suitable option for all artists.
>>> Check the best prices for the TROND Halo Lamp on Amazon <<<
5. Daylight Duo UN1510 LED Art & Craft Lamp with Clamp – Best Double-Headed Lamp

The Daylight company have made a name for themselves in producing quality and affordable innovative lighting products from light boxes to desk lamps, and their Daylight DUO UN1510 artists desk lamp is certainly innovative.
The double-headed lamp design is an unusual but clever way to solve the problem of flexibility and lighting range in a fixed desk lamp. So let's take a closer look.
Pros
Two Light Bars
As mentioned above the two light bars are the big selling point of the Daylight DUO and they come with a hinge setup so you can rotate them to change the spread of the light and hold their positions nicely without any looseness or flopping. You can even spread them right out to make a straight line and clamp it to your inclined drawing desk to work as an overhead light which should illuminate evenly the entirety of your desk.
It has simple touch switch dimmers on the end of each lamp head with 4 brightness levels, so that actually allows for 8 different levels as you have 4 in each.
Solid and Flexible
It's very easy to set up the Daylight DUO lamp, unlike some other lamps on the market. Just clamp it on to your workspace and away you go. The clamp gives you a very sturdy base without wobble and is great for most drawing and drafting desks. In addition the gooseneck arm of the lamp allows maximum flexibility for any kind of desk setup.
A nice little design feature is that the tightener for the clamp is on the top rather than the bottom which makes it much easier to adjust and fix particularly if you have a large or fixed desk.
Cons
There are a couple of small negatives with the Daylight DUO lamp and they are that it is not as bright as some of the other lamps on this list with a maximum lux of 2,090. It is still perfectly fine for most working scenarios but if you want an ultra bright desk light this may not be the one for you. Also, there is no colour temperature adjustment, so you only have the standard cool white.
Another small downside is that it doesn't come with a base solid, only the clamp. Daylight do sell other versions – one with a solid base and a floor version, so check which one you will need before you buy.
Lastly there is no USB or wireless charging capability, which would have been nice to see.
Summary
Overall the Daylight DUO UN1510 desk lamp is a great buy for artists and crafters with a good range of brightness settings and an innovative double headed design for added flexibility.
The lack of colour temperature and USB device charging are small negatives that can be overlooked, particularly when compared with the flexibility of the heads and the ease of set up.
The Daylight company produces quality products so you know this will be a good investment.
>>> Check the best prices for the Daylight Company LLC UN1510 Lamp on Amazon <<<