Disclosure: Some links may be affiliate links. We may get paid if you buy something or take an action after clicking one of these. 2dAnimationSoftwareGuide.com is a participant in the Amazon Services LLC Associates Program, an affiliate advertising program designed to provide a means for sites to earn advertising fees by advertising and linking to Amazon.com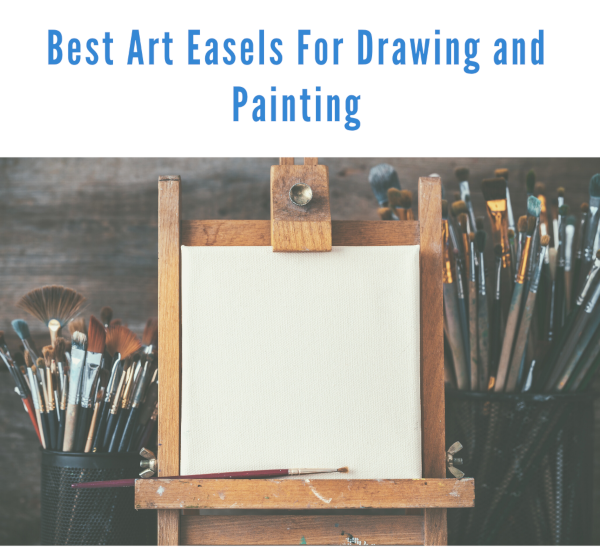 Are you sick of trying to paint on your flat kitchen table and not really having a permanent space for your work? Fed up with the kids' not having their own workspace? A drawing table not quite right for painting?
Well, then an art easel is the solution. They conjure up the classic image of the artist in his / her studio with the canvas supported, palette and brush in hand, and the creative juices flowing.
But with so many options on the market these days, how do you choose which easel is the best for you?
On this page I have 7 top recommendations of the best art easels for your drawing and painting, as well as some simple tips on what to look for when buying one. So, whether you're a beginner or advanced artist, or simply looking for an easel for your kids I'll help ease(l) the buying process for you! 🙂
What To Look For When Buying An Art Easel
Size – probably the most important thing to think about when choosing your easel is how big will you need it to be. This depends on room or studio space, the size of papers or canvases you will be working with, and whether you need it to be portable or easily moved from spot to another. Don't forget that easels can range in size from tiny desktop set ups, to huge H-frames capable of holding massive canvases many feet high.
Shape and Flexbility – broadly speaking art easels can be broken down into four designs:
the A-frame or Lyre easel – most common and shaped like the letter A, easiest to adjust and move around so great if drawing and painting outside. Will often be collapsible so you can fold it away easily for storage when not in use.
the H-frame easel – the sturdiest design with a solid base, shaped like an H. Unrivalled stability but not as easy to move around – look for ones that come with wheels to make it easier to move. Ideal for big canvases. Usually the most expensive.
the tripod easel – usually made of metal these are ideal for using in the field or on uneven ground. The advantage of the tripod is that the 3 legs can each be adjusted to different heights. It also folds and collapses down for easy transport and storage.
the tabletop easel – a small version of either an A or H frame, super portable and sometimes comes with additional storage for your pencils, brushes and paints. Ideal when working in the field or at school.
Budget – how much are you willing to spend on your art easel? The size, flexibility, craftsmanship and materials it is made of will all affect the price, which can range from a few dollars to many hundreds.
Materials and Construction – the weight and price of your easel will largely be determined by the kind of material it is made from. While some easels are made of metal most are made of wood, with the cheaper ones made from lighter woods like pine and beechwood, and the more expensive from hard, heavy woods like oak.
The Best Art Easels
1. MEEDEN Versatile Studio H-Frame Easel – Best Portable Easel
For artists of all skill levels, the MEEDEN Versatile Studio H-Frame Easel is the perfect addition to your home or studio. It's built with solid German beech wood so that it is as attractive as it is functional.
The generous size can expand from 59-95" high to accommodate any size canvas and it tilts to allow a wide range of working angles. The full adjustability makes it easy to reduce glare or work on pastels or even tilt it completely flat and use it as you would a standard drawing table.
The easel features three separate sliders which allow you to work on multiple pieces at once or hold your paint palette or a tablet for reference or listen to music as you work. The small footprint enables it to fit in even the smallest of workspaces and it folds up flat for easy transportation and storage. It's fitted with two sturdy, oversized wheels that allow it to glide with ease over any surface yet still provide a stable work space.
With an affordable price, this is a great option for any artist and the fully adjustable height and angle allow you to sit or stand while painting to maximize comfort. It's easy to put together and adjustment is a snap with the simple knob and screw system. Just a couple of quick turns and slides and you're all set up and ready to go.
Since you can adjust it to help reduce glare and allow for any work position it can take the discomfort out of working so that you can focus on creativity. It's designed to be as attractive as it is functional, so if you want a simple yet sturdy easel that allows for plenty of flexibility then this is the perfect option for you.
>>> Check the best prices for the MEEDEN Versatile H-Frame Easel on Amazon <<<
2. U.S. Art Supply Solana Adjustable Wood Desk Table Easel with Storage – Best Desk / Tabletop Easel
This handy little table or desk top easel is a must have for everyone from professional artists and art students to kids. It has an adjustable easel that can also fold flat so you can use it as a lap desk and it even has a built in drawer to hold all of your paints and other art supplies.
Lightweight yet sturdy, the U.S. Art Supply Solana Adjustable Wood Desk Table Easel with Storage is made of hand-sanded aged beech wood from Germany and attractively finished with brass hardware and a durable leather handle.
It has integrated rubber feet to keep it from slipping on any surface. The handle allows for easy portability so that you can take it with you wherever you go. The generous 10 ¼" x 2" x 13 ¼" size allows it to accommodate canvases up to 11" x 14" and the easel can be adjusted to four different incline angles. The storage drawer has plenty of room for paints, brushes and any other supplies and the easel even comes with an 11" x 18" removable wooden palette inside.
As an industry leader in art supplies, U.S. Art Supply understands the need for quality which is why, as with all of their products, this easel includes their risk free 100% Lifetime Satisfaction Guarantee. If you're not happy with your purchase at any time, they'll provide a full replacement or refund.
At an affordable price, this is a perfect option for anyone who needs a comfortable work space for their artistic expression. It's a simple yet fully functional construction that is easy to use and fully portable. With this model, you can work inside or outside, in your lap or on a tabletop and have an easily accessible space for all of your canvases and painting supplies.
>>> Check the best prices for the US Art Supply Solana Easel on Amazon <<<
3. Best Halley Easel – Professional Studio Easel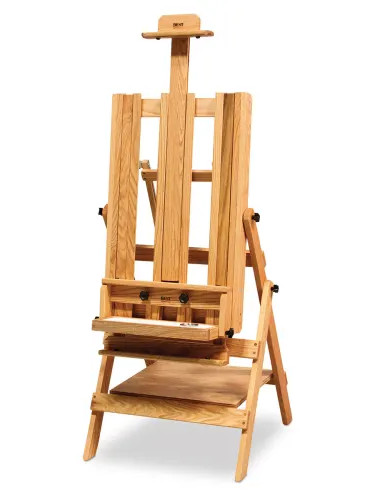 The Best Halley Easel from Dick Blick Art Materials is a quality piece with the serious artist in mind. Made of solid red oak with a hand rubbed oil finish and fitted with the finest hardware, this easel is made to last and looks beautiful in any studio.
It can accommodate canvases up to 80" tall, though it is really designed for mid-sized boards or canvases. With mid-sized pieces you can take full advantage of the various height and tilt settings. Tilt it forward for working with pastels or all the way down to horizontal position for use as a table. Your canvas will stay secure as you work with rubber grips on the top, bottom and center painting trays. The center tray can be used flat or tilted at an angle and the palette features a white Melamine paint mixing surface with a canister made of stainless steel for solvents, oils and other materials.
There is also a shelf at the base that can be used for storage. Because of its easily adjustable size, this is an ideal easel for artists who prefer to sit while they paint, though it can also accommodate standing. It has a relatively small 24" footprint, allowing it to fit into even the smallest studio comfortably and it folds up for easy storage. As it is made of oak, it is slightly heavier than other easels, weighing a hefty 45 pounds, but that also makes it sturdier and more durable.
This is a beautiful piece from one of the leading art supply companies in the U.S. Blick Art Materials is a family owned company that has been serving artists since 1911, so you can rest assured that this model will give you all of the quality you're looking for and will last for many years to come.
>>> Check the best prices for the Best Halley Easel on DickBlick.com <<<
4. U.S. Art Supply Malibu Heavy Duty Extra Large Adjustable H-Frame Studio Easel with Artist Storage Tray – Heavy-Duty Easel
From U.S. Art Supply comes the Malibu Heavy Duty Extra Large Adjustable H-Frame Studio Easel with Artist Storage Tray. This is a great tool for students, professionals and advanced artists working in large media as it can accommodate canvases up to 90" high. It is made of high quality, hand sanded German beech wood in a natural wood color that is oil finished to enhance its attractive look.
The easel is fully adjustable, with four large point knobs that make movement easy. Tilt it slightly forward for pastel and portrait work or lay it completely horizontal for watercolors or paint pouring. The 26" x 27.5" x80" easel adjusts up to 139" in height to accommodate even the largest canvas and the roomy artist supply tray can be raised from 23" to 50" off the floor, making it easy to use whether you are sitting or standing.
As with all of U.S. Art Supply's products, this model offers a100% Lifetime Satisfaction Guarantee so that you can make your purchase with confidence. The affordable price is less than half the cost of higher end easels, yet it doesn't skimp on value in the least. It has a small footprint that allows it to fit into even the smallest studios and it comes with locking caster wheels for easy mobility.
The tongue and groove construction ensures stability and the hardware is good quality, including the knobs that make adjustment a breeze. It easily stands up to higher end models in terms of quality yet won't break your budget, making it a perfect choice for art students. If you're looking for an easel that can stand up to use and look attractive in your studio, you can't go wrong with this model. It'll serve you well no matter where your creative spirit takes you.
>>> Check the best prices for the US Art Supply Malibu Easel on Amazon <<<
5. Jackson's: Donkey Easel – Best Donkey Easel / Art Horse Bench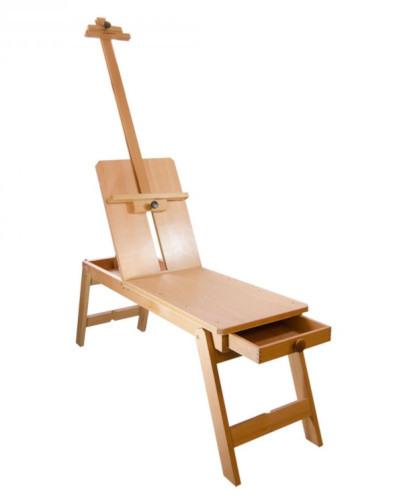 Simple, yet functional is Jackson's: Donkey Easel. It provides a convenient and stable platform for drawing and painting with a built-in bench, so your entire workspace is self-contained. You can literally set up and get to work anywhere, inside or outside, quickly and easily.
The easel folds flat for easy transport and it includes a spacious storage drawer for all of your supplies. The small size and easy portability make it ideal for use in the classroom or smaller studios and it can also be set up outdoors so that you can work wherever the inspiration hits you.
The wheels make moving simple when the easel is folded. The adjustable height support can accommodate any size canvas up to 30" and is simple to use with a handy knob. The entire piece is made of beech wood that is sustainably sourced and kiln dried to ensure stability and coated in varnish for an attractive look.
This piece has an affordable price that makes it attractive no matter what your budget and is backed by Jackson's quality guarantee. Jackson's Art Supplies, located in London, is one of the largest dedicated fine art suppliers in the world. They know their business and are dedicated to offering a wide range of products for artists of all levels. With their deep knowledge of fine art, they understand what it takes to spark creativity and they provide only the best quality art supplies so that you can trust their products.
You can buy directly from their shop through their website no matter where in the world you are and they even have an easel guide you can use to make sure you're getting exactly what you need. For reliability and top quality with the artist in mind, this model from Jackson's is a great choice.
>>> Check the best prices for the Jackson's Donkey Easel at Jackson's.co.uk <<<
6. Melissa & Doug Deluxe Wooden Standing Art Easel – Best Kids Easel
Creativity begins in childhood and The American Academy of Pediatrics recommends toys that encourage hands-on play and spark imagination. When it comes to inspiring budding artists, Melissa & Doug are ahead of the pack.
For more than 25 years they have been producing a wide range of toys that help children explore their creative side. The Melissa & Doug Deluxe Wooden Standing Art Easel is no exception. Made of sturdy wood, the easel is double sided with a chalkboard on one side and a dry erase board on the other to allow for all sorts of artistic expression.
The easel is height adjustable so that it can grow along with your little artists and it folds up for easy storage. It comes with two brightly colored trays for holding all of your art supplies, a paper roller and four colorful clips to allow for hours of creative fun. Paints, paint pots, rolls of paper, chalk and brushes are all sold separately.
This is a toy but it is designed with the same principles as professional easels in mind…generously sized to hold all sorts of projects and sturdily built so that it won't tip while your child works. The clips keep the paper steady while your little one works and there's even a built in paper cutting edge at the top, designed to deliver clean cuts without damaging the finished artwork.
This is a perfect way to keep your child engaged for hours while encouraging the use of imagination. For today's parents who want to pull their children away from a computer or television screen this can be the perfect answer to their problem. Just set up this handy easel, add in some art supplies and then stand back and watch your little artist discover all the joys of creative expression.
>>> Check the best prices for the Melissa & Doug Art Easel on Amazon <<<
7. T-SIGN 66 Inches Reinforced Artist Easel Stand, Extra Thick Aluminum Metal Tripod – Best Tripod Easel
For professionals, art students or part time painters, the T-SIGN 66 Inches Reinforced Artist Easel Stand, Extra Thick Aluminum Metal Tripod offers a nice, sturdy yet lightweight option for holding your canvases as you work or displaying your finished pieces.
Made of high quality lightweight aluminum alloy, this easel is sturdy yet easy to transport. It even comes with a weatherproof nylon bag with shoulder strap so that you can fold it up and take it with you wherever you go.
Work indoors or out and you can be sure of a stable surface with the adjustable angle, non-slip feet. The vertical support adjusts to accommodate canvases up to 33" in height and has a spring loaded top clamp to secure your canvas in place. A 1.2" deep ledge provides a firm foundation to keep your canvas in place as you work. The three legs are independently adjustable, which means you can ensure stability even on very uneven ground. Plus, they can contract to just 21" so that the easel can be used on a table top as well as free standing.
The entire thing folds down to only 21" and can be secured with an attached Velcro strip before tucking into the carrying case for safe transport. Since it is made of aluminum, the entire easel weighs only 2.6 pounds, making it easy for just about anyone to carry.
It is a simple, easy to use and easy to store alternative for anyone who is serious about their work but doesn't have a lot of money to spend on supplies. Available in black or silver, it looks sleek and attractive whether in your studio or on the go. For a high quality piece at a price that won't break your budget, you can't do much better than this model.
>>> Check the best prices for the T-SIGN Reinforced Easel on Amazon <<<