Disclosure: Some links may be affiliate links. We may get paid if you buy something or take an action after clicking one of these. 2dAnimationSoftwareGuide.com is a participant in the Amazon Services LLC Associates Program, an affiliate advertising program designed to provide a means for sites to earn advertising fees by advertising and linking to Amazon.com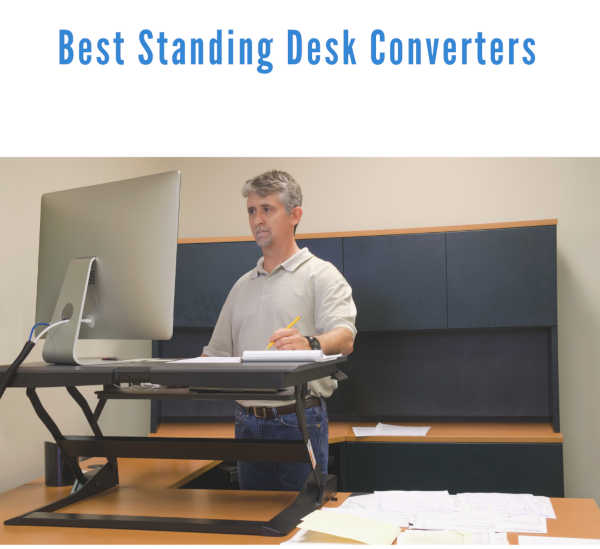 Sick of sitting at your desk all day? Fed up with the back and neck cramps you end up with every time you have a busy week of work at the office? Or perhaps your doctor has told you to sit less often at your desk?
Medical experts suggest that sitting for too long at a desk every day can lead to high blood sugar levels, back pain, higher risks of obesity and even diabetes.
These days more and more folks are seeing the health benefits of standing at their desks for at least a portion of their day, which is much better than sitting all day.
Trouble is, standing desks can be very expensive and often require a hefty amount of space, so a number of people wonder if they're overrated or even worth it, as they think they'll need to redesign their office space or throw out their current desk.
This is where standing desk converters come in. They are a great option to maintain your current desk setup but give you the extra flexibility of adjusting it throughout the day and all at an affordable price, as they are easy to assemble and sit perfectly on top of your current workspace.
And here I have 4 of the best ones for you – each has been designed for different setups, so you can pick which is best for you.
4 Best Standing Desk Converters
1. VIVO Black Height Adjustable Stand-up Desk – Best Standing Desk Converter
The VIVO adjustable desk converter is a sleek and nice looking ergonomic desk converter that won't break the bank or your back and is a good general size to fit most folks desk setups. With an easily adjustable mechanism and good height for working standing up, it is the top pick on my list for a number of reasons which we'll look at.
Space For Dual Monitors
It has a 22" x 36" desktop with an additional 10.5" x 25" keyboard tray. The 36" desktop is plenty of space for a dual monitor set up or an additional desk lamp if you require it.
The height, which adjusts from 6.5" to a maximum of 17", can easily and smoothly be adjusted by simply pressing on the side levers which use a dual gas spring mechanism meaning there is no jerkiness or difficulty during the adjustment, and it can be done very quietly. There's nothing worse than a ratchety desk going up and down several times a day and annoying your co-workers.
When you press on the levers you just need to remember to make a small push forwards or backwards to raise or lower it…in other words you don't press down or pull upwards.
Steel Frame
The VIVO is very strong and sturdy being made from a solid steel frame and is very easy to assemble – simply attach the legs and the keyboard tray and you're away in a matter of minutes.
The desktop can take a maximum of 33lbs (approximately 15kg) weight which is plenty.
What's nice about the VIVO is the additional device slot they've incorporated into the front of the main desktop area. This is a convenient place to store a mobile phone or small tablet so it's easily accessible but doesn't take up much space.
Colour Variations
Although I'm showing you the black version of the VIVO here it actually comes in four different colour variations – Black, Dark Wood, Light Wood and White – so there's plenty of choice to fit into any colour scheme or office environment.
3 Year Warranty
The VIVO also comes with a great 3 year warranty from the manufacturer which gives great peace of mind should you have any problem with it.
Downsides
One of the few downsides to the converter is that even though the keyboard tray is tiltable and moves in sync with the desk, it's not adjustable to a custom desired height independent of the desk itself.
It's also worth noting that the keyboard tray is about half an inch high, which lifts it off your desk by that amount when in the down position. Therefore this could affect your arm and wrist positions if you don't have a chair with adjustable arms to compensate.
Pros
Dual gas spring mechanism – can hold up to 33lbs
22" x 36" desktop
10.5" x 25" keyboard tray
Height adjust from 6.5" to 17"
4 Colour options – Black, Dark Wood, Light Wood and White
Device slot to hold mobile phone or tablet
Very easy assembly – only need to attach the keyboard tray and feet
3 year warranty
Cons
The extra half inch height of the keyboard tray may cause it to feel a touch too high when in the down position
Also, the keyboard tray is not adjustable independent of the whole mechanism
Conclusion
To wrap things up, I believe VIVO's stand-up desk provides the best combo of user-friendliness, safety, technology, setup, and customer support that can help save your back from long-term damage. It offers an overall smooth and efficient gas spring mechanism that makes it super easy to convert your desk into a standing desk with a height range ideal for both short and tall people.
>>> Check the best prices for the VIVO Stand-up Desk Converter on Amazon <<<
2. SHW Standing Desk Converter – Best Under $100
The SHW Standing Desk Converter may not be the sleekest and best looking desk converter out there but it is a solid contender on this list, and we'll look at how this appliance can provide you with a workspace that is both ergonomic and durable without breaking the bank – and you'll find out why I consider it the best standing desk converter under $100.
Here are the key features you need to know to decide whether this SHW is the standing desk converter for you.
Capacity
Boasting a maximum weight capacity of 60 Ibs, this desk converter can easily carry up to two laptops or screens on its upper surface, not to mention your tablet, phone, or any other small accessory you like to have close at hand.
It comes in two sizes, so if you prefer your screens wide, you'll probably be better off with the more spacious 36'' wide option (though this will just push the price a shade above $100).
The lower tray is relatively small and may not fit both keyboard and mouse if you have standard size ones, however, so you may be forced to place your mouse on the upper surface alongside your screen. This may be rather uncomfortable if you frequently complain of shoulder or elbow pain.
Height Range Adjustment
The height range can be adjusted to everything from 4 to 16 inches with unlimited stops in between. This can be particularly useful if you intend to use your desk converter in multiple settings or by multiple users.
On the other hand, the 16'' maximum height is a touch low as desk converters go, so it may be difficult to reach the keyboard and mouse if you're particularly tall (over 6ft) so you could use some books to lift the height of the keyboard and mouse.
Design
Sleek and simple, this desk converter comes in three colors – grey, black and white. It also has a convenient slot on its upper surface for your phone or tablet, which can save space for other devices, and ergonomic, rounded edges.
Unfortunately, the lower keyboard tray is fixed and can neither be tilted nor slid forwards or backwards as in other models. This can make it difficult to type in some positions.
Affordability
The SHW standing desk converter is a great catch for budget buyers. When you compare it to the price of many of the other standing desk converters on the market this gives you great functionality and ease of use for a fraction of the price.
Assembly
The SHW desk converter is more or less factory pre-assembled. All you need is a single tool, the included Allen key, to drive in four screws to fix the keyboard tray in place – A process that won't take more than five minutes in the hands of even the most inexperienced of users.
Stability
The X shaped design of this desk creates great stability and allows you to smoothly raise and lower your workstation without worrying about any of your devices falling off. No wobbles, no shaking, and no clicking noise involved.
It doesn't arc inwards and outwards while you adjust its height like its Z-shaped peers, just straight up and down, which means you get even more space and sturdiness.
Pros
Great price – under $100 for the 32 inch version
Strong X-frame design – holds 60lbs of weight
Easy lift up and down mechanism – no noise, or wobbles
Easy assembly
Cons
Not as high as other models – not ideal for very tall people
Keyboard tray on the small side
Conclusion
The SHW standing desk converter is a great budget option for both home and office users. It's durable, spacious, and incredibly easy to assemble and handle.
If what you're looking for is a combination of affordability and quality, you needn't look any further than the SHW desk converter.
>>> Check the best prices for the SHW Standing Desk Converter on Amazon <<<
3. Seville Classics AIRLIFT 36″ Electric Height Adjustable Standing Desk
Seville Classics are well known for their efficient high quality home products and their Seville Classics AIRLIFT 36" adjustable standing desk is no different. The big selling point of this desk converter is the electric motorised mechanism that lifts and lowers the desk easily and smoothly at the touch of a button.
Let's see what else it can do.
Design
Though having a relatively bulky outline, the desk fits cubicles, and you can install it at home, with enough space for a dual monitor, a keyboard tray, and a two-tier design allowing for an adequate work surface, as well as a built-in phone (or tablet) stand.
The desk is compatible with desktop computers, including Apple and all-in-one PCs, and can be paired with monitors of renowned companies such as Samsung, HP, Dell, Asus, LG, Aser, AOC, and Scepter.
It can also hold extenders and iPads, and has a 2.1A USB charging port which is a really nice addition that you don't find on many desk converters.
Flexibility
It offers a motorized height adjustment, which is easier than gas springs and manual methods. Its height ranges from 6.1 to 18.9 inches depending on your needs, and it doesn't tilt forward while being lifted vertically but just goes straight up. It is perfect for tall and short people alike.
The design meets both safety standards of BIFMA and ANSI for risk-free operations, and it has a 3-year limited manufacturer's warranty that protects against original malfunctions under office use or normal home conditions.
Practical and Efficient
In addition to its 35.4" wide desktop which provides space for multiple devices (and extra space for office accessories), the standing desk can hold up to 33 lbs (preferably distributed evenly) thanks to its heavy-duty steel frame.
The horizontal alignment of the AIRLIFT 36" allows for minimal wrist bending and optimal productivity, and its keyboard tray is removable, so you can use the extra space for a writing desk.
It has a power adapter for charging phones and has wire clips for cable management, and its adjustable height allows it to fit cubicles or any desk setup.
It comes pre-assembled and only requires setting the keyboard tray, then installing it in your office or room. However, the keyboard tray requires a screwdriver to attach the brackets but the screwdriver doesn't come supplied so bear that in mind when you buy.
Pros
Electric powered lifting and lowering mechanism
Good height, ideal for both tall and short folks
USB charging for other devices
Steel frame
Wide enough for dual monitor setup
Cons
Screwdriver not supplied for keyboard tray
Conclusion
The desk's adjustable height is convenient for both standing and sitting and being electric it is ideal for folks who don't want the hassle of levers and springs, or perhaps have health issues and don't want to deal with manually lifting and dropping desks. Its setup accounts for all the electronic devices you might need, and it has a durable heavy steel frame. Considering such features, the AIRLIFT 36" is a great solution for a healthier back-saving workplace or study room.
>>> Check the best prices for the Seville Classics AIRLIFT 36″ Desk Converter on Amazon <<<
4. Rocelco 46" Workstation w/DM3 Mount – Best 3-Monitor Standing Desk Converter
If you're a designer, coder, video editor, or trader, then you probably spend most of your time sitting in front of multiple screens. Several studies demonstrate that standing helps in limiting weight gain, enhances circulation, and limits the possibilities of skeletal deformities.
However, what do you do if you have a 3 monitor setup? Most other standing desk converters are just not big enough and will only support a maximum of two monitors.
Enter the Rocelco 46" workstation…what I consider to be the best 3-monitor standing desk converter.
Let's find out why.
Size and Functionality
This Rocelco 46" workstation can turn your desk into a versatile space. Adjusting the height and the place of the keyboard, couldn't be easier. You can also work with as many as 3 monitors in a panoramic layout without straining to follow their displays.
The Rocelco has a work surface spanning 46" x 24" which is a great size – allowing plenty of room for any kind of setup but at the same time not taking up a vast amount of space. It comes bundled with a triple monitor mount which keeps the monitors off the desk surface and allows you to maximise the desktop space, contributing to the feeling of spaciousness.
The keyboard tray is also a good size – 25. 6″ x 11″ – and is retractable allowing you to move it forward and backwards for optimum comfort and to reduce back and neck strain.
Ergonomic Design and Easy Height Adjustment
The ergonomic design and flexibility of the Rocelco 46" means that whether you sit or stand you'll minimise the effects on your joints and blood circulation.
The sturdy metal frame can lift up to 45lbs pretty easily thanks to the extra assistance you get from its gas pistons. You can vary the height from 5" to 20" and any range in between in a jiffy – just press on the levers and moves smoothly up and down. 20" is plenty for even tall folks who are over 6 feet.
The keyboard tray is placed at a well-calculated height for maximal comfort, and the 25.6"x11" size is large enough to support a laptop, or standard keyboard and mouse.
Grommet Cavity to Organize Cables
This is a great little feature that's often overlooked in workstations, so I was glad to see it here. Keeping the cables neatly in a single conduit is essential to cable management and general office de-cluttering. Nothing worse that tons of loose cables strewn over your desk getting in the way and gathering dust.
The Rocelco has a 2 and a half inch hole for the cables to pass through, on top of which sits the monitor mount – perfect.
The Rocelco 46" is at the pricier end of the top desk converters, however when you consider the 3-monitor mount that it comes bundled with along with the additional space you're getting I think it is good value.
Pros
Elegant design
Good size
Bundled with 3-monitor mount
Retractable keyboard tray
Good cable management
Raising action easily assisted by a gas piston
Practical side grips for easy handling
Cons
On the pricier side
The X-structure could cause finger pinching if you're not careful
Conclusion
The Rocelco 3-monitor standing desk converter is easily one of the best 3 monitor desk converters on the market. It's spacious, stable, elevates easily from 5"-20" and comes with a monitor mount to free up even more desk space.
It's well designed to keep you comfortable at all positions whether sitting or standing, and it's certainly versatile enough for most applications. I highly recommend the Rocelco 46" workstation.
>>> Check the best prices for the Rocelco 46" Workstation on Amazon <<<
Related Resources
Adjustable drawing tables – a good drafting desk will also improve your working posture and avoid back pain. Top picks here
Artist desk lamps – light up your desk with these great lamps
Drawing tablets – want a top notch graphics tablet but don't have much of a budget? Here are 10 that you can pick up for less than $100