Disclosure: Some links may be affiliate links. We may get paid if you buy something or take an action after clicking one of these. 2dAnimationSoftwareGuide.com is a participant in the Amazon Services LLC Associates Program, an affiliate advertising program designed to provide a means for sites to earn advertising fees by advertising and linking to Amazon.com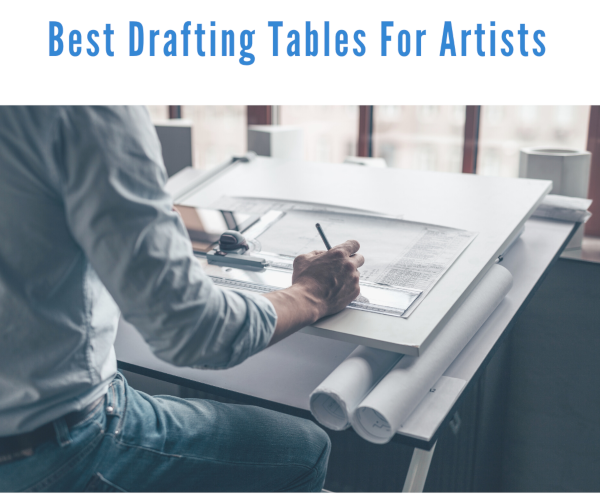 Despite the proliferation of digital drawing tablets and architectural software like AutoCAD, a drafting table is an essential piece of kit for any serious artist or architect as the ability to adjust your desk's height or angle will help you to work more comfortably and efficiently, and reduce stress on your back, thereby preventing long term health problems. They're also useful for painters and draughtsmen as an alternative to the traditional art easel.
However, choosing a drawing table is not always easy as there are a few key things to consider when making your decision.
How To Choose A Drafting Table
Ergonomics – basically how comfortable is it and is it designed to be flexible enough to adjust to your working position. Leaning over a normal flat desk while drawing will put unbelievable long term stress on your back, neck and shoulders, so make sure you look for a desk that can adjust to both you, your working position, but also the stool or chair that you work at too.
Adjustability and Desk Angle – some drafting tables allow you to adjust both the height and angle of the desk, so if you are tall or prefer to sometimes work standing up, choosing a desk where you can change the height will be ideal for you.
Any drafting table worth its salt will let you adjust the angle of the work area itself (all the tables I recommend on this page have this function). Most desks will support a range of angles between 0 and 45 degrees with some going to 60 degrees and beyond.
Size – deciding on how big your drafting table is going to be is key and dependent on your studio or room space and whether you want it to a permanent feature or something that can be easily folded up and put away when not in use.
Drawing tables can vary in size but the average size is around 35 x 20 inches, with a height anywhere from 30 to 50 inches or more, depending on how adjustable it is and the range of tilt of the desk top. So measure the space you have available and make sure you take into account the design of the desk itself – e.g. if it has drawers on the left hand side make sure you have space for them too.
Desk Surface – what material do you want for the desk surface? Wood, metal or glass? Glass allows you to use backlighting which can effectively turn the desk into a large light box, so you can see through architectural drawings or even for animation.
Extra Storage – does the desk come with extra storage like drawers and pen holders or is it just the working area?
Also, bear in mind any other accessories you will be using such as desk lamps, chairs, or parallel bars.
Below I've listed the 7 best affordable drafting tables that will suit most budgets and artists, whether beginner, hobbyist, student or professional.
1. ZENY Glass Top Adjustable Drawing Desk Craft Station Drafting Table
If you're an artist, designer, or a crafter in the market for a good drafting table with a spacious and adjustable workspace, then the ZENY glass top adjustable drawing desk is the ideal fit for you.
It's sturdy, adjustable, looks great, and is reasonably priced. This drafting table is equipped with some really nice options to make your life easier, so let's dive in for more details.
Specifications
Silver-coloured frame made of heavy-gauge steel so you know it's strong
Can withstand around 100 lbs
Large surface (41.25" x 24" ) workspace, gives plenty of room to spread out
Table stands between 31.5″ and 49.5" tall, depending on the angle
See-through glass top allows light to penetrate
Adjustable Top and Casters
The tilting glass top is easy to adjust by lifting it upwards from the back. It can range anywhere from a flat table to a 60-degree angle. This option is handy for ergonomic comfort and an easel-like experience.
The durable caster wheels assure mobility and stability, depending on what you need at any given time, allowing you to roll the table to wherever you need it.
Two of the wheels also lock in place for when you want the table to stay put. You can also choose not to attach the wheels if you don't want them at all and prefer a static table.
Storage Space
The ZENY drafting table includes plenty of easy-access storage for all of your necessary supplies. There are 4 removable tray, conveniently placed on either side of the table that can hold drawing pencils, markers, paintbrushes or whatever tools you need at your fingertips.
The addition of a solid bar at the base of the table means that your pencils stay put even as you lift the table up to an angle, and you don't have that annoying problem of seeing them slide off onto the floor every time.
Two storage drawers are available below the table measuring 9.0" x 7.8" x 3.5″ to hold additional items you may need.
Potential Drawbacks
The instructions are not the greatest and in some cases the language changes halfway through, which is a bit hard to comprehend why.
Fear not though as the assembly is fairly straightforward and you can pretty much figure it out between the diagrams and online translation. This video also gives a quick look at the table's assembly which doesn't take much time at all.
Note that the glass top can be a bit fiddly to attach particularly when lining up the holes.
The drawers under the desk do take up some of your coveted legroom, so some industrious folks have had success in installing the drawer frame on the outside of the desk rather than underneath, freeing up some space underneath the desk.
Summary
All in all the Zeny glass top adjustable drafting table is an excellent choice for artists of all budgets. This model is sturdy, a good size and affordable, so it won't break the bank.
It's also durable, so you can be assured it'll last for years to come. I also like the simple design that blends into any room's decor, and the glass top allows light through which is particularly useful if you only have a small room or studio. If you're an artist, budding architect, or crafter shopping around for a quality drafting table, I'd definitely recommend the ZENY.
>>> Check the best prices for the ZENY Glass Top Drawing Desk on Amazon <<<
2. SD Studio Designs Drafting Table Vision Craft Station
Studio Designs are known for their innovation, and since they began in 2007, they've made it their mission to provide customers with easy-to-assemble products at a great price.
Their Studio Designs 2 Piece Vision drafting table with adjustable top, plenty of storage, and tempered glass is made from a heavy-gauge powder-coated steel construction, which makes it a dependable long-term companion. Let's take a closer look to see how it stacks up.
Surface
The Vision Craft Station has a maximum height of 49" when it's tilted at a maximum angle of 70°. When it's flat, its height reaches about 30". The actual height of the table is fixed so you can raise it – if you want a standing desk this is not the one for you.
The main work surface area is 35.5" wide and 23.75" deep, and it's made from tempered safety glass to provide safety and support.
Storage Options
The Vision Craft Station is very big on storage, especially when it comes to small spaces and comes with the following options:
Side trays – On the side, there are four side trays that can be rearranged according to your liking. Their removal also makes cleaning a breeze.
3 slide-out drawers – These drawers are attached below the table surface and can be placed on either side. Each drawer is roughly 6" W, 9.5" L, and 1.75" D.
Front storage pencil tray – The tray at the front of the table is 24.75" W and 2" D. It's a good place to keep your pens and markers and stop them from falling when you tilt the tabletop.
Additional Features
Leg Levellers/Casters – Floor levellers are made of plastic and coated with soft rubber. They're a great option if your floor is uneven.
Casters usually work great on balanced, even floors, giving you the freedom of moving the table around. The front wheels can be locked to provide stability once you've decided where your table will go.
Stool – The stool is a nice addition and comes with the table. It can be adjusted to 5 different height positions to suit all heights, and is made from powder-coated steel, has a padded seat, and non-skid rubber feet.
Room for Improvement
This mobile desk has many useful features, yet there are a couple of areas where it could be improved.
Tools for Installation – The assembly manual specifically states that for all the screws to be properly secured, and prevent any instability, a Phillips screwdriver is required. However, no such tool is included, so make sure you have one before you start!
Book Holder – The work surface is completely smooth and doesn't contain a ledge for holding books or papers once the table is tilted. This may lead to books and sheets sliding.
Storage Spaces – Even though there are several handy storage units, they're a bit weak and may break easily.
Pros
Tempered safety glass
Angle adjustment up to 70°
Wheels can be locked
Floor leveller option
Assembly manual included
Affordable price
Cons
Doesn't hold paper or book when tilted
Storage units can be a bit flimsy for holding heavier tools
Summary
Whether you're an amateur or professional, a student or hobbyist, the Studio Designs Vision is one of the best drafting tables for all your needs.
Its elegant design will fit into any work space or studio and the work surface is large and can be angled to your preference. Its legs can stand on levellers or wheels for easy movement, and with plenty of storage space you'll have all your drawing tools and equipment right to hand.
>>> Check the best prices for the SD Studio Designs Drafting Table on Amazon <<<
3. Nova Adjustable Height Drafting Table
The Nova adjustable height drafting table is another good choice and this one comes with the added benefit of being able to adjust the height of the desk if you want to change your seating position.
With an adjustable angle desktop and a pullout side tray the Nova will be a great addition to any artists' studio space. So let's see what else it can do.
Pros
Made of an MDF and steel construction the Nova desk measures 47.4″L x 23.6″W with a height that varies between 25.6" – 35.6″ depending on how high you have it and to what angle you tilt the table.
As mentioned above the adjustable angle of the desk allows you to work flat or inclined up to a maximum of 45 degrees. It comes with a wooden slide out side tray for extra working space, and is perfect for putting a laptop on, so that both can be used simultaneously.
As for the desk surface it measures 33.9″ L x 23.6″W x 0.7″ thick and is made of a high-quality MDF board, which makes the table smooth, solid and super easy to clean. It also comes with a pencil ledge which slides up and locks into place to keep pens, pencils, or brushes on the tabletop and prevents them falling off onto the floor.
There are pen containers on the right hand side which provides space for your most used tools and it also has two spacious drawers under the desk for extras like paper, punches and anything else.
The legs have a non-slip pad to stabilise the table and protect your floor from unwanted scratches.
The adjustable height allows you to use different chairs for maximum comfort and change up your working position which is really handy if you have back problems.
The downside is that adjusting the height can be a bit tricky and will often require two people to do it as you have to adjust both sides simultaneously.
Assembly of the table, like most others, is required, but thankfully it is quite easy to put together using the manual enclosed, and each part is clearly numbered.
The Nova desk also comes supplied with a stool which is a nice addition.
Cons
As I said above, adjusting the height can be tricky and often requires two people to do it, since it is quite heavy.
Also the auxiliary table top can only slide out to the left hand side and not the right – so bear this in mind when thinking about where you want to place your desk.
Summary
The Nova adjustable height drafting table is a solid pick if you want a wooden work surface and a desk that works at different heights and seating positions, even if it is not the easiest to adjust on your own.
It's nicely compact with the extra tray that slides out to the side when you're working but can easily be tucked away to save space when not in use.
At a price that should fit into most budding artists' budgets the Nova drafting table is a good and versatile mid-range artist desk.
>>> Check the best prices for the Nova Adjustable Height Desk on Amazon <<<
4. Vintage Rustic Oak Drafting Table
Not all drafting tables are made equal; some drafting tables are simply better than others.
Studio Designs is definitely one of the best names in the business of drafting and craft tables at the moment, and their Vintage Rustic Oak drafting table is no slouch.
In my personal opinion it is one of the prettiest tables on the list and has a really classic feel to it but does it measure up in other areas?
Let's find out.
Pros
The Vintage Rustic Oak drafting table is manufactured in the USA by Studio Designs, and is antique designed, and finished with a solid hardwood frame for durability. It's made in the colour of elegant rustic oak, so ideal if you have a classic style studio or work room.
The main work surface itself measures 36" W x 24" D, with an adjustable angle going from flat to 80 degrees for versatility. The height of the table is 36" when it's completely flat. It also has a built-in pencil groove with 24" Pencil ledge.
The drafting table weighs about 26 pounds, so it'd be easy to move around the house if you want to, but as you might expect it doesn't come with casters or wheels as that would ruin the classic design.
The overall dimensions of this drafting table are 34" W x 24" D x 36" H.
Apart from its elegance, the Vintage Rustic Oak drafting table by SD Studio Designs has a few features that we appreciate.
Affordable – The vintage oak drafting table is a lovely piece of furniture while giving you all the functionality of an adjustable desk at a reasonable price. It is the kind of item you can keep for generations.
Easy to Assemble – The table comes with clear and easy instructions and illustrations, on how to assemble it. It doesn't take much time or effort.
Easy to Move Around – If you move around your studio a lot or like drawing in different rooms on different days, then this would work perfectly for you, as it doesn't weigh a huge amount and is easy enough to shift about.
Cons
As it's a classic design the tabletop pivots from the centre, but that means that you lose a little legroom, and when it's tilted all the way up the edge is about 17" from the floor. That might cause an issue to some users.
There is no drawer or storage space on this desk so bear that in mind if you need somewhere to put your things.
Summary
The Vintage Rustic Oak drafting table from Studio Designs is an elegant drafting table at an affordable price. It has a good workspace, is easy to assemble, and is made of solid wood.
There are no frills on this one, you either love it or you don't. It's a beautiful drawing table that would fit perfectly into any classically styled or rustic studio.
>>> Check the best prices for the Vintage Rustic Oak desk on Amazon <<<
5. Alvin Portable Drafting Board – Best Portable Drafting Table
Alvin products are synonymous with quality and have been the professional's go to choice for a long time.
The Alvin portable drafting board brings their expertise into a smaller compact sized table that you can carry around with you for maximum versatility.
So if you're looking to develop your skills and make the drafting process easier, Alvin portable may be the drafting board you should consider trying. Let's take a closer look.
Pros
Hyatt's All Things Creative is the manufacturer of the Alvin Portable Drafting Board brand. They've been in the market for over 50 years, so you should trust that they can deliver high quality products.
This one measures 23" x 31" and comes with an ultra smooth drawing surface, adjustable parallel straight edge bar, and nifty carry handle.
As an artist, you never know when that stream of inspiration may hit you, so having this portable board can help you save your thoughts fresh, and capture that creative spark when it appears.
You may be thinking that if it's movable, it may be difficult to control once it's on a table for example. Well, the Alvin board has "brake mechanisms". – rubber grips that are installed underneath in order to secure a perfect grip and balance. So you don't need to worry about it sliding around on the desk.
It's also equipped with a crystal clear acrylic base with an inking edge underneath, so smudging is not a possibility.
Cons
An issue that may arise while using this board is the parallel bar adjustment, as sometimes it's a little difficult to tighten.
I also think that it'd be cool to add a pencil ledge to the design. An artist always likes to keep their tools close at all times, particularly if you're working on the move with this portable table. So that'd be a nice addition.
Summary
Whether you're an artist, an architect, or a designer, you should consider the Alvin Portable Drafting Board because of its smooth surface, straight edge, and sheer portability.
The price is also reasonably affordable and will fit into many budgets. So if you're looking to upgrade your drafting tools and need something to use while on the go, then you should give the Alvin portable drafting table a try.
>>> Check the best prices for the Alvin Portable Drafting Board on Amazon <<<
6. Tankula Art Table
The Tangkula Art Table is another great choice on the list as it provides plenty of storage space and a good solid construction.
With the extra drawers on the side and the additional shelf underneath it adds a little extra space that other tables on this list don't, so let's see how the rest of it shapes up.
Pros
The Tangkula desk is made of a heavy gauge solid steel frame and MDF for the adjustable work surface which means it is solid and durable. It also comes with its own stool made of the same material.
The desk top itself measures 24" x 35.5" with an overall height of 31" in its flat position. The angle of the desk top has a wide range of rotation and can be adjusted from 0 to 60 degrees.
I like the additional set of 3 storage drawers that are attached to the main frame as they come with an extra top that helps to increase your work area (this measures 16" x 14") – though you can only attach them to the right hand side of the desk and not the left.
There's also an additional lower shelf for extra storage which is a nice addition.
Foot pads under the legs are made of ABS which prevents slippage and will avoid any scratches on wood flooring.
It's all fairly straightforward to put together and assemble with decent instructions.
Cons
One small negative as mentioned above is that you are not able to move the drawers to the desk's left hand side if you don't want them on the right. This is due to the fact that the assembly holes are already drilled on the right hand side.
Also, note that the adjustable arm comes down a little low when the desk is in the flat position, so if you're very tall you may struggle to avoid bumping your knee into it.
Summary
All in all, the Tangkula drafting table is a great choice for an affordable drafting table that is versatile for most artists and hobby crafters.
The good range of motion of the desk top combined with extra desk space and storage make this an artist desk that is definitely worth taking a closer look at.
>>> Check the best prices for the Tangkula Art Table on Amazon <<<
7. Alvin Adjustable Foldable Drafting Table
Whether you're an animator or an architect, having a drafting table in your arsenal of supplies is mandatory. They're often big and an inconvenience to have around, but they're also essential to work.
Since they're impractical, I've searched long and hard for a more convenient solution. Looking for the best drafting table? Let's see if Alvin delivers on that promise.
Pros
Alvin's drafting table is described as an "adjustable, fold-away" drafting table and it really does maximize on space. At 24" x 36" it's super space-convenient, which makes it a good fit for dormitories, small studios or home offices.
The great thing about the Alvin drafting table is that I don't have to limit myself to any particular dimensions.
Got a backache from hunching over for too long? You can just extend its height from 29 inches to 44 inches and use it as a standup desk. This feature is particularly great for users who are on the taller side, and may suffer from back problems.
Yet, it's not just the height that's adjustable. You can also adjust the top of the drafting table from flat to a maximum of 45 degrees.
The Alvin drafting table has fold-away gate hinges that help the base of the table fold on itself. In mere seconds, your drafting table will fold down to a mere five inches letting you store it very easily. It also makes it fairly portable too.
At 36 pounds, the Alvin drafting table is a comparable weight to others on this list. Once you assemble it together, you'll have no trouble carrying it around your living space considering its size. If you're a college student, this may be worth thinking about.
Cons
Although this drafting table is generally easy to assemble, the holes for the surface aren't pre-drilled. You have to drill a dozen holes or so, which is a little disappointing.
Conclusions
The Alvin drafting table is definitely a solid choice particularly if you are looking for a flexible desk that doesn't take up too much space but can also be used for standup working.
The ability to fold it down to 5 inches thickness is a big attraction and certainly one to look at if you are a student with limited space or moving around a lot.
>>> Check the best prices for the Alvin Foldable Drawing Table on Amazon <<<
Related Resources