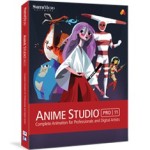 The latest addition to Smith Micro's line of animation software, Anime Studio Pro 11, has been earning rave reviews since its release in May 2015. Anime Studio Pro 11 is the next step up from Anime Studio Debut and includes a whole range of additional features that make it even easier to produce professional quality animations (for a complete comparison chart between the Debut and Pro versions of Anime Studio, you can take a look at the Smith Micro site here).
First launched in 1999 as Moho, the Anime Studio Pro software has always been popular with both casual and professional animators, and this latest update adds frame-by-frame capabilities as well as a range of other features that were introduced to gain the attention of professional animation studios and win some more market share. The gamble paid off when Anime Studio Pro was used to animate around 3 minutes worth of the recent production of the Oscar-nominated "Song of the Sea", produced by Cartoon Saloon in Ireland.
Let's take a look at some of the software's features…
Features
As a professional level animation software, Anime Studio Pro is obviously packed full of features. However, if you're currently using another 2d animation program such as Flash (now Adobe Animate CC) or Toon Boom Harmony and wondering whether you should make the switch to Anime Studio, then here are some of the notable additions in version 11:
Frame-by-frame animation – This gives artists more flexibility, allowing for the ability to switch from bone-rigging to frame-by-frame for more precise drawing and life-like results. I'm really glad that Smith Micro have added this feature in v11 of Anime Studio Pro, as it is something that I felt was really lacking from previous versions and really makes it a serious competitor against Toon Boom Harmony. In my opinion it is hard to take a $300 piece of animation software seriously if it doesn't give you frame-by-frame capabilities, so thumbs up here.
Layer referencing – You can now duplicate layers more easily while still maintaining a connection to the original drawing. This is a major plus for team and studio productions, allowing an animation to change hands between various groups of animators without losing its overall integrity.
Animated shape ordering – There is no longer a need to adjust each frame individually, as with previous versions. You can now rearrange shapes anywhere within an animation for quick, easy tailoring of your image.
Animated bone targets – Users can switch from one target bone to another quickly and easily, making multiple handoffs from one part of a creative team to another that much smoother.
Enhanced tools and brushes – New additions to the Tool and Brush menu including Merge Strokes, Smoothing (for round, smooth shapes), and Blob Brush that lets you create simple shapes and widen your repertoire, making realistic, freehand drawing more attainable. Also, tools such as Colour Points, Merged Alpha and Drift Angle brushes allow for easier blending of shades and lines to enhance your drawing capabilities.
Improved Photoshop file support – Now when an Anime Studio photo is updated in Photoshop, PSD layers will be applied while still maintaining the original Anime Studio layer ordering. This makes it easier to control changes and work with original images.
JSON file format – It is now easier than ever to exchange and manage files across multiple workgroups with Java Script Object Notation (JSON). This also allows you to maintain compatibility with older versions of Anime Studio as well as with MotionArtist file formats.
Pros
This software offers animators an intuitive interface, a visual content library and a range of powerful features that make it easy to get started. There's also a substantial, growing and devoted base of users online that provide tips, tutorials and even content. This puts Anime Studio Pro 11 in the same league as other comparable animation software packages like Toon Boom Harmony, TVPaint, and Flash, and beats them all on price. Many customers have said that it is far more in-depth, intuitive and flexible than any other software they've used.
Aside from upgrading the features, with this version Smith Micro has also focused both on affordability and ease of use, two qualities that make it attractive to everyday users, students and professionals alike. Its $300.00 retail price puts it well within the reach of most consumers and it is fairly easy to learn, which greatly reduces the time between purchase and output, meaning you'll be producing professional quality animation in no time.
Cons
As a professional grade product, it may take hobby animators and casual users a little longer to get the hang of Anime Studio Pro 11, particularly if it is their first foray into using an animation software, but it is well worth the effort. Also it is a bit pricier than Anime Studio Debut which is kind of the "kids" or "beginner" version, but it still beats most other comparable professional 2d animation programs.
Summary
With many unique features, Anime Studio Pro 11 allows you to create animated shorts, films and videos for professional release or simply to stream on the web and share with your friends.
The capability to utilize 3D modeling, motion tracking, smart bones and 64 bit architecture, along with other unique features, lets your imagination take flight. There are almost no limits to what you can create with Anime Studio Pro 11.
Specifications and System Requirements
Windows: Windows 7, 8, 8.1, 10 compatible; 64-bit OS required for 64-bit installation; 1,3 GHz Pentium 4 or newer, Athlon 64 or newer; 2 GB RAM recommended; 1,6 GB (Universal) or 800 MB (32-bit) free hard disk space minimum; OpenGL enabled GPU recommended; 1024×768 display (1280×800 recommended; DVD-ROM drive (physical version only); Internet connection required for periodic product activation service; Windows Internet Explorer 9 or newer.
Macintosh: Macintosh OS X 10.8, 10.9, 10.10, 10.11; 64-bit OS required; 1.3 GHz Intel Processor or newer; 2 GB RAM recommended; 800 MB free hard drive space minimum; 1024×768 display (1280×800 recommended); DVD-ROM drive (physical version only); Internet connection required for periodic product activation service.